Pfizer Inc. (NYSE:PFE) is a research-based, global biopharmaceutical company. It has a diversified global healthcare portfolio that includes human and animal biologic and small molecule medicines and vaccines, as well as nutritional products and many of the world's best-known consumer healthcare products.
Pfizer has consistently paid out a dividend to its shareholders over the past decade, even throughout the financial crisis. The company did slash its dividend in 2009 and again in 2010 to help fund its acquisition of Wyeth. However, Pfizer has been providing around 10% dividend increases since then, indicating that growth may have returned for dividend investors.
Dividend History
Included below are the dividends and growth rates for the past decade, along with Pfizer's payout ratio (fiscal year ends Dec):
| | | | |
| --- | --- | --- | --- |
| Fiscal Year | Dividend | Dividend Growth | Payout Ratio |
| 2004 | $0.63 | -- | 42.2% |
| 2005 | $0.76 | 12% | 69.7% |
| 2006 | $0.96 | 26% | 63.2% |
| 2007 | $1.16 | 21% | 98.3% |
| 2008 | $1.28 | 10% | 107.6% |
| 2009 | $0.80 | (38%) | 65.0% |
| 2010 | $0.72 | (10%) | 70.6% |
| 2011 | $0.80 | 11% | 72.1% |
| 2012 | $0.88 | 10% | 69.8% |
| 2013 | $0.96 | 9% | 58.2% |
Even with the massive dividend cuts in 2009 and 2010, Pfizer's dividend still grew at a compound annual growth rate of ~5% over the past 5- and 10-year period. Furthermore, Pfizer recently announced its quarterly cash dividend increased to $0.26/share, or $1.04 annually, an 8.3% raise from FY 2013. So clearly the dividend is back to growing, although still at a much lower rate compared to its pre-acquisition growth rate.
Importantly, Pfizer has managed to do this while simultaneously reducing the payout ratio, which had reached dangerously high levels. At 58%, the current payout ratio seems reasonable, but definitely at the high end of what I'm comfortable with. Investors should definitely be paying close attention to earnings to see whether the company will be able to continue to increase its dividend while maintaining a reasonable payout ratio.
ROE And Future Growth
In addition to looking at historical growth and payout ratios for the dividend, analyzing Pfizer's return on equity performance may also provide some clues as to what future dividend growth may look like.
On average, Pfizer has provided ROE of 16% over the past 5 years (2009-2013). And it has also been headed in a positive direction, currently hitting ~28%.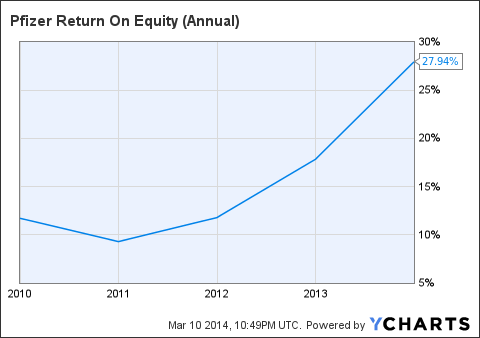 PFE Return On Equity (Annual) data by YCharts
Using a "back of the envelope" approach that I have described before, we can use the payout ratio and ROE to estimate future earnings growth. In other words, Pfizer is retaining ~42% of its earnings, and is earning ~16% on its equity. So holding these numbers constant would give you an estimate of 7% earnings growth going into the future.
This is simply a rough estimate that we can use to compare with our historical numbers. Keep in mind that this type of calculation will ignore any debt or stock issuance, share repurchases, or other changes in Pfizer's capital structure.
Considering the spin-offs and sales the company has been performing as part of its strategy going forward, I believe this estimate is probably lower than can be expected. However, it does show that earnings and dividends could continue to grow at a mid-to-high single-digit rate, just as our historical trend suggests.
Dividend Discount Model
Using the dividend discount model, I determined the value of the company based on its future dividend payments. In performing this valuation, I made several assumptions:
First, I used 8% as my discount rate, based on the long-term average return of the stock market
Next, I used Pfizer's estimated 2014 dividend (1.04 per share) as the base to apply future growth rates to
Then, I applied a 9% growth rate for the following 3 years (2015-2017), an 8% growth rate for 2018-20, and 7% for 2021-2023
Finally, I assumed a 3% perpetuity rate after 2023
Based on these assumptions, I calculated that Pfizer's intrinsic value is ~$32 per share. At the current price of $32.43/share, the market seems to be valuing the stock pretty fairly. One caveat is that the current price does not offer investors a margin of safety.
However, given the company's history, large pharmaceutical portfolio, and assets beyond branded pharmaceutical products, I believe it is still safe to look at a company like Pfizer when it is fairly priced by the market. Therefore, long-term, income-oriented investors may want to conduct further research on Pfizer to see if it should be in their portfolio.
Disclosure: I have no positions in any stocks mentioned, and no plans to initiate any positions within the next 72 hours. I wrote this article myself, and it expresses my own opinions. I am not receiving compensation for it (other than from Seeking Alpha). I have no business relationship with any company whose stock is mentioned in this article.
Disclaimer: The opinions in this document are for informational and educational purposes only and should not be construed as a recommendation to buy or sell the stocks mentioned or to solicit transactions or clients. Past performance of the companies discussed may not continue and the companies may not achieve the dividend growth as predicted. The information in this document is believed to be accurate, but under no circumstances should a person act upon the information contained within. We do not recommend that anyone act upon any investment information without first consulting an investment advisor as to the suitability of such investments for his specific situation.