After it IPOd just three month ago, Twitter (NYSE:TWTR) captured everyone's attention when the stock skyrocketed from $26 to highs of over $50. Media, and analysts alike, were quick to call the shares overvalued, however, Mr. Market refused to listen and pushed the stock to over $70 per share over the next few months. However, after its first quarter earnings report, the stock took a tumble, down 15%, and back to $50 per share based on the news that user growth underperformed expectations.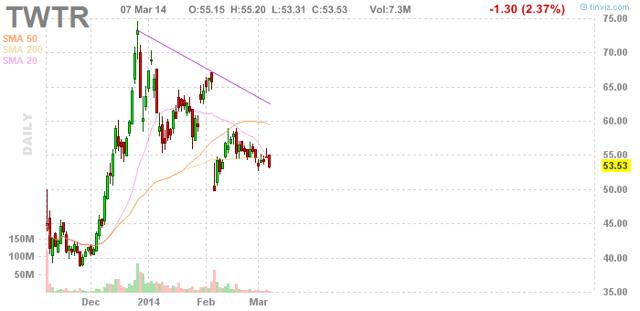 Even still, the social network company has made it a priority to improve user experience through several new initiatives, and more importantly, attract advertisers. As far as monetization, advertising ARPU was up to $1.48 during 4Q, compared to consensus expectations of $1.16. This was driven by ad engagement and increased effectiveness for marketers. A positive for advertisers.
Growth in the advertising segment will be what drives Twitter going forward. So, while timeline views and user growth might have been negatively impacted during the fourth quarter, actual user interaction per timeline view was up. Ad engagement in 4Q was up a strong 70%. Helping drive this increased engagement, and a big positive for the long-term, is new initiatives.
Helping out advertisers, helps out investors
2014 should be a year for improving user experience thanks to these initiatives. Some improvements planned for 2014 include a focus on making the platform more conversational and visually engaging. More, and deeper, interactions on the platform will create a better experience for users, making advertisers happier.
Another initiative involves embracing the "second screen." It's looking to help advertisers directly target TV conversations happening on Twitter, and then tailor ads to certain audiences. Advertisers can then insert tailored messages to a user's timeline.
In other countries, Twitter has launched a self-serve advertising platform that makes Twitter easier to use for small and medium-sized businesses. International is also proving to be another key opportunity. Nearly 75% of its users are overseas, but only a quarter of revenues are generated in those markets. I'd look for Twitter to continue making the platform better for this large, somewhat untapped, user base.
Bottom line
Twitter is expected to grow sales at an 86% growth rate in 2014 and 60% in 2015. Compare that to Facebook's (NASDAQ:FB) 41% (2014) sales growth rate and 31% (2015). However, they both trade in line relative to next year's sales. While I think both stocks have appeal, Twitter still has one of the biggest opportunities when it comes to figuring out advertising. With Twitter's initiatives, it has the opportunity to make a similar, rapid move from $55 to $70 that Facebook made when investors realized the potential in ads.
Disclosure: I have no positions in any stocks mentioned, and no plans to initiate any positions within the next 72 hours. I wrote this article myself, and it expresses my own opinions. I am not receiving compensation for it (other than from Seeking Alpha). I have no business relationship with any company whose stock is mentioned in this article.