Travelers Companies (NYSE:TRV) operates in the property/casualty insurance area, where it is one of the leading underwriters. It possesses a diversified business mix of products. Travelers had quite an impressive 2013, beating analysts' expectations in all 4 quarters. It remains among the cheapest of the 30 stocks in the Dow Jones Industrial Average, with its P/E at 8.6.
Book Value Growth
Travelers finished 2013 with its book value per common share sitting at $70.15. Tangible book value was at $55.29. With shares currently trading at around $84, price-to-book ratios are very attractive.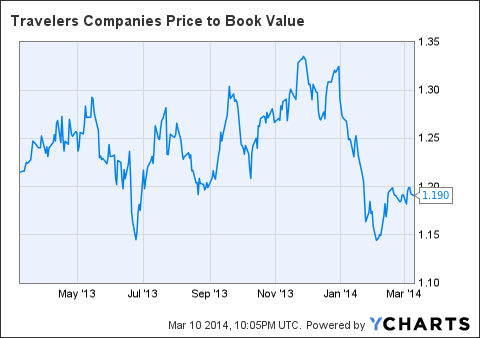 Travelers has been growing its book value consistently over recent years, even in less than ideal business conditions. While not a perfect indicator, per-share book value works well as a proxy for intrinsic value when dealing with insurance companies.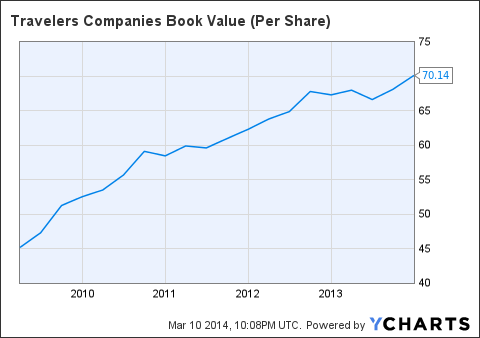 Segmental Performance
Travelers operates in 3 segments:
Business Insurance
Business Insurance had a combined ratio of 91.9% in 2013, improved from 97.4% in 2012. The segment produced $12.23 billion in net written premiums, a 3% gain over 2012.
Personal Lines
Personal lines had a combined ratio of 88.9% in 2013, improved from 101.9% in 2012. The segment produced $7.23 billion in net written premiums, down 5% from 2012. Despite the fall in premiums, operating income was $838 million for the full year, almost 400% greater than 2012. Lower catastrophe losses had much to do with the results, but there were also benefits from some margin expansion.
Financial, Professional & International Lines
Financial, Professional & International Lines had a combined ratio of 84.3% in 2013, up slightly from 84.1% in 2012. The segment produced $3.31 billion in net written premiums, up 11% from 2012.
On a consolidated basis in 2013, the loss and loss adjustment ratio was 57.9%, and the underwriting expense ratio was 31.9%. The total combined ratio for Travelers was 89.8%. This represents an improvement of 7.3 points from 2012. Total earned premiums were $22.64 billion in 2013. This was $180 million, or 1% higher than in 2012. Full year operating income was $3.6 billion, up significantly from $2.4 billion in 2012.
Impact Of Catastrophes and Reserve Releases
Travelers had an after-tax underwriting gain of $1.44 billion in 2013, a significant improvement over the $296 million generated in 2012. However, excluding the impact of catastrophes and net favorable prior year loss reserve development gives an important picture of underwriting results. This underlying underwriting gain was $1.28 billion in 2013, and was also a significant improvement. This was the highest number achieved since prior to the recession, and Travelers has exhibited a significant boost in this area since 2011.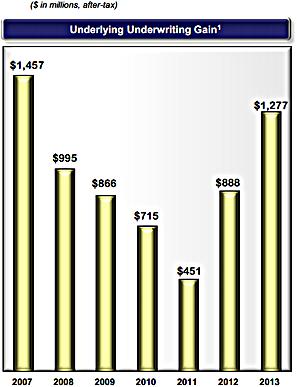 Investment Income
Travelers finished 2013 with total investments of $73.16 billion. Fixed income and short-term securities made up 93% of that figure. There was a net unrealized gain of $2.03 billion, or $1.32 billion after-tax. After-tax net investment income for 2013 came in at $2.19 billion, down slightly from $2.32 billion in 2012.
Lower reinvestment rates are having a negative effect on long-term fixed income, while low interest rates continue to create difficulties with shorter-term fixed-income. The non-fixed income portfolio, which accounted for around 15% of total net investment income in 2013, generated an after-tax yield of nearly 6%. Long-term fixed income generated 3.1%, and short-term fixed income generated .2%. The total fixed income after-tax yield was 2.9%
Share Buybacks and Dividends
$1.2 billion was returned to shareholders during the 4th quarter, with $1.0 billion of that coming in the form of share repurchases. For the full year, $3.1 billion was returned to shareholders. Leverage remains low, as debt-to-capital sits at a safe 21.3%. From 2014-2016, Travelers has only $800 million in debt maturing-$400 million in both 2015 and 2016.
The current yield is 2.38%. The current payout ratio is a very low 20%. Travelers has increased its dividends by annualized 10.2% over the last 10 years. After 4 straight quarters of a $.50 payout, Travelers is due for an increase next quarter.
Conclusion
Three important main issues have been holding Travelers back in recent years:
The abundance of weather related catastrophe losses, such as Hurricane Sandy in 2011. Catastrophe losses are the nature of Travelers' business. Increased rates of deforestation, urbanization, and other environmental degradations have led to a steadily increasing level of climate-related disasters since the 70s. Steps already being taken on the environmental front leave me optimistic that the onslaught can be mitigated. If the reality is more downbeat than my view, this poses a significant risk factor for Travelers.
Pricing pressures due to increased competition. Property/casualty insurance is unfortunately not a business with wide "moat" available to it. Both premium and by extension, revenue growth, have been lukewarm. Still, it's very stable and consistent. On top of this, Underwriting practices and risk management are of the highest quality at Travelers.
The environment of extremely low interest rates as a result of the financial crisis. Fortunately, this isn't long-term, and there is a clear light at the end of the tunnel for rates rising in the future.
While there are valid reasons for some restraint on the positive views of Travelers, the current valuations are not justified, especially considering the overall market they exist in. Assuming Travelers moves back up to the midpoint of its historical valuation, around 11x earnings, shares should be over $90 based on estimated 2014 earnings, or near 10% above current levels. If Travelers manages to beat estimates again in 2014, the current discount is even more.
Disclosure: I have no positions in any stocks mentioned, but may initiate a long position in TRV over the next 72 hours. I wrote this article myself, and it expresses my own opinions. I am not receiving compensation for it (other than from Seeking Alpha). I have no business relationship with any company whose stock is mentioned in this article.