The drilling industry is back in momentum with recent growth in the economic environment and the stabilization of oil and gas prices. Most of the companies working in the energy sector have increased their capital spending in order to reach new sources of production. Thus, the demand for drilling activities has been improving over the past two years and will likely further increase in the coming days.
As a result, the position for drilling and exploration companies remains firm. This industry continues to see deep and ultra-deepwater acreage as a strong growth opportunity for capital investment. The Middle East remains an attractive region and the major location of demand for high-specification jackup rigs. However, other markets like Australia, West Africa and South America also promise considerable growth for these companies. Mexico and the Arctic regions are also presenting attractive opportunities, as they hold about 13 percent of the world's undiscovered oil and about 30 percent of undiscovered gas.
One company that is strongly benefiting from the increasing demand for drilling activities is Ensco PLC (NYSE:ESV). Ensco offers offshore contract drilling services to both domestic and international oil companies. Ensco operates in Mexico, the Gulf of Mexico, Brazil, the North Sea, the Mediterranean, the Middle East, Australia, West Africa and Southeast Asia. Ensco has the second-largest offshore drilling rig fleet in the globe, with a total of 75 rigs. Its fleet portfolio includes 10 drillships, 46 independent leg jackups and 19 semi-submersible rigs. Further, the company is also investing heavily to expand its rig fleet portfolio to meet the rising demand.
Over the past two years, Ensco entered into several contracts to enhance fleet drilling rigs. In 2013, Ensco added three new ultra-deepwater rigs to its active fleet, and these rigs were used to start work on multi-year contracts. Recently, it entered into an agreement to build an additional premium jackup (ENSCO 110) and its eighth ultra-deepwater drillship (ENSCO DS-10), which are likely to be delivered in 2015. The company also accepted delivery of its first two ultra-premium, harsh environment ENSCO 120 Series jackups. In addition, it signed an agreement with Keppel FELS Limited in Singapore to build a fourth ultra-premium, harsh environment ENSCO 120 Series jackup that is anticipated to be delivered in 2016. On top of that, there is currently discussion with customers about multi-year programs for the ENSCO 123 and other programs for the additional ENSCO 120 Series rigs. In total, the company now has seven rigs under construction. Ensco is also divesting its low-performing assets as part of its ongoing strategy. Recently, it sold two jackup rigs for $33 million.
Ensco has been generating solid top and bottom line growth, with an increase in average day rates for both jackups and floaters, plus the addition of newly-built rigs to its floaters segment (ENSCO DS-6, ENSCO 8506 and ENSCO DS-7). In the fourth quarter of 2013, its floater segment revenue increased by 16 percent and jackups revenue increased by 17 percent. This takes Ensco's full-year revenue to a record level of $4,919.8 million, up from $4,300.7 million in 2012. Solid growth in revenue and earnings has enhanced its cash-generating potential over the years. The company is funding most of its capital requirements and newly-built rigs through its cash flows. The table below demonstrates this trend.
| | |
| --- | --- |
| 2013 | In $ millions |
| Cash from operating activities of continued operations | 1,980.3 |
| Capital expenditures on continued operations: | |
| New rig construction | 1,282.5 |
| Rig enhancements | 241.9 |
| Minor upgrades and improvements | 254.8 |
| Total | 1,779.2 |
Source: Company Filings
Further, Ensco is expecting to invest $1.4 billion into new construction, about $570 million into rig enhancement projects and about $300 million into upgrades and improvements. Also, with the ability to generate significant cash flow, it increased its dividends twice last year. In February of 2013, it increased its dividends by 33 percent, and at the end of the year 2013, it raised its dividends by 50 percent, which takes its annual dividend to $3/share. Ensco's dividend growth looks manageable, as the company has paid only 37 percent of its income in dividends in the last 12 months. With the expected growth in revenue and earnings, the company will have room to make more increases in the coming days. In addition, $10.7 billion of contract backlog, a strong balance sheet and borrowing capability, with both its commercial paper program and revolving credit facility, will provide more flexibility for the company to make additional investments.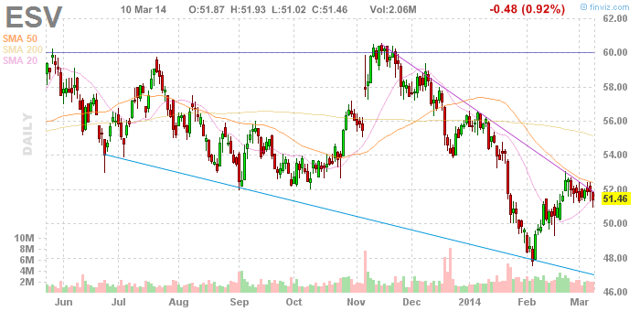 Amid all of the strong investments and record revenue and earnings growth, the market did not respond well. Year-to-date, the stock is down about 9 percent and trading well below its 52-week high of $64/share. It is trading at only 8.5 times to earnings and 0.8 times to book value, which is well below the industry average of 14.2 and 1.3. Nevertheless, it is offering an opportunity to take a position in a company at a reasonable price. The company has set strong footprints for future growth with the strong investments in its fleet portfolio.
Where do the other players stand?
Ensco's main industry peers are Noble Corporation (NYSE:NE) and Seadrill (NYSE:SDRL). Both industry peers are also making massive investments to improve their fleets.
In the case of Noble, the company performed well throughout 2013 with the addition of three ultra-deepwater drillships and jackups. It is expecting the delivery of five more rigs in 2014. As a result, its capital spending went above its operating cash flows, and the company is looking to invest more this year. Consequently, it has raised its debt with its commercial paper program that was created to allow Noble to invest in growth opportunities. However, Ensco's operating cash flows are covering its capital spending, which gives Ensco the upper hand.
Further, Seadrill has a huge backlog order of $20 billion, which makes it among the best in the drilling industry. The company is also offering the highest dividend yield with the ability to increase its dividend on a quarterly basis.
In terms of valuation, all three companies are trading at attractive multiples, as shown in the table below.
| | | | | |
| --- | --- | --- | --- | --- |
| | PS | PB | PE | Dividend Yield% |
| Seadrill | 3.4 | 2.2 | 7.2 | 9.8 |
| Ensco | 1.9 | 1.0 | 10.3 | 3.2 |
| Noble Corp. | 2.4 | 0.9 | 8.5 | 4.8 |
Source: Morningstar.com
In conclusion
Ensco is in a strong position to generate consistent growth this year. The company has created strong footprints with its recent investments and the addition of new jackups and ultra-deepwater drillships. It is in a strong financial position to support its investments and dividends. The company is also trading at a reasonable price.
Disclosure: I have no positions in any stocks mentioned, and no plans to initiate any positions within the next 72 hours. I wrote this article myself, and it expresses my own opinions. I am not receiving compensation for it (other than from Seeking Alpha). I have no business relationship with any company whose stock is mentioned in this article.