The Pink Floyd song "Obscured by Clouds," which, if you do not know dear reader, is an instrumental that has great sound but never seems to go anywhere. Like the song, I believe that InterCloud (NASDAQ:ICLD) is destined to take shareholders on an exciting ride to nowhere. InterCloud is a Rackspace (NYSE:RAX) wannabe that I believe is currently being hyped, but there are gaping holes in the story.
ICLD has been on a buying spree, seemingly trying the old Cisco Systems (NASDAQ:CSCO) route of buying growth. However, this is a different space and time. I don't believe that this strategy is going to work longer term in this hyper-competitive space. Much is being made of the recently reported revenue growth of ICLD, but the numbers say it's not enough. The pool that ICLD is trying to swim in is loaded with competitors from the likes of Amazon (NASDAQ:AMZN), RAX, Akami (NASDAQ:AKAM), and F5 Networks (NASDAQ:FFIV), to name just a few. ICLD is busy trying to grow to be a one-stop shop for cloud services, but this is not an area that has a huge moat to keep out competitors. The ICLD story seems more like a hype and excitement story rather than a unique situation. As far as I can see, ICLD is not bringing anything special to the table that a hundred other small and mid-sized companies in the space already provide.
Right now, ICLD is getting all kinds of favorable press mainly due to their up listing on the Nasdaq. Recently, CEO Mark Munro got to ring the closing bell, which is great publicity. Moreover, ICLD closed deals to purchase RentVM and earlier in the year Integration Partners. The Integration Partners deal is supposed to be accretive by about $3.5 million to the bottom line. These items sound great for the company, but, in my opinion, the hype is clouding what is going on at the company.
I am sure most people who are reading this and thinking of investing in the cloud space are aware of the report "Top 10 Strategic Technology Trends for 2014" by Gartner Group. Items in the report relating to the cloud take up two of the predictions, so naturally investors are hot on the segment. On Wall Street everyone likes to strike when the iron is hot, and now ICLD is being pushed. I know ICLD is growing; that is not my issue with the company. The real question is whether or not ICLD is growing fast enough to outrun its past. Furthermore, does the company have the ability to gain an edge in the marketplace? Additionally, just having the word cloud in the company name seems to be driving the stock, and it smacks of dot-com part deux.
When I look at ICLD I see a company with some red flags. Realistically, with the thousands of companies to choose from that are listed in the U.S. alone, I expect no red flags or its best to move on. No company is perfect, so some yellow flags may be OK depending on the situation.
ICLD's Form 10-Q reads like a mystery novel written in Rorschach inkblot font. I have read quite a few of these company reports over the years, but this one is up there as far as opaqueness. It is not only the complexity of the report that gave me pause, but also some of the items in it that others seem to be willing to overlook.
ICLD's current assets as of the last report are $18,652,000 vs. $26,085,000 in current liabilities. The prior numbers place ICLD's current ratio at only .72, which means that they could have trouble paying their bills since their current assets are outweighed by their current liabilities. A small downturn in the cloud space, the loss of a big customer, or the failure of an acquisition to perform as planned could cause real financial issues for ICLD.
Looking beyond the everyday finances of the company, a couple of items stick out that make me question the viability of ICLD's total assets. In 2012, ICLD reported goodwill as $20 million and the following year it rose to $24.6 million. The truth is that companies making acquisitions tend to have somewhat elevated goodwill figures. I find it questionable when goodwill makes up 41% of your total assets since the figure can be highly subjective.
Additionally, much is being made about the reduction of preferred shares as if it is a panacea. What the company actually did was a form of dilution of common shareholders. In 2013, ICLD did retire a lot of preferred stock, some other payments for third-party services, and payment of accrued dividends. To retire all the aforementioned items, the company did not make them magically disappear. Instead, they issued common stock. Taken from the latest 10-Q (section 10, page 26), as best I can figure common shareholders were diluted by 4,648,196 shares, which impacts the earnings per share. I also would be concerned going forward as management may try doing more deals in the name of growth while paying for it at shareholder expense. Further dilutive new share issuance or additional short-term debt would not be shareholder-friendly.
Other metrics also paint a picture of a company that is very pricey. On a very rudimentary level, the P/E ratio is not measurable nor is the forward P/E, and other statistics give you an idea of just how expensive this stock is. The price-to-book ratio is quite high at 10.65 times. The one metric that seems reasonable is the price-to-sales ratio, clocking in at 1.65 times, but it appears to be the only strong metric. However, what I consider an all encompassing measure far more valuable than just straight P/E ratios is enterprise value (NYSE:EV)\EBITDA, and ICLD sports a very expensive 54.59 times.
ICLD also lacks any R & D funding which is strange for a tech company competing in a very crowded space. All of ICLD's competitors dedicate good amounts to R&D spending in order to gain an edge and fuel growth. The lack of R&D spending indicates to me that the company is not planning on being an innovator and seems to be purely relying on acquisitions for gaining market share.
If ICLD had some special technology that was at the beginning of its patent life, a lack of R&D spending might be more acceptable. Absent such a patent zero R&D spending is a major short coming. The nonexistant R&D spending suggests either management lacks vision or it is indicative of a company that does not have a plan to differentiate itself from its competitors. It is also noteworthy that ICLD has never spent any money on R&D. This is odd given that ICLD competes in a very technical area and not a business where big R&D spending is unnecessary, like, for example, Hershey (NYSE:HSY). How much has changed in the chocolate business last year or even the past 100 years vs. the cloud\Internet space, which changes practically by the hour? Where is all this future growth going to come from? ICLD's strategy, which appears to be buying other companies and cross-selling between existing customers of ICLD and the acquired companies, will only get you so far in the technology space.
ICLD could grow even at a descent clip for a while, but I just don't see this model getting to the next level that is being hyped. Said differently, it's all sizzle and no steak. Companies that ICLD wishes to take on like RAX, AKAM, AMZN, FFIV, Google (NASDAQ:GOOG), Microsoft (NASDAQ:MSFT), and dozens of others are all spending billions developing, maintaining, and running their businesses, placing them light years ahead of ICLD. To compound the situation, many of ICLD's competitors carry various certifications in cloud computing and, as far as I can tell, ICLD has none. Without certifications ICLD will be left out of the arena for the large business and big government contracts that would really propel its growth.
On Nov. 14, 2013, ICLD reported "significant revenue and margin expansion," causing the price to jump from $2.65 to $9.46, up 256%. The following day shares jumped again to close at $14.18, bringing the total percentage gain of the two-day move to 435%. While it is true that revenue grew and the profit margin did expand to 30% gross profits, net profit margins rose to 8.03% up from a paltry .062%. ICLD's profit margin is not bad, but not spectacular, and only slightly better than staid Exxon (NYSE:XOM) at 8.28%. Many of their strong competitors have much higher margins, such as AKAM at 18.6% or FFIV at 18.12%. It is also true that RAX has a net profit margin in the same ballpark, but they are in a stronger financial position. When you plunk your hard-earned capital down you want outstanding performance, not just average. Revenues did sequentially improve by nearly 13%, yet it is not enough to offset the fact that current liabilities are still running well ahead of current assets.
Looking at ICLD from a technician's perspective, the chart is sloppy, having leaped from the "jaws of death" on Nov. 15 and now riding around $13.90 a share. The jump was due to heavy short covering as a result of the Nov. 14 announcement referenced earlier. Shares are currently trading below the 50-day moving average, which is acting as resistance. ICLD is also trading below the uptrend that formed beginning with the Nov. 25 low. The shares are struggling at the current level, and as of Feb. 14, 102% of the float was held short, contributing to keeping a lid on the upward movement. At the moment, the best I can say about the chart is it is neutral as the MACD and stochastics are both rolling over indicating waning momentum.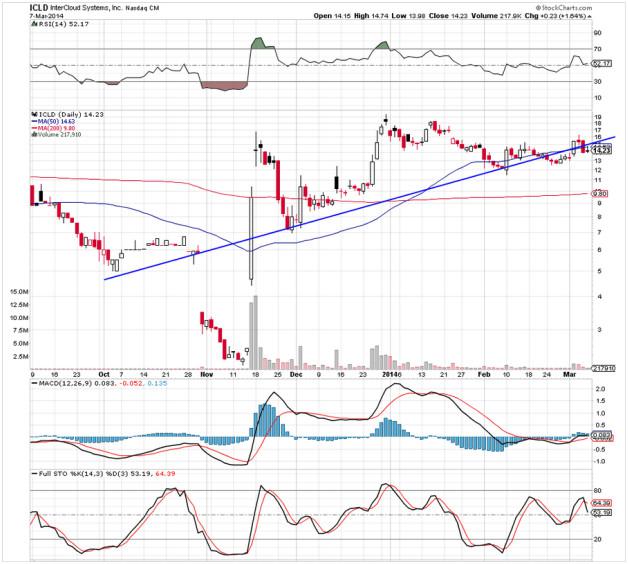 In my opinion, there are better places to put your hard-earned money than to gamble on ICLD. In other words, I would not go short ICLD (at least not at this moment), but if you want to play the cloud space there are stronger options. Many are attracted to ICLD because they see it as a low-priced entry. Other cloud stocks may have higher share prices but are actually better values.
In stocks as in life, most times you get what you pay for and sometimes things that seem cheap end up being very costly. Can ICLD continue to go up because of the hype and people willing to overlook big flaws? Absolutely. If you want proof just look at a stock like Salesforce.com (NYSE:CRM) -- for the past few quarters it has been overvalued and suffers from to high debt as well, yet is held up purely by hype, momentum, and stories.
So if a stock has gone up and stayed up, why should you worry? You should worry simply because when the fundamentals start to matter, the underlying stock tends to crater faster than you can bail out. Also, one never knows what will trigger the downdraft event or when it will happen. Knowingly putting your capital into companies where you can see the flaws is not investing, but rather speculating or gambling. Dig deeper, folks.
Note: All information here was obtained via readily available Internet sources and the company website.
Disclosure: I have no positions in any stocks mentioned, but may initiate a short position in ICLD over the next 72 hours. I wrote this article myself, and it expresses my own opinions. I am not receiving compensation for it (other than from Seeking Alpha). I have no business relationship with any company whose stock is mentioned in this article.
Editor's Note: This article covers one or more stocks trading at less than $1 per share and/or with less than a $100 million market cap. Please be aware of the risks associated with these stocks.