Blue Nile (NASDAQ:NILE) recently reported lower-than-expected sales and earnings for its fourth quarter, and management provided weak guidance for 2014. This prompted analysts to revise their estimates significantly lower, sending the stock to a Zacks Rank #5 (Strong Sell).
Although shares of Blue Nile have sold off since the Q4 report, it still does not look like a value at 38x forward earnings. Investors should consider avoiding the stock until its earnings momentum turns around.
Blue Nile is an online retailer of diamonds and fine jewelry. It is headquartered in Seattle, Washington and has a market cap of $461 million.
Fourth Quarter Results
Blue Nile reported disappointing fourth quarter results on February 6. Earnings per share came in at 38 cents, missing the Zacks Consensus Estimate by 4 cents. It was also slightly below EPS of 39 cents in the same quarter last year.
Net sales increased 7% to $146.0 million, well below the consensus of $153.0 million. This was driven by lower-than-expected growth in the domestic non-engagement and international segments.
Gross profit declined from 18.8% to 18.6% of net sales. And operating profit increased just 2% as the operating margin declined from 5.2% to 4.9%.
Estimates Falling
Management provided guidance for 2014 in the Q4 press release. The company expects to earn between $0.85 and $0.92 per share in 2014, which was well below consensus at the time. This prompted a flurry of negative estimate revisions from analysts, both for 2014 and 2015, as you can see here.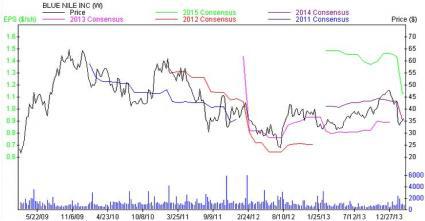 It is a Zacks Rank #5 (Strong Sell) stock.
The 2014 Zacks Consensus Estimate is now $0.91, towards the upper end of management's guidance. This is down from $1.07 before the Q4 report. The 2015 consensus is currently $1.13, down from $1.44 over the same period.
Declining earnings estimates seem to be pretty common right now in the 'Internet Commerce' industry. It ranks in the bottom 18% of all industries based on earnings momentum.
Pricey Valuation
Shares of Blue Nile have fallen over -13% since the Q4 report. But it does not look like a value yet. Shares trade at a lofty 38x 12-month forward earnings. Its price to cash flow ratio doesn't look much better at 34x.
The Bottom Line
Given its lofty valuation and the fact that earnings estimates are falling amid disappointing sales and earnings numbers, investors should consider investing their money elsewhere for now.
Todd Bunton, CFA is the Growth & Income Stock Strategist for Zacks Investment Research and Editor of the Income Plus Investor service.
BLUE NILE INC. (NILE): Free Stock Analysis Report (email registration required)