By Jeff Bailey
Marathon Petroleum (NYSE:MPC), spun off from Marathon Oil (NYSE:MRO) June 30, 2011, and Phillips 66 (NYSE:PSX), spun off from ConocoPhillips (NYSE:COP) April 30, 2012, have predictably exhibited the volatile stock movements of other oil refiners. We take them forward below from the Phillips 66 spinoff date, and see they've more than doubled during that time.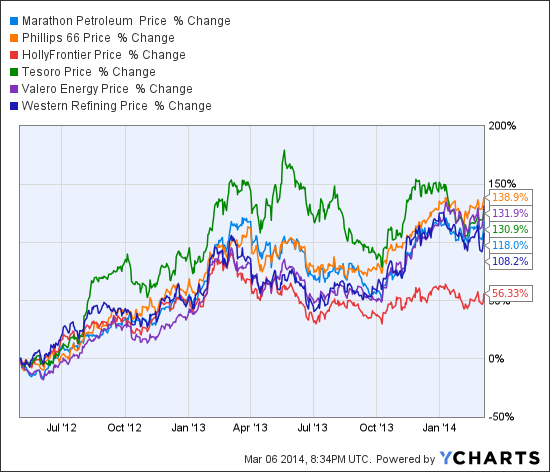 MPC data by YCharts
As our YCharts colleague Dee Gill explained last October, refining stocks aren't for the faint of heart, as they rise and fall on the cost of crude oil and on the peculiarities of the refined products markets.
The Brent/WTI Spread, the difference between the price of Brent Crude, the world standard, and West Texas Intermediate, oil pumped and widely available in the middle of the United States, is also a big factor in earnings. Refiners that can buy WTI, the cheaper crude, and then sell into world markets priced against Brent, enjoy a nice arbitrage. And a growing supply of WTI from the U.S. oil boom - along with a shortage of transportation assets to get WTI to the coasts - has widened the spread noticeably at times. Phillips 66, since its spinoff, has been moving to increase its use of cheaper feedstock crude and to operate refineries so that it increases the yield of products from the stuff.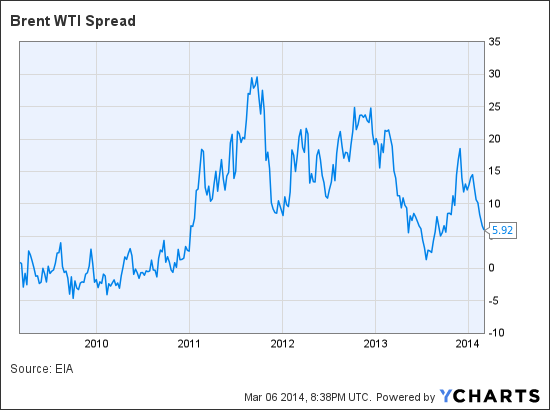 Brent WTI Spread data by YCharts
Despite the ups and downs, these are well-positioned companies that were spun off with strong balance sheets and the ability to funnel lots of cash to shareholders. They're not high dividend yield stocks, but the dividends have grown nicely since the spinoffs and so have stock buybacks, which reduce shares outstanding. In the cases of Marathon Petroleum and Phillips 66, without over-leveraging the companies.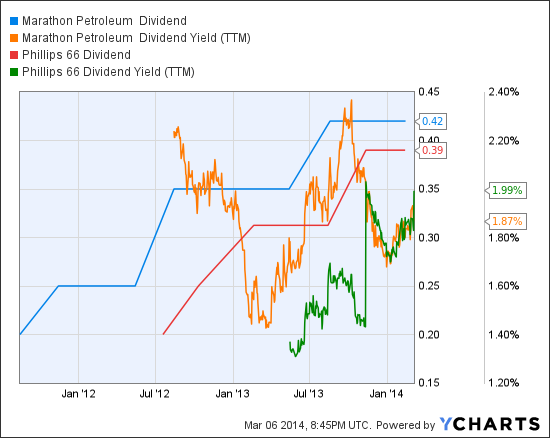 MPC Dividend data by YCharts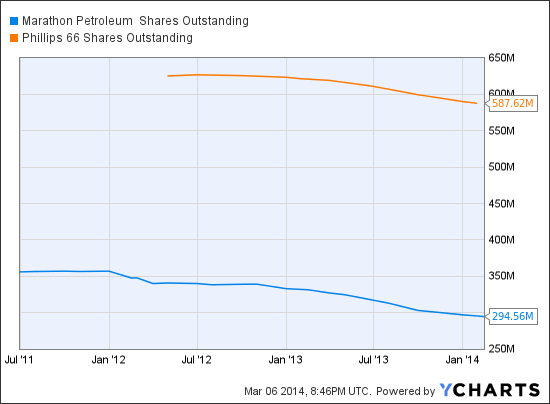 MPC Shares Outstanding data by YCharts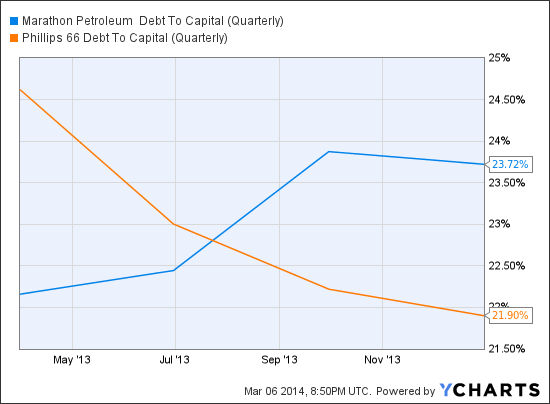 MPC Debt To Capital (Quarterly) data by YCharts
Based on forward PE ratio, they're not as cheap as they were before the doubling of sector stock prices, to be sure. After downgrades by analysts last fall, the stocks in recent weeks have received some upgrades to buy and outperform. Over time, the large cash flows will allow the companies to invest in improving facilities and also to pass along funds to shareholders through dividend increases and buybacks.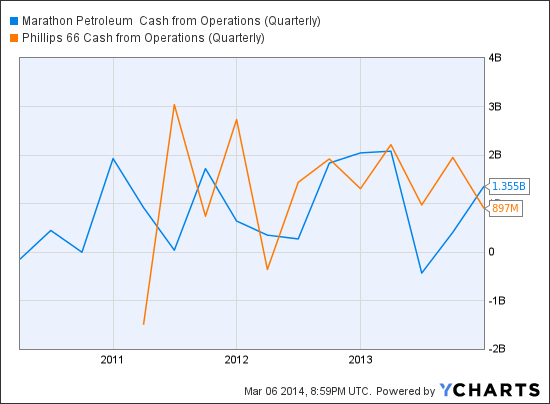 MPC Cash from Operations (Quarterly) data by YCharts
The payout ratios are low.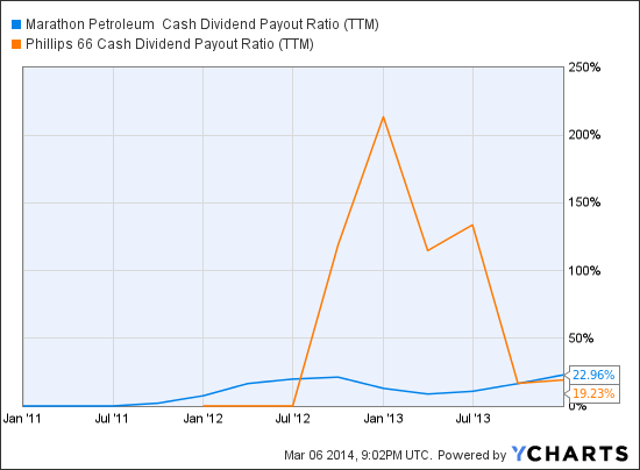 MPC Cash Dividend Payout Ratio data by YCharts
Disclosure: None.