By Chris McKhann
The XME metals exchange-traded fund had a stellar day yesterday, but the unusual option volume was concentrated in the puts.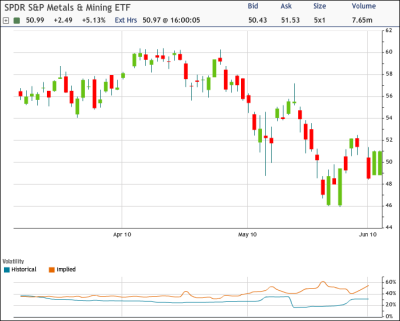 The SPDR S&P Metals and Mining ETF rose by more than 5 percent to close the session at $50.99. It continues to rally after finding support at $46 but has a long way to go to regain April's area of resistance up at $60.
The average daily option volume in the XME is 10,000 contracts, but six times that amount changed hands yesterday, all but 2,000 of them in the puts. A trader sold 30,000 June 47 puts for $1.19 against open interest of 33,365 contracts. At the same time 30,000 July 45 puts were bought for $1.70 against previous open interest of just 1 contract.
Given this data, it is very likely that this was a roll down and out, closing the June position and opening another at a lower strike in July. The cost of $0.51 gives the strategy more time to work while maintaining the same delta, or exposure to the price of the underlying, reducing the exposure to time decay (theta), and increasing the exposure to a rise in implied volatility (vega).
Disclosure: No positions