Below is a selection of companies with stock prices below $5 per share and upcoming binary events in the form of FDA decisions for medical device /diagnostic submissions to the Agency. A common strategy used by many investors is to buy a basket of several small or micro-cap companies (generally less than $1 billion market cap stocks) with pending binary events approximately 3-6 months ahead of the expected catalyst date and sell into the expected upward momentum in both stock price and trading volume.
Medical device and diagnostic submissions for FDA marketing clearance represent a unique niche within the space of trading binary events since there are no firm decision deadlines for decisions by the Agency and there is often a great deal of variability in the review periods. For example, Cambridge Medical (OTC:CAMH) received marketing clearance for its Microvolt T-Wave Alternans OEM module used in cardiac stress testing systems in less than three months while other companies such as Nephros [NEPH.OB] ($0.54, $22 million market cap) have been waiting for over one year.
Nephros recently reported that a FDA decision is still pending with no requests for additional information as of its last inquiry to the Agency in March for a 510(k) submitted in November 2008 for its OLpur H2H module and OLpur MD 220 filter (hemodialysis filtration). The Company submitted additional information to the FDA in March 2009, but a final response from the Agency is still pending.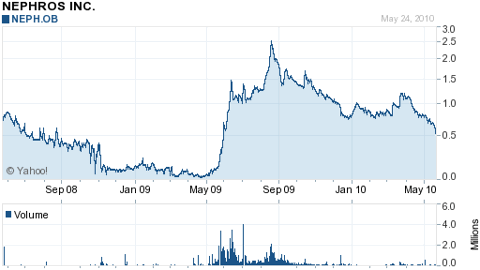 On 7/2/09, Nephros announced it received 510(k) marketing clearance from the FDA for its Dual Stage Ultrafilters for the in-line purification of dialysate water and bicarbonate solution. As illustrated in the two-year chart above, shares of Nephros experienced a major run-up ahead of the initial FDA approval when I highlighted the company as an extreme FDA medical device trade last June.
Bovie Medical (AMEX:BVX) ($3.63, $64 million market cap) announced a FDA 510(k) submission on 3/30/10 for a new high-frequency electrosurgical generator (1450RF) designed for office use by physicians.
BSD Medical (NASDAQ:BSDM) ($1.40, $32 million market cap) announced a FDA 510(k) submission on 3/22/10 for marketing clearance of the Phase II MicroThermX Microwave Ablation System (MTX-180) for the ablation of soft tissue for therapeutic / interventional oncology market using precision-guided microwave energy. The FDA cleared the Phase I System (MTX-100) in September 2008.
iCAD Inc. (NASDAQ:ICAD) ($1.47, $67 million market cap) is still awaiting a FDA response for a 510(k) submission on 5/26/09 for its VeraLook Computer-Aided Detection (for CT colonography or virtual colonoscopy) detection and advanced visualization technology for use with virtual colonoscopy to improve detection of polyps in the colon. VeraLook is already marketed in Europe and Canada.

Disclosure: No positions