Fannie Mae (OTCQB:FNMA) and Freddie Mac (OTCQB:FMCC) both plunged yesterday after the U.S. Banking Committee announced a bipartisan plan to wind down both government-controlled mortgage finance companies. As a result, common shares of Fannie Mae and Freddie Mac were extremely volatile in yesterday's trading session. At the end of the day, Fannie Mae closed down 31% lower at $4.03 and Freddie Mac 27% lower at $4.04.
(Source: Yahoo Finance)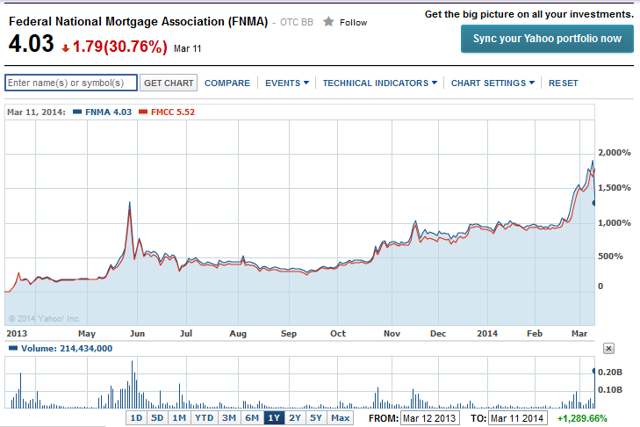 Naturally, yesterday's intraday swings and my previous bullish thesis about the common stock of Fannie Mae, did draw some heat. The astonishing thing about yesterday's news is, that it isn't news at all. Let me repeat that: The Senate Banking Committee plan calling for a wind down of Fannie Mae and Freddie Mac was not new information and the release no event whatsoever.
Analysts and investors have long anticipated that the government would suggest housing market reform, but the gridlock in Washington suggests that a fundamental mortgage market restructuring is a low probability event. Investors purchasing the common stock need to understand, that the thesis I was referring to in my earlier post, is long-term in nature. On October 3, 2013 I wrote:
The common itself, technically, is worth little. But this could change dramatically once a court repeals the net sweep agreement. Correspondingly, Fannie Mae common stock has the largest upside potential. Now that the Treasury sweeps away all of Fannie's profits the common stock hovers in bargain territory at around $1-1.50 waiting for impulses of what's going to happen next.
I think many investors who chased Fannie Mae's stock price over the last month, were speculators trying to make a quick buck. Nothing wrong with that. But my thesis suggests that the success of an investment in Fannie Mae is dependent on a favorite court ruling (that is, Supreme Court declares government takeover as unconstitutional and residual profits ultimately need to go to the common). If the justice system sides with shareholders, which I think it will, then common shareholders are looking at a return of multiples of their capital. Should the government takeover be declared constitutional, investors are looking at losing their investment. That is the binary nature of this investment.
Yesterday's sell-off was a good example of a market panic -- a large group of investors wanted to leave the room at the same time. My long-term thesis is based on a favorite court ruling and is not affected in the slightest by yesterday's fearful sell-off and the Senate Banking Committee plan. As Marketwatch reported yesterday:
Common shares of Fannie Mae and Freddie Mac plunged Tuesday, starting to sharply drop several hours after U.S. lawmakers disclosed a blueprint for legislation that would eliminate the federally controlled mortgage buyers and reform the U.S. housing-finance system.

The sudden plunge was a bit of a head scratcher for analysts, who said that the legislation's elements were largely expected. Indeed, leading U.S. lawmakers have made it clear for some time that housing-finance-reform proposals would focus on mortgage-market stability, rather than getting cash to investors.

"Even if the shares had dropped immediately I would have been surprised because I thought the elements of the [proposal] were so well telegraphed," said Brian Gardner, an analyst at Keefe, Bruyette & Woods. "There was broad consensus that the bill would call for the unwinding of Fannie and Freddie, and I think that's the news generally driving the sell off."

Analysts said Tuesday that the chances for the bill to make it to the Senate floor this year are low because U.S. lawmakers are turning their attention to election season.

"Broader Democratic sponsorship might be required for it to pass. The House, however, would not likely support this bill even if it were to pass the Senate given that the House Financial Services Committee holds a very different view of how GSE reform should proceed," Bank of America Merrill Lynch analysts wrote in a research note.
There are a couple things here that reaffirm my view on Fannie Mae. First, the Senate bill, like it or not, will probably be DOA (dead on arrival) as we have seen many times over the last few years in Washington. Secondly, the bill has been widely anticipated by analysts and investors which suggests that the market is extremely overreacting. Thirdly, the time-delayed reaction of Fannie Mae's share price raises eyebrows and could hint at the involvement of heavy algorithm-based trading.
Final thoughts
It is my opinion that the Senate Banking Committee bill with respect to the wind down of Fannie Mae and Freddie Mac will go nowhere. In my original thesis I have argued that Washington will be unable to enact fundamental reform and that it is my opinion, that courts will ultimately side with the common shareholder. I still stand with that assertion. Long-term investors also have credible support on their side: Bill Ackman of Pershing Square is on board just like value investor Bruce Berkowitz of Fairholme Funds. Perry Capital, too, has skin in the game.
I think yesterday's panic could be an interesting entry point for investors who want to play the thesis that Fannie Mae will be returned to shareholders. An investment in the common stock, however, is of extraordinary risk and investors could lose all of their money.
Disclosure: I am long FNMA. I wrote this article myself, and it expresses my own opinions. I am not receiving compensation for it (other than from Seeking Alpha). I have no business relationship with any company whose stock is mentioned in this article.