Qualcomm Inc (NASDAQ:QCOM) is a global developer and innovator of advanced wireless technologies, products, and services. It is a company that is very much customer oriented and rewards its shareholders enormously. Recently the company boosted its dividends and share buyback program. In this article I will examine the future prospects of the stock.
Enviable Returns
Qualcomm announced this month that it would increase its quarterly dividend to $0.42 reflecting an increase of 20% from last quarter's dividend of $0.35. This is the 10th increase in dividends in 11 years on the part of the company. Its dividend yield has risen to 2.2% based on today's stock price of $76.11. On the other hand, the industry is offering a dividend yield of 1.09%. Glancing at other competitors it becomes evident that tech giants like Cisco Systems (NASDAQ:CSCO), Microsoft (NASDAQ:MSFT) and others in the industry are paying a more enviable dividend yield than Qualcomm but the key point is Qualcomm's dividend growth which is robust enough and will remain so in the future. This makes us believe that Qualcomm will successfully chase the yield offered by its industry peers in some time.

Source: 1Stock1.com & Yahoo Finance
Qualcomm also boosted its share buyback program as per the announcement and it authorized a further $5 billion for share repurchases. Qualcomm has already bought 27.6 million shares worth $2 billion out of a total $2.8 billion authorization since the start of 2014. The additional buyback will take share repurchases authorized to a cumulative total of $7.8 billion. This way the company aims to reduce its outstanding shares by 4.5% since by spending $5.8 billion the company can repurchase 76 million shares (out of 1685 million shares outstanding) based on today's market price of $76.11. However since 2011 the shares outstanding have increased despite the share repurchases on the part of company.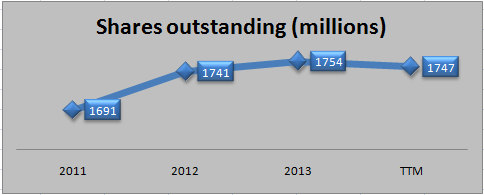 Source: Morning star
This is because the company is rewarding its stocks to employees and buy backs are not sufficient to actually reduce the share count. This time the effect on share count is yet to be seen as it is the company's discretion to reward stocks and buyback. Optimistically this huge repurchase should slightly reduce the stock count.
After the dividend hike and share buyback program, the stock experienced an increase of 2.2% climbing to $73.63. In the year 2013 Qualcomm secured a price appreciation of 14.23%, almost triple to that of Cisco systems who only experienced increase of 5.21%. In terms of total returns, Qualcomm has outperformed its competitor Cisco Systems as it transferred a total return of 16.98% to the shareholders' wallets compared to the 8.41% return of Cisco Systems.
Robust Top and Bottom Lines
Although Qualcomm is rewarding its shareholders so generously the sustainable payout depends on its ongoing top and bottom line growth. Qualcomm expects its top line to increase year over year by 5%-11% as its guidance for 2014 shows revenue reaching $26 -$27.5 billion. According to Reuters' estimates, the long term growth rate for Qualcomm's earnings is 15% but conservatively we can assume that its earnings will grow by 12%. Qualcomm has updated its guidance for FY2014 according to which its EPS will lie in the range of $5-$5.2. On average EPS is expected to be $5.1 and applying a payout ratio of 40% investors can expect a payout of around $2.04 that is 22% higher than current annual dividend of $1.68. This scenario brings to fruition the goal of the company to accelerate shareholders' return. At the end of the first quarter of FY2014 the company had a cash balance of around $31.6 billion and its CFO stood at $2.78 billion. Qualcomm is offering a free cash flow yield of 5.8% up from 2012's 4%.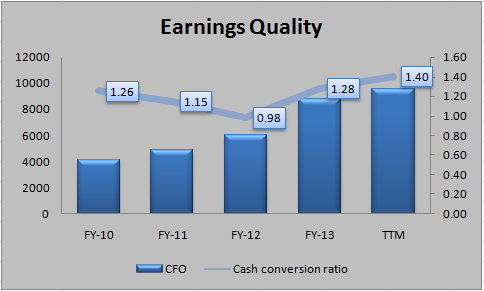 Source: Morning star
Cash conversion ratio remained above 1 throughout the period under analysis apart from the dip in FY2012. This implies that Qualcomm is generating earnings of high quality since they are being translated into operating cash flows at an increasing pace y/y. The company's cash flows are increasing steadily as well. The robust cash position of the company is enough to believe that Qualcomm is able to continue paying sustainable returns to its investors. Such an enormous level of returns from the company raises the concern of whether the company has no other mean to return this cash to the business. The company is rewarding its shareholders so much but why doesn't it reinvest it in the organization? Looking at the R&D expense of the company for the previous 5 quarters it is evident that Qualcomm is constantly spending around 20% of its revenues on research and development which is the key to the future growth of the company. That means there is no danger area here as the company has not stopped investing in terms of new innovative technologies.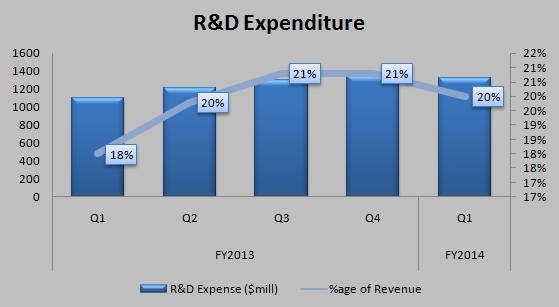 Source: Yahoo Finance & Company's press release
Bright Industry Outlook
An interesting thing to look at is the fact that Qualcomm is the major supplier of many device manufacturers worldwide making it a safe investment. Its chips are used in smart phones, laptops, tablets and a variety of other mobile devices. No matter which smart phone brand gets more or less market share, or which tablet comes or goes out of the market Qualcomm will remain in demand and there is no sign of declining demand any time soon. This scenario makes us believe that the company will continue delivering revenue growth year over year.
Qualcomm is striving to come up with new technological advancements that can help prolong the market of smart phones. IDC expects smart phone shipments to increase by 19% this year and fall to 6% by 2018 but Qualcomm is betting on the same market and expects the best days of smart phones are not over. It believes new innovations can add new features to phones that can revitalize its market demand. China is a very attractive market for Qualcomm since it notices the rising demand of smart phones in the region especially due to 4G LTE adoption. The smart phone market has shifted towards China driven by the consumers favoring cost-efficient devices.
Qualcomm is offering better octa-core tech and better LTE radio in China however it could not get the first mover advantage as Samsung and MediaTek are ahead in the octa-core game. However, the company has faith in its brand and is confident in the brand loyalty of Chinese consumers. Snapdragon 615 launched last week, contains both of the above mentioned features, and will hit the market by the end of this year. China Mobile, the world's largest wireless carrier, is going to launch its TD-LTE network this year that will boost the LTE infrastructure further with 500,000 base stations in operation by late 2014. Looking forward to this advancement all major device OEMs including smart phone manufacturers have come up with TD-LTE compatible devices. This arena has boosted the demand for Qualcomm's 4G technology in China.
TD-LTE subscriptions are predicted to climb to 1 billion by 2020 with the buildup of LTE networks around the globe. This will contribute $230 billion in service revenue as well. In short, global adoption of advanced technologies including 3G and 4G will definitely bolster the demand for Qualcomm's products and services.
Despite the robust demand in China, Qualcomm's revenues may be affected due to antitrust investigations (in relation to overcharging and abuse of market position) going on there against the company. Under the command of the new CEO Steve Mollenkopf (former chief operating officer) Qualcomm will address any negative issues and will surely turn opportunities into fruitful realities. Qualcomm's management changes will bode well for the company's future since the new CEO has been a part of the organization since 1994 and is well aware of the company's dynamics.
My Stance
Qualcomm secures various strength points that can deliver continuous success in the long term. The company has the guts to keep customers satisfied with its products and investors happy with its returns. The current market seems favorable for the company and warrants revenue and earnings growth for it that can then translate to stock price appreciation. This stock provides investors a unique combination of income, growth, and sustainable returns. Therefore, in my opinion, investors should consider investing in this stock.
Disclosure: I have no positions in any stocks mentioned, and no plans to initiate any positions within the next 72 hours.
Business relationship disclosure: The article has been written by a Blackstone Equity Research research analyst. Blackstone Equity Research is not receiving compensation for it (other than from Seeking Alpha). Blackstone Equity Research has no business relationship with any company whose stock is mentioned in this article.