Most people think that AT&T (NYSE:T) has been around since the invention of the telephone. While the company is not that old, it has enjoyed a tremendous staying power over the decades while having gone through splits, mergers and changes. The AT&T of today is miles away from the company known as Ma Bell that was split in the early 1980s by the federal government.
Today, AT&T is far more than a phone company. Landlines represent a minority portion of the company's business, with far greater holdings represented by wireless phone, cable services, broadband Internet services, video, telecoms infrastructure support and networks, long-distance connections, and exchange services. All of this is bundled in three main segments: Wireline, Wireless and Other (or everything else).
Financial Perspectives
Year over year, the end of 2013 was far better than 2012 for AT&T. The company closed the fourth quarter with $6.9 billion in net income up from $3.9 billion rounded the year before. This is a notable change since the gross revenue side of the picture is far closer. 2013 closed at $33.1 billion from $32.6 billion in 2012. So AT&T's management was definitely more aggressive in finding ways to squeeze net income last year than previously. This was an interesting turn of events financially, especially given the fact that the company had less cash flow to work with, closing 2013 with $2.5 billion rounded in free liquid assets versus $4.6 billion the year before. Overall, AT&T is financially strong compared to the rest of the industry, showing a far better performance on collecting accounts receivables, managing asset turnover better, and scoring a far better ROE of 20.1% versus the industry middle ground of 13.6%.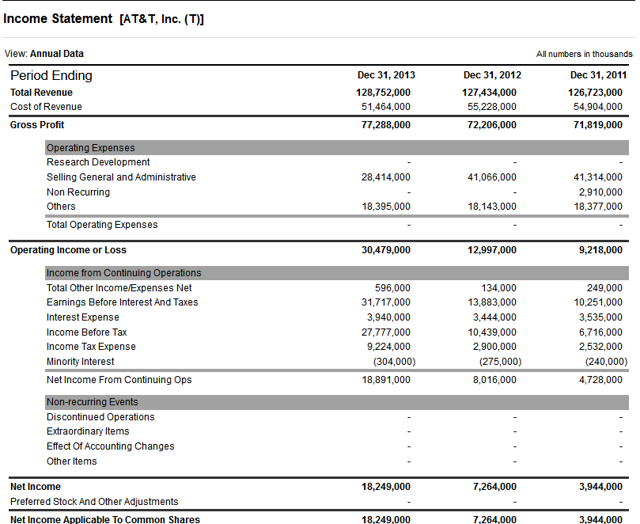 Source:yahoo.finance
So why is AT&T not scoring a better stock valuation? The reason has to do with its current market position versus competitors, the fact that the wireless market and digital product spectrum is saturated with no clear leaders, and a constant churn of subscribers hopping from one provider to another looking for a better service plan deal.
Strategic Mud
AT&T has been spending a significant amount of research and leverage funding to gain better positioning in a number of areas. The company has committed various pots of funding to different regions for infrastructure improvement as well, including over $800 million in Kansas City, $7.1 billion to boost networks in California, long an area of complaint about spotty wireless networks, as well as $250 million in West Virginia. While this sort of spending is necessary to keep the infrastructure up to speed with what the company wants to offer, it also represents sunk costs that investors would prefer to see going to added dividends and earnings per share.
The company continues to rage a price war with the T-Mobile US Inc. (NASDAQ:TMUS) upstart. Unlike other competitors, T-Mobile is attracting market share because it offers plans with no set contract periods, which is highly attractive to folks who hate being stuck for two or three years with the same plan. To fend off this push, AT&T is now offering a slightly discounted data plan to buffer T-Mobile's more expensive unlimited plan. This tit-for-tat jockeying is literally getting down to the single dollars and pennies for market share, with AT&T at $65 for a 2 gig plan and T-Mobile at $80 for an unlimited option. Yet it matters to consumers. As a result, the bigger player is seeing an erosion of revenues in this field to hold ground and buffer against T-Mobile's ventures. That does not look good to investment analysts.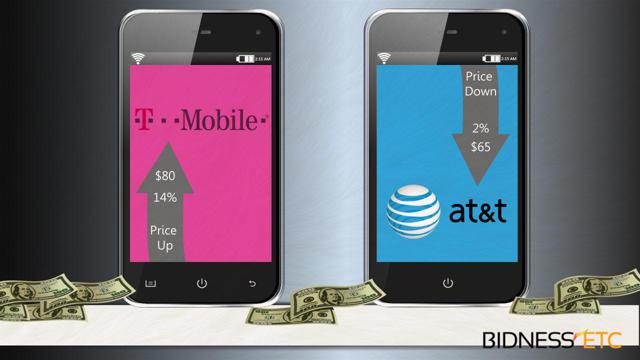 Market-Busting Game Changer
If AT&T wants to get out of its doldrums, get T-Mobile off its ankle and finally push Verizon (NYSE:VZ) aside long enough to grow into a new market, the company needs to hammer through into a new product area. Its current areas of operation have quickly grown saturated and every unique service of the company has become very much a commodity to consumers versus anything specific about AT&T. The company tried to create a unique platform with U-verse, providing a digital cable service and Internet bundle, but it was too easy of a product for Comcast and Verizon to follow, so now that's a price war battleground as well.
The big break needs to manifest in enterprise-level communication platforms that sync every employee with their company network regardless of service or device used. This is where AT&T needs to leverage its existing systems to create an all-encompassing uber-network tool for commercial customers. Short of that, AT&T will continue to be in stagnant waters, making it a "hold" status for investment purposes.
Disclosure: I have no positions in any stocks mentioned, and no plans to initiate any positions within the next 72 hours. I wrote this article myself, and it expresses my own opinions. I am not receiving compensation for it (other than from Seeking Alpha). I have no business relationship with any company whose stock is mentioned in this article.