LinkedIn Corp. (LNKD) is considered a risky stock because its share price has stayed volatile over a year. However, it managed to rise above the $200 mark, or 18%, and due to the frequently changing nature of the industry, the company still offers a good upside and should be included as a minority position in your portfolio.
The company has experienced growing quarterly results, and the target markets to which it plans to significantly expand with acquisitions, such as the data insights and matching technology provider Bright, are a good reason to have a brief but important look at the company's future return-generating potential. In this article, I will take you through the company's latest performance and put forward some of the points that I believe will give a decent return to your investment.
The Year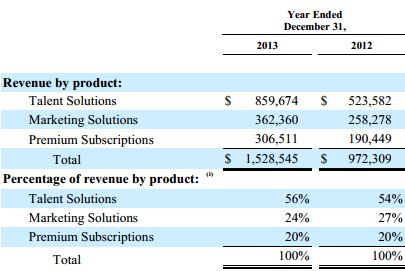 Source: 10K
LinkedIn ended its fiscal year 2013 with positive growth from all segments. Total revenue grew 57% to $1.5 billion, with Talent Solutions bringing in the highest progress and contribution ($860 million) towards the company. The segment grew as a result of further market penetration of the Corporate Solutions "CS" product that was demonstrated by the 49% increase in the number of CS customers during 2013.
The marketing segment grew 40% due to the higher sales volume by field sales and self-service advertising solutions, as well as higher average advertising prices. The increase in sales volume was driven by higher user engagement that was, of course, positively impacted by the increase in the number of registered members. The revenue per page view (see graph below) gives a good picture as to how successful the company has been in generating positive growth from its advertising.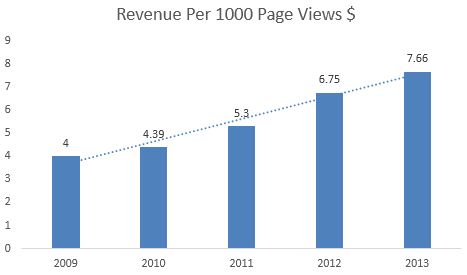 Source: Trefis
Premium subscriptions also followed the same trend, growing in line with the user base. Cost of sales grew, but didn't make up most of the company's expense, since a majority of what LinkedIn shelled out was on advertising and product development. This is good, since the growth in the industry to which the company caters is based upon innovation and products that deliver more efficient results than competitors.
During 2013, advertising and product development made up 60% of the total revenue, with both segments increasing by more than 50% from 2012. With further expansion plans on hold during 2014 and the increasing member base, I expect these costs to rise, but they shouldn't worry investors, because the long-term returns realized are greater (see graph above).
Higher costs led the diluted EPS to increase by 21% to $0.23 during the year. The year 2013 went ahead successfully, with the company still in its growing phase. Speaking of growth, the latest happenings will further ensure that this momentum continues.
The Future
Relevant Search Capabilities Means a Better Platform for Users
LinkedIn has invested a lot of resources into developing products like "Jobs You May Be Interested In" and LinkedIn Recruiter that uses data to match members with the right opportunities and employers with the right prospects. The recent $120-million acquisition of Bright is likely to add further expertise for the company to enhance the way it connects employers and job seekers.
Since Bright has followed the same data-driven approach to connecting people and employers as LinkedIn, its integration will enrich the company's future product development process through the possession of powerful matching technology. A look at some of Bright's analytic reports here will provide even a general reader with an idea of what I am referring to.
An Introduction of a Chinese Website Variant could Prove to be Successful
The acquisitions are just one part of the story. With regard to expansion into emerging markets, let's have a closer look at China. The Chinese form a very integrated community, and they rely on their own search engines like Baidu, whereas the majority of the global netizens use Google (NASDAQ:GOOG). Similarly, many professionals in China and other parts of the world prefer to communicate in their native language, particularly in a business setting. To cater to this, LinkedIn has recently launched a Chinese variant of its website within China. This is going to be beneficial, since the company is in a start-up phase and only 4 million members have signed up within a decade, whereas it is estimated that more than 140 million knowledge workers, managers, and executives live in China, making up about 20% of the world's total.
The local website is already gaining momentum with success stories portraying LinkedIn's increasing popularity. With a local language variant, I am very sure that the registered user base will grow. Since higher registrations account for higher premium subscriptions and greater clicks on advertisements, a 140-million user addition will likely increase the present number of users, revenue, and subscription enrolment by as much as 50%.
By taking the revenue per corporate customer of $23200 during 2013 and taking a percentage of corporate customers over the total members, we get nearly 12000 new corporate customers from China if the company can get as much as 140 million members. Applying simple math, this alone provides an annual revenue of $286 million. Of course, my estimate includes many assumptions, and it might be many years before such a figure is realized, but it should help provide a reasonable outlook regarding the impact the Chinese market holds for investors.
Bottom Line
For the moment, the Bright acquisition and China provide heavy returns to rely on. Even though fundamentals provide a hazy picture of LinkedIn, I believe that a more qualitative look relieves us of the company's worry. However, investors should not forget that stocks such as LinkedIn carry a lot of inherent industry risk, and therefore, investors should be careful not to concentrate their position with them. With that remark, I think LinkedIn offers a good decent upside, and therefore, deserves my buy rating.
Disclosure: I have no positions in any stocks mentioned, and no plans to initiate any positions within the next 72 hours. I wrote this article myself, and it expresses my own opinions. I am not receiving compensation for it (other than from Seeking Alpha). I have no business relationship with any company whose stock is mentioned in this article.