Geopolitical events in Ukraine ensure gold stays golden for the foreseeable future. Developments on the ground appear to me to be deteriorating and heading toward even greater division and involvement of Russia. For as long as the current situation or more likely worsening conditions exist, gold will find extraordinary demand. Thus, I reiterate my favor of gold and the SPDR Gold Trust (NYSEARCA:GLD) and relative precious metals instruments for all portfolios and extend my long call through March at minimum and for the foreseeable future.
The Crimean Parliament declared the independence of the region from Ukraine today. The vote occurred ahead of a scheduled popular vote on secession scheduled for March 16. The central government in Kiev threatened to dissolve the local government in Crimea Wednesday if it did not drop the referendum plan. However, now the Parliament has effectively acted and opened the door for Russia in my view.
Whether the referendum for secession is legal or legitimate probably does not matter, in my opinion. I see it as the key action that allows Russia to quickly move in a larger occupation force, which would likely be referred to as a protective force; I believe this could occur as soon as tonight given the Parliamentary vote. I believe full Russian occupation and perhaps annexation will happen sometime between now and March 16 at the latest, and so gold and relative securities like the SPDR Gold Trust , Market Vectors Gold Miners (NYSEARCA:GDX), iShares Silver Trust (NYSEARCA:SLV), Direxion Daily Gold Miners Bull 3X Shares (NYSEARCA:NUGT) and miners like Goldcorp (NYSE:GG) are at minimum supported here and likely to gain significant further ground starting immediately.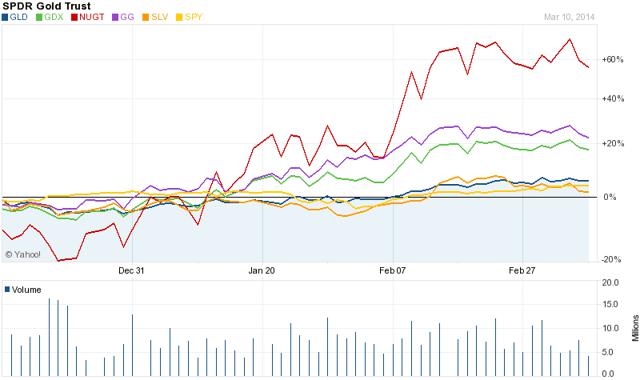 3-Month Chart at Yahoo Finance
The chart here shows the outperformance of most precious metals securities against the SPDR S&P 500 (NYSEARCA:SPY) over the last three months. If the chart were representative of just the year-to-date, the SPY would be clearly at the bottom of the pile.
| | | |
| --- | --- | --- |
| Security | 03/11/14 | Year-to-Date |
| SPDR S&P 500 | -0.5% | +1.4% |
| SPDR Gold Trust | +0.6% | +11.8% |
| iShares Silver Trust | +0.2% | +7.1% |
| Market Vectors Gold Miners | +0.6% | +23.7% |
| Direxion Daily Gold Miners 3X Bull | +1.3% | +76.4% |
| Goldcorp | +0.7% | +24.0% |
At the very start of this year, on New Year's Eve in fact, I authored my bold sell call for stocks. I say "bold" because at the time, investors were still on an equity high. You can see that in the chart below.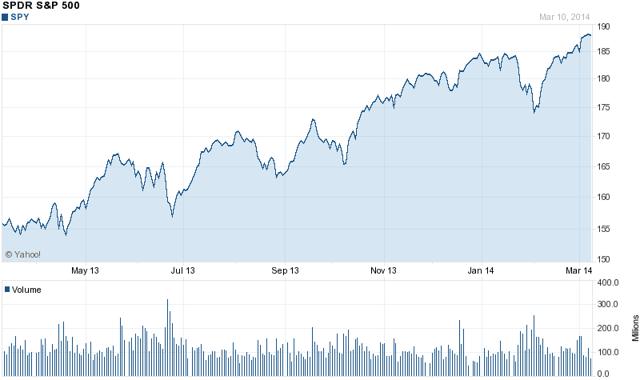 Only days after that prescient forecast, I said investors should consider gold and its relative securities, including the group represented here to benefit from capital flows over the short-term. Then about a week later, I said gold and the GLD grew legs to run further than the short-term, thanks to various factors at work at the Fed and elsewhere. A month after that, I extended my call and noted that Janet Yellen would be constructive for gold as well as she took control of the Fed. Then, at the start of this month, as Russian troops moved into Crimea, I said to ignore the immediate decline in gold and to view it as an opportunity to purchase. That call came as many investment "experts" were already publicly predetermining the rather alarming event would blow over and stocks would resume their climb while gold gave back ground; they actually drove stocks higher that Friday and sent gold lower. Those with such short-sighted and naïve views are wrong. I have been right on gold all this year, and the case has been built for it and supportive factors have developed throughout the first quarter.
Now I am telling you that what is about to happen in Crimea and the unfortunate deterioration of the relationship between Russia, Ukraine and the West portends trouble along many so far ignored fronts. However, it will be another strong driver for gold. Sanctions are being threatened and put in place against Putin's Russia, and many investors are looking toward the impact already seen on Russian stocks and the ruble. They mistakenly expect Putin to yield to such pressure. But, as we move forward, I am certain the cunning Russian leader will return the favor to us in a way that will raise concern about the euro and maybe even the dollar. Currency values are relative to one-another, but gold is an effective alternative to all of them. Even Warren Buffett, when asked if he would sell stocks during the crisis, said that cash is a poor alternative to stocks during wartime. Take note that gold is an alternative to cash, and not fiat currency, so he did preclude gold.
Perhaps with time the parties involved in this crisis will settle down and the situation will calm but through March I expect a degree of panic to set in first and for the situation to greatly deteriorate. Many uncontrollable factors will be put into play, which may include exchanges of fire between nations. I remind the reader that surprises and unintended consequences can be counted on in war or around the prospect of war.
Recent upticks in stocks are not indicative of the situation, but the relatively continuous climb of gold is. I believe the moves in stocks have been purely on the rosy perspective that greed ridden market players often degenerate to at times like these. They have been based on less incendiary situations that have not set nuclear and major powers opposed to one-another like they are today. So I say gold will be golden through March at minimum and for the foreseeable future. We are wise to hedge or reduce equity exposure and replace it with mankind's default currency, gold and its relative securities including the GLD, SLV, GDX, NUGT and GG.
Disclosure: I have no positions in any stocks mentioned, and no plans to initiate any positions within the next 72 hours. I wrote this article myself, and it expresses my own opinions. I am not receiving compensation for it (other than from Seeking Alpha). I have no business relationship with any company whose stock is mentioned in this article.