Believe it or not Yahoo! (YHOO) may not have failed in its transition to mobile. While Yahoo! hasn't figured out social networking, and it probably never will, some of its applications should result in monetary success.
Yahoo! Stocks climbs to the top
Yahoo! remains relevant through some of its apps, and when combined with mobile browsing on smartphones, Yahoo! retains the number three spot after Google (NASDAQ:GOOG), and Facebook (NASDAQ:FB).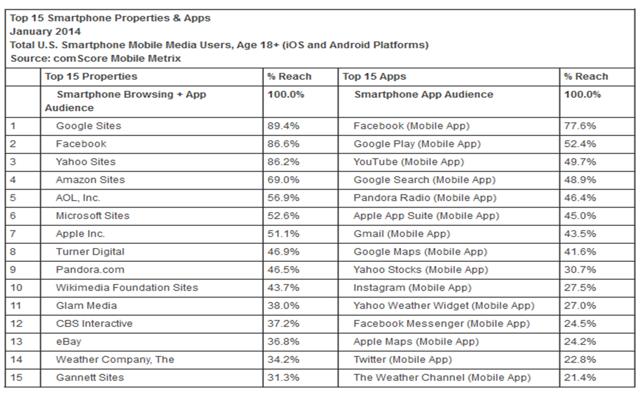 Source: ComScore Mobile Metrix
While Facebook has the most reach, it's a social networking site, which gives it the inherent advantage of word-of-mouth. But what really surprised me was that Yahoo Stocks had more reach than Instagram, and Twitter (NYSE:TWTR) in the United States. What's even more interesting is that Twitter trades at a $31.8 billion market capitalization, while generating a lower audience penetration rate than Yahoo!
Currently, Yahoo! is valued at around $37.9 billion, with most of Yahoo's intrinsic value based on its ownership of Alibaba (ABABA), and Yahoo! Japan. I calculate that if Yahoo! times a well thought out exit out of its investments in Yahoo! Japan and Alibaba, net proceeds should amount to $42.57 billion, which is $5 billion north of its current market capitalization. This is post tax proceeds, which is cash that can be used for future acquisitions or share buy-backs.
Assuming Yahoo! has $20 billion to $40 billion in post-tax cash through its investment in ABABA and Yahoo! Japan, investor's value Yahoo's! core web properties at around $5-$15 billion. The market isn't convinced by Yahoo's! core business, and has put too low of a discount when compared to peers.
Why the economics look wonky with Yahoo!
The economics of web based applications are a little different. Investors anticipate upside for social networking stocks like Facebook, and Twitter a little differently than Yahoo! as Facebook can earn a small amount of revenue from a large base of users to earn A LOT of money. To put this in perspective, let's assume Facebook is able to monetize 2 billion users at $10 per year that translates into $20 billion in revenue at a 30% net profit margin, and that's $6 billion in net profit. Apply a 30x earnings multiple to that $6 billion figure, and you arrive at a $240 billion market capitalization. Granted, this is just a hypothetical example, and I have a more specific intrinsic value estimate on Facebook in a different article. But, from a forward looking perspective, Facebook's growth trajectory is easier to understand, when compared to Yahoo's!
Yahoo! has the most unique visitors in the United States, which means Yahoo! has the most engagement from users, but it's terrible at monetizing them. Investors have been concerned about this for quite a while. To address this, Yahoo! has partnered with Microsoft, and formed the Yahoo! Bing Network in 2012. By leveraging better economies of scale, higher pricing or more ad sales was the hoped for outcome. But unfortunately, Yahoo! reported declining display ad sales, even though it partnered with Microsoft to offer a larger network of ads. Facebook out competed Bing and Yahoo! by offering cost per action ads, demographic data, and superior ad placement through a user's newsfeed.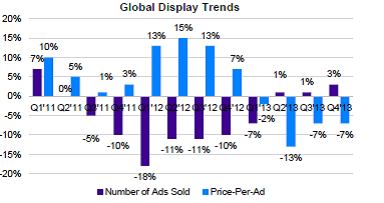 Source: Yahoo!
Going forward, I expect sales and pricing for display ads to stabilize and grow. There's a limited number of social networking websites. And since social networking properties like Facebook have a lot of data, it's likely that the cost per click, or cost of ad placement will increase, putting advertisers in the awkward position of reconsidering the cost-to-benefit analysis of social advertising, which may lead advertisers to re-consider the benefits of buying ad-impressions (banner ads) instead. In fact, my suspicion can be supported by the rising number of display ads that Yahoo! has been able to sell through its Yahoo! Bing network.
Granted, banner ads are a little less effective on mobile devices, so Yahoo! may eventually charge money for syndication of links from its platform. If that proves to be a terrible business strategy, Yahoo! could charge a low annual fee for its weather widget, messenger, tumblr, and stock apps instead. Remember, WhatsApp was bought out for $19 billion because it was one of the few apps that was dead set on not advertising, and it had 450 million active users.
Conclusion
While, Yahoo! hasn't been able to figure out monetization, it has been able to address the most important concern: can it attract users? The answer has been a resounding yes, and under those conditions Yahoo! should merit a much higher intrinsic valuation when compared to peers.
I'm going to stand by my $75 price target for 2014, as I believe investors have undervalued Yahoo's! core web properties. Yahoo's! future proceeds from Alibaba's IPO is added whip-cream that goes on top. Unfortunately, the Alibaba IPO is seen as the only excuse for buying Yahoo! rather than being an added reason for buying Yahoo!
It's not the same Yahoo! anymore, and I believe that the market will pay a higher value for Yahoo's! core business, once it gets better visibility on mobile monetization. If Yahoo! is unable to monetize through ads, it can pursue a low-annual-cost subscription strategy, similar to that of WhatsApp.
Disclosure: I have no positions in any stocks mentioned, and no plans to initiate any positions within the next 72 hours. I wrote this article myself, and it expresses my own opinions. I am not receiving compensation for it (other than from Seeking Alpha). I have no business relationship with any company whose stock is mentioned in this article.