I wrote my first Seeking Alpha article on GT Advanced Technologies (GTAT) on January 21, 2014, GT's share price was around $9 and there was a lot of questions regarding Apple (NASDAQ:AAPL) and the use sapphire cover screens. In less than 2 months GT's share price has nearly doubled after touching $18 within the last week. Based on what I know about GT's technological war chest and the upside potential across GT's business portfolio, it is clear to me that the welcoming party for GT shareholders hasn't even started yet. GT's management indicated their focus was to execute on their commitments to Apple and prepare GT to become a world class supplier of sapphire material for a variety of other customers. In addition, GT indicated they would like to expand their materials business into other material segments outside of sapphire. Lastly, they seemed very excited that their diversification strategy is on schedule to bear fruits across LED, power electronics, advanced solar and industrial markets. Below are the full comments from management:
While our primary focus during the balance of the year is to continue to execute on our commitments in Arizona, our aim is to position GT not only as an exceptional sapphire supplier to Apple, but also as an unparalleled world class supplier of sapphire material and equipment for a variety of other customers.

As strong as our sapphire opportunities maybe, the GT story is not just about our emerging sapphire business. In fact, our entry into the sapphire materials business may enable us to expand into other material segments whilst we have fully ramped the operation in Arizona. In addition, many of the diversification and investment fees that we have planted over the last several years in the LED, power electronics advanced solar and industrial markets are expected to begin to bear fruits over the next 18 months.
GT Q4 Guidance on 2014
The company maintained their guidance in 2014 at $600-800m in total revenue, with approximately 15% in the 1H 2014 and 85% in the 2H 2014. Sapphire revenue would make up over 80% of 2014 sales. During the November call, if you remember GT stated that the majority of their ASF (furnace) capacity would be tied up by Apple. In January, they reiterated their focus that 2014 will be all about delivering to Apple. My translation: a immaterial amount of ASF furnace sales will be converted from the current backlog to revenue in 2014. With that said, I am estimating sapphire material sales excluding Apple to be $30m in 2014.
GT purchased $50m of capital in Q4, deployed $180m of PPE and announced plans to purchase $500-600m of capital in 2014. The recently filed 10-K indicated that GT must spend the $578m prepayment on ASF systems and related equipment principally for use at our Arizona facility. Taking into account the $50m -Q4 capital, $180m PPE deployed and $500m of the capital guidance in 2014 totals about $730m, which is enough to fund 2,500 furnaces. The wall street analysts seem to be near consensus on the amount of furnaces coming to Mesa funded by GT. However, what still doesn't pass the sniff test was a comment made by the Mesa Commerce Authority, that Apple's capital investments for the plant could total $1.5B. The capital investment spending for the Mesa plant, along with job creation, is directly tied to an estimated $10m grant Apple is figuring to receive from the Arizona Commerce Authority. As a result, I am putting some significant weight into the Mesa Commerce Authority comment, because Apple does not leave money on the table.
The GT furnace investment is fairly straight forward, but Apple's Mesa capital spend and furnaces purchases are a bit ambiguous to say the least. I've run two scenarios to estimate how many furnaces Apple could have purchased for Mesa, one if Apple's $578m prepayment to GT was part of the $1.5B capital plan and one without. If you look at my graphic below it seems likely Apple is buying approximately 1,900 furnaces themselves for Mesa. GT's sale facility measured 25,000 square feet and contained approximately 100 furnaces, including 80 ASF furnaces. Apple's Mesa sapphire facility measures 1.3 million square feet, which means it can hold 4,200-5,200+ furnaces without much of a problem. The point I want to drive home is I don't believe Apple's capacity is limited to 2,500 furnaces purchased by GT and it would not surprise me at all if Apple's Mesa facility will have 4,500+ furnaces in production by fall. If Apple, has 4,500 furnaces in operation, they will be able to cover any and all iDevices in their hardware portfolio with sapphire. However, I have not included any iPad revenue in my current forecast, if this comes to fruition it would be an added bonus.

Additional Material Business Beyond Apple
Tom Gutierrez Q3 2013 Conference Call
I'm not sure what else. I mean, the movement to more materials business -- we have an extraordinary technical team, and we have an extraordinarily talented management team with a lot of experience prior to GT in the materials world, and we're going to obviously be adding additional talent. And our end objective is to have a very viable and robust equipment business alongside a materials business that provides that base from which to grow on. And we've talked about the markets that we are interested in. We're interested in the downstream LED industry. We're interested in the power electronics industry. A lot of the things that we work on are green technologies, technologies intended to enable green power use or green power generation. And so, beyond that -- and as you know, Hyperion has many, many applications in those areas. Beyond that, there's not much else that I can tell you.
Power Electronics Materials Business
A great place to get information about Power Electronics is by looking at the Applied Power Electronics Conference And Exposition (APEC) 2014 conference overview. APEC will be meeting next week and below I have listed (below) some of their discussions, products, as well as applications, that will be covered during the conference. GT has mentioned in the past that they would like to go after medical applications, sputtering targets, space applications and thermoelectric converters for hybrid electric cars. If you look at GT's most recent corporate overview it seems to indicate that GT is fixated on power systems for electric vehicles (page 4 of corporate overview).
Technical paper subjects selected by experts from industry and academia covering power converter design and applications, inverters, thermal modeling, magnetic components, motor drives, LED lighting, and vehicular electronics.
Among the 80 industry session subjects will be industrial power, alternative energy, nanotechnology, vehicle power, wide bandgap devices and packaging.
The power electronics industry will rely heavily on Silicon Carbide (Sic) to replace Silicon (SI) which has been pushed to its technological performance limitations. SiC is needed across power electronics in order to improve efficiencies, size of equipment and performance of power electronics. SiC is a wide band-gap semiconductor and the benefits of using SiC in power electronics is tremendous. The issue has always been the cost of processing and fabricating SiC material. If you haven't learned anything yet, then it's time to start paying attention. GT is the company with the best technology around and they know exactly how to cut cuts to drive technology adoption.
Graphene Material Supplier for Tesla's Lithium-Ion Giga Factory
Telsa Motors (NASDAQ:TSLA) announced a few weeks that it intends to spend $5B on a new plant to build batteries for its next-generation of electric vehicles. Tesla's goal is to build a plant that can produce enough batteries for 500,000 cars a year by 2020. The 500,000 unit sales target has been around for since 2013. For comparison, in 2013 Tesla sold just over 25,000 cars and driving up annual sales to 500,000 units is significant jump in sales and a lot of electric vehicle batteries compared to 2013 levels. If Tesla really wants to improve the current batteries in the market today and they want to develop state-of-the-art lithium-ion batteries, then the key ingredient is graphene. Northwestern University engineers in 2011 found that graphene electrodes can improve battery storage of lithium-ion batteries by 10 times and charge 10 times faster and last longer as well. Tesla wants to improve the range of their vehicles and having a super charged lithium-ion battery featuring a graphene electrode will do the job and then some.
Graphene is a two-dimensional (2D) material with exceptional properties, such as ultra high electrical and thermal conductivities, wide-range optical transmittance and excellent mechanical strength and flexibility. These properties make it a promising material for emerging and existing applications in printed & flexible circuitry, ultra fast transistors, touch screens, advanced batteries and supercapacitors, ultra fast lasers, photodetectors and many other non-electronic applications. One of the biggest problems is graphene is being able to produce graphene with high and consistent quality at acceptable costs.
GT has stated that their silicon carbide process paired with Hyperion Technology can produce thin silicon carbide lamina at the fraction of the cost of wafers cost today. The interesting thing about silicon carbide is that it can produce graphene! According to I-Micronews, "graphene materials can be produced as tiny flakes (nanoplatelets) or in the form of a large-size sheet on different substrates, such as a metal foil or silicon carbide (SiC)".
Furthermore, I-Micronews states that; "The catalytic chemical vapor deposition (NYSE:CVD) of graphene on metals, featuring the high potential for both scalability and high material quality, has the largest potential for mass production of graphene opto and electronic devices. Although the market potential of high-quality epitaxial graphene on SiC is limited by the dimensions and high costs of SiC wafers, it may be successfully applied to produce some high-end electronic applications. The nanoplatelets produced by different methods, such as liquid phase epitaxy or reduction of graphene oxide can be used to produce conductive inks for printed electronics and additive materials for energy storage devices, such as Li-ion batteries and supercapacitors".
If GT can produce SiC wafers at a cost significantly below the current market price they are also equally ahead of the competition to provide graphene, a byproduct of SiC, to Tesla for their $5B lithium-ion Giga Factory battery build out.
LED Downstream Sapphire Supplier
GT may shift their focus from LED and wafer production (upstream) to addressing the LED (downstream) product design. GT has always focused on the complete product chain whether it's solar, sapphire cover screens and SiC. If you look at a process or product from soup to nuts the end product is impacted by the beginning of the cycle. Hyperion ability to create super thin sapphire wafers for LED may also hold the key to addressing downstream efficiency issues. Efficiency ratings need to improved for solar as well as LED. I wouldn't be surprised if GT figures out a way to come up with some game changing technology to address the LED downstream market in the near future. Attached is a 2012 Goldman Sachs research report focused on downstream LED business opportunities and strategy for your educational and viewing pleasure.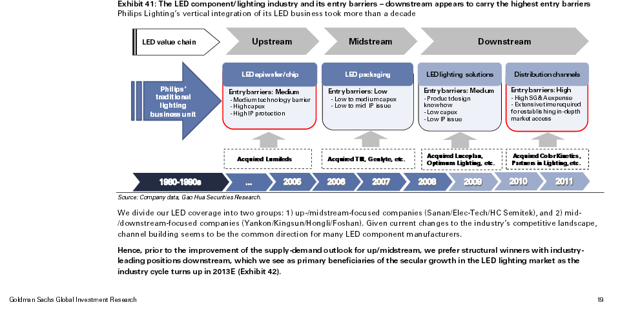 GT's Tools of Trade
Spark Plasma Sintering (SPS) (acquired through Thermal Technology in 2013), which has not been brought up by management at all since they acquired Thermal Technology. SPS can hot press (shape) materials in minutes because it can send a DC current and heat material internally, which results in savings hours of time and energy. Conventional methods heat materials externally which can take hours and require significantly more energy to perform the same task.
GT's thin semiconductor lamina adhered to a ceramic body patent (acquired through GT's purchase of Twin Creeks Technology). This patent combined with GT's SPS technology would be a perfect combination to go after thermoelectric converters for hybrid electric cars market.
Hyperion (acquired through GT's purchase of Twin Creeks Technology) is GT's most explosive tool in their war chest. GT's CEO commented during the Q4 2012 conference call that, "The Hyperion, nobody's got that." Hyperion will have a very broad application across GT's business swim lanes. Consumer electronics and other non-LED uses of sapphire, LED, Power Electronics and Solar.
GT is developing low-cost composite glass and thin sapphire structures that will have a broad use in consumer applications (Substrate glass or polycarbonate combined with Sapphire Laminates)
GT has interest in entering downstream LED materials business (Sapphire)
GT has interest entering power electronic material business (SiC)
GT is developing thin film solar cells
GT is positioning itself as a prime contender to provide low cost high volume Graphene material for Tesla's $5B Giga Factory
Macroeconomic Environment
I'm expecting GT's existing backlog of $600m to be worth $450m by the end of 2014. I am forecasting new orders of $1.5B to arrive in 2014 with approximately 77% of those orders to come from existing markets including PV equipment, sapphire equipment and polysilicon. GT just received a $336m order for PV equipment and technology for a project in Malaysia and as a result they appear well on their way to achieving my $1.5B estimate of new orders in 2014. The macroeconomic environment for poly, solar and sapphire are all extremely supportive as we exit 2014 and head into 2015. LED equipment utilization is at or near 100%, Solar is expected to run through the excess poly supplies and drive up the polysilicon price per KG from $21 to $25 by the end of 2014. Solarbuzz is already estimating a major comeback in solar capital equipment purchases by 2015. GT is well positioned on several on projects in the Middle East, that are each worth $300-500m annually. GT's management has been estimating that the PV projects from the Middle East will begin to hit revenue in 2016. GT's Power Tec agreement is likely to contribute $100-200m in revenue in 2015 and 2016 alone. GT's solar and PV business averaged a combined $600m in recognized revenue over 2010 and 2011. The upcoming capital expansion will reward low-cost, thin-film and innovative solutions with significant orders. The remaining $350m of new orders or 23% of 2014 bookings will come from GT's Hyperion and SiC (Silicon Carbide) business.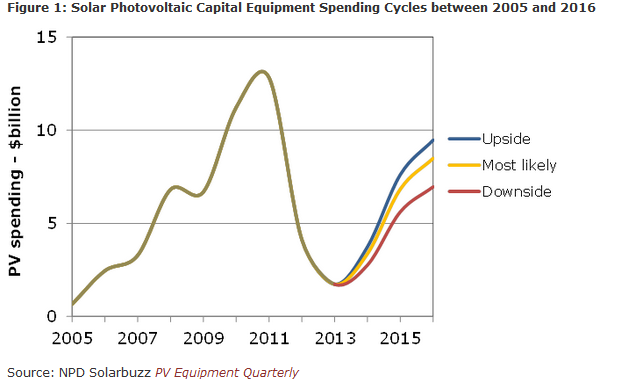 Apple Product Road Map 2014-2016
GT management confirmed that they have driven down the price to where they want, at this point I am estimating ASP of $10 per screen on average for the upcoming iPhone(s) and iPod. Apple's iWatch is expected to support a flexible sapphire laminate display. The "slapwatch" patent filed by Apple indicates that the display will most likely be flexible in nature and sapphire laminates are a perfect candidate to fill the required job. I have estimated an average ASP of $4 per iWatch display. I am expecting the iPhone/iPod and iWatch to arrive no later than September/October 2014. My model estimates that sapphire covers will be used in 70% of Apple's unit sales in 2015 and beyond. Apple has launched older iPhone models in India and may continue to keep around some lower cost models in select markets. My forecast of unit sales are derived by utilizing the smart phone industry trends provided by IDC. My calculation base Apple market share at 17% of the total smart phone sales. I feel my 70% penetration rate for sapphire for sapphire cover screens for the iPhone is reasonable but conservative. The wild card in the product road map is what Apple will do with the iPad and MacBook in terms of sapphire usage. On one hand you could argue the price of sapphire is too high on the other hand you could argue they have already plowed $1.5B of capital into the Mesa plant and they are prepared to cover every piece of hardware they make with sapphire. For now I have excluded the "wild card" from my analysis but it may represent an enormous upside to GT's revenue.
I read a Barclays report today on TPK Holding, Co, LTD. (OTC:TPKCF), who is a supplier of touch-on-lens process for sapphire based cover glass. The report noted that Barclays sees, "long-term opportunities from possible 12.9" touch devices from Apple, and as we expect more high-end users to adopt TPK's touch lens solution. The Barclay's research definitely indicates that Apple is likely to adopt sapphire cover screens for the iPad, the only question that remains is when? As far as I'm concerned, it's only a matter a time until the iPad sapphire revenue is baked into the analyst forecasts for GT. Additionally, if Apple purchased an additional 2,000 furnaces for the Mesa sapphire plant it is possible they could add sapphire to the iPad in 2014.
My 2014, 2015 and 2016 Estimates
I am forecasting Apple material's business revenue of $1.2B in 2014, $2B in 2015 and $2.2B in 2016. iPhone revenue makes up approximately 73% of the annual sapphire material revenue generated by Apple. I have assumed a 25% margin and a cost plus model, which means as GT lowers the cost of sapphire, Apple will receive the benefit in the form of a lower ASP $. See my complete Apple breakdown in the image below:
Apple 2014 to 2016 Breakdown:

I am forecasting GT's remaining business opportunities (sapphire material and ASF furnaces, PV & HiCz equipment, Polysilicon equipment, Hyperion equipment and SiC furnace equipment sales) as follows; $0.15B in 2014, $1.15B in 2015 and $2.2B in 2016. Historical margins range from 30-48% for the remaining business opportunities. I have my COGs using 32% to take into account any new technology releases that could be sold for lower margins versus past equipment sales. Below are my views by year, 2014, 2015 and 2016 including revenue backlog, new orders and revenue recognition.
2014 Non-Apple Sales:

2015 Non-Apple Sales:

2016 Non-Apple Sales:

Conclusion:
I am currently forecasting GT to earn $0.62 in 2014, $2.75 in 2015 and $4.26 in 2016. Revenue forecasts are as follows; $1.331B in 2014, $3.177B in 2015 and $4.416B in 2016. I have assumed 148 million shares in my EPS calculations. My current forecast does not include Apple's iPad being covered in sapphire glass. It also does not include any additional use of sapphire on Apple devices outside of cover screens. My forecast does not include the any additional revenue if GT pursued and entered materials business related to downstream LED, power electronics or landed a massive contract with Tesla to provide graphene for their $5B Lithium-Ion Battery Giga Factory. My financial summary is below for 2014 through 2016.
GTAT 2014 to 2016 P&L
Final Thoughts
The Apple deal will provide GT with the recurring revenue and consistent cash flow that it needs to nurture their investment seeds that have been dormant for the last several years. GT's future is extremely underappreciated and misunderstood but Wall Street analysts and GT cannot and should not ever be labeled as a "sapphire materials company" or as "just a solar company" ever again. They are quietly establishing themselves as a leader in cutting edge, disruptive and game changing technological innovation. GT is prepared, willing and able to take their disruptive technology and created market niches places we have only dreamed of or seen in sci-fi movies. Lastly, I have to give thanks to my fellow street analysts including (Chelle and Cali Sun/Chad X on SA) for continuing to share their ideas and knowledge with me on this dynamic company with an amazing future. I am officially upping my fair value on shares of GT Advanced to $64 to $85 per share, assuming a 15-20x FY16E EPS of $4.26.
Disclosure: I am long GTAT. I wrote this article myself, and it expresses my own opinions. I am not receiving compensation for it (other than from Seeking Alpha). I have no business relationship with any company whose stock is mentioned in this article. I have no plans to buy or sell any holdings in the next 72 hours