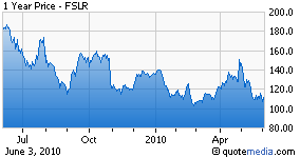 The European Parliament just voted to exclude solar panels from an extended law controlling hazardous materials. This is a major victory for renewable energy in general and for First Solar (NASDAQ:FSLR) in particular.
Our analysis of the solar stock segment in "Picking Solar Energy Winners" still stands. In it we detailed why we identified the global leader in thin-film modules, First Solar, as one of the long-term solar winners. We liked the company in part because it is the all-around leader in installed cost per watt. Our other solar favorite, Trina Solar (NYSE:TSL), has the best cost per watt for silicon panels.
The only reason we took a defensive posture on First Solar is that the European Union had been threatening to adopt legislation to extend the so-called directive on the restriction of hazardous materials (RoHS) to solar panels. First Solar uses cadmium telluride (CdTe) for its thin-film panels and could have been devastated if the extension was approved, banning their products from the largest solar market in the world.
Well, cooler heads prevailed as the members of the European Parliament voted to exclude renewable energy technologies such as wind and solar from the extended hazardous materials law, on the grounds that it would place renewable energies at a disadvantage compared to fossil fuels, which do not have to comply with the requirements. The exclusions will be reviewed again in 2014, giving FSLR a new lease on life for at least five years, and by then they will not be as dependent on the European market as they are today.
Now that this major cloud over First Solar's viability has been lifted, we trust that investors will return for its strong fundamentals and the best margins in the industry. First Solar is also exceptionally well positioned to benefit from the growth projected for the US solar market over the next few years.
All the reasons we liked First Solar in the first place are still present and its lower valuation makes it better deal than it was back then.
Disclosure: No positions