Living on Maui, I have been lucky enough to have dined at BJ's Restaurants Inc (NASDAQ:BJRI) in Lahaina and, while I do enjoy the pizza, I personally prefer the current chart and stock fundamentals to the food overall.
The tasty food at the 84 BJ's Restaurant and Brewery and BJ's Pizza and Grill locations in 13 states (along with the one restaurant they license in Lahaina) has allowed the stock to grow its EPS and sales by quite a steady amount over the past two years.
For the past five quarters, EPS has grown, YOY, by 17%, 33%, 33%, -8%, and 14%, respectively. Sales have been even more impressive, with the past eight quarters showing YOY growth of 16%, 19%, 17%, 18%, 17%, 9%, 13%, and 19%. These are very impressive gains in the tough retail-restaurant arena and the outlook looks just as good with 2010 and 2011 EPS estimates at 26% and 24% respectively (all fundamental data is from Daily Graphs Online).
These numbers, along with a Return-on-Equity of 6%, a cash flow of $1.45, debt to shareholder equity of only 2%, and mutual fund ownership growth from 70 mutual funds in September of 2009 to 83 funds in March of 2010, show that this stock is doing very well and is in demand by the smart money.
This smart money appears to be going to work right here as BJRI has retaken its 50-day moving average on very strong volume holding up very well in the middle of this rough market period we have experienced over the past month-plus.
While this stock is only now working on the right side of the base that it started to create in April, the retaking of the key moving average on such strong volume indicates that it has a very high chance of completeing its base with a breakout to new 52-week highs in the future. The RS line confirms this strength with the line already hitting new 52-week highs before the price--bullish divergence.
Nothing is guaranteed, however, in the stock market, and if the stock does not continue to move higher it does not pay to keep good capital in a bad stock. Therefore, if a purchase is made here with the strong move off the 50-day moving average the ideal and wise cut loss area (protecting your capital is the best defense in the stock market) is with a close below the 50-day moving average. (Click to enlarge)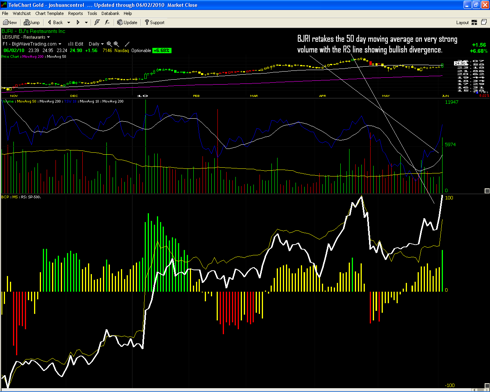 Disclosure: No Position