Commodity markets are being heavily impacted by the weakness, or perceived weakness rather, in China. Everyone is expecting a Lehman Brothers moment to occur as investors recognize the hidden risk that was always in corporate bonds, but previously ignored due to China's willingness to shoulder the burden of defaults. This is a minor hiccup as markets adjust and we believe further reaching than many anticipated only because of the various workings of the highly regulated and inefficient financial system the Chinese have set up.
For instance, we have read a few interesting articles discussing the weakness in copper and their conclusion is that the recent price movements are tied to China's finance system and how copper is used as a financing tool. As defaults rise in these private transactions, the price of copper falls as more of its hits the market to be sold for cash and demand for the metals also falls as few people need it to use as collateral in these shadow banking transactions.
Chart of the Day:
WTI Crude is pulling back as we suspected that it would and the differential with Brent Crude is now just over $10/barrel, which puts the commodity back into the range of where we feel comfortable being buyers. We think that Brent should have a pullback in the next few days and at that time it might once again be time to go long oil names for a trade.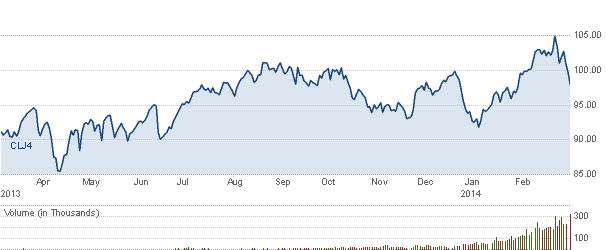 Source: CNBC
Commodity prices this morning are as follows:
Gold: $1,369.70/ounce, up by $23.00/ounce
Silver: $21.37/ounce, up by $0.555/ounce
Oil: $97.82/barrel, down by $2.21/barrel
RBOB Gas: $2.9499/gallon, down by $0.0171/gallon
Natural Gas: $4.516/MMbtu, down by $0.089/MMbtu
Copper: $2.962/pound, up by $0.01/pound
Platinum: $1,479.00/ounce, up by $14.40/ounce
Oil & Natural Gas
The big news in the oil and natural gas sector today is that Energy XXI (EXXI) has agreed to purchase EPL Oil & Gas (NYSE:EPL) for $1.53 billion in cash and stock. The merger will create the largest publicly traded E&P in the shallow waters of the Gulf of Mexico. EPL shareholders will get to decide whether they want $39/share in cash, 1.669 shares of Energy XXI, or $25.35 in cash and 0.584 shares of Energy XXI. Upon closing, the company expects to have daily production of 65,000 BOE (about 70% of which will be oil) with the ownership consisting of 77% Energy XXI shareholders and 23% EPL shareholders.
EPL was recently highlighted in Barron's (the February 17, 2014 issue) as a value pick for the next year.
Hyperdynamics Corp (NYSE:HDY) and Tullow Oil plc (OTCPK:TUWOY) have suspended work on their project off of the coast of Guinea after the US Department of Justice launched a probe into how the concession was awarded to Hyperdynamics. Tullow Oil, now the operator, bought into the concession by paying Hyperdynamics $27 million in cash and footing the bill for $200 million in future expenditures. Hyperdynamics shares are down sharply on the news, losing half of their value.
Where Has Icahn Gone?
Carl Icahn is usually one who is quick to begin getting down to work. Thus far he has been relatively quiet with Talisman Energy (NYSE:TLM) and been hands off, possibly due to the fact that management welcomed him into the fold so quickly. With the company's shares having fallen below the $10/share level this might be a good way to speculate on Mr. Icahn's long-term turnaround abilities, which he has proven work in the oil and natural gas business.
The Icahn premium has dissipated in Talisman shares; the risk/reward is now quite attractive in our opinion.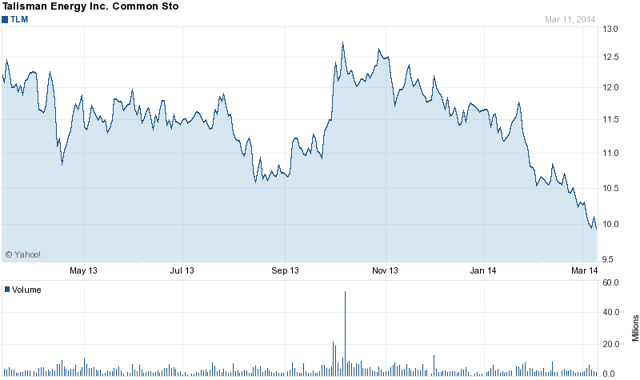 Source: Yahoo Finance
There is a lot that could be accomplished with the company's assets, including spinning off the international assets (outside of North America), or breaking up the company into a North Sea producer, North American explorer and sell the Asian assets to fund North American exploration. The Asian assets have been coveted in the past and could be an easy sell to the Chinese. The bottom line is that with all of the moving parts Mr. Icahn's team could create a lot of value for shareholders that is currently hidden due to past missteps in the natural gas business.
Disclosure: I have no positions in any stocks mentioned, and no plans to initiate any positions within the next 72 hours. I wrote this article myself, and it expresses my own opinions. I am not receiving compensation for it (other than from Seeking Alpha). I have no business relationship with any company whose stock is mentioned in this article.
Editor's Note: This article covers one or more stocks trading at less than $1 per share and/or with less than a $100 million market cap. Please be aware of the risks associated with these stocks.