The study of corporate reports can often provide insight into a company's future plans, which make them a must read for investors. You will find all sorts of metrics used to measure performance combined with a robust discussion of the method in which capital will be allocated to further enhance the business. A CEO will often speak at conferences held in between their quarterly reports, where further insight into their plans will be disclosed.
Randall Stephenson, CEO of AT&T (NYSE:T) recently spoke at the Morgan Stanley Technology, Media and Telecom conference where he detailed the company's new initiatives. I found one particular remark to be quite telling and will detail my finding below. The article below will discuss why I continue to view T as a compelling long term investment.
The following quote from the CEO of T neatly summarizes their existing strategy for deploying capital and investing to further grow the business. The reference to the $32 per share price is particularly telling, as the company views that level to be particularly attractive. I expect them to aggressively repurchase shares at around that level, effectively putting a floor under the share price.
Randall L. Stephenson - Chairman and Chief Executive Officer

Well, obviously investment is priority number one. And we've set a direction and made a commitment to our VIP build. And 2014 is our peak year. It's our peak year on LTE deployment. It's our peak year on fiber deployment and our IP broadband extension, and we're committed to finishing that especially in light of as I said the competitive dynamic changing with Comcast and Time Warner. So we want to get that finished in 2014. So that's about a $21 billion capital spend this year.

You put on top of that bonus depreciation going away this year and so but after you spent $21 billion in capital and pay a $9 billion dividend, the level of cash available just from operations is not as significant as it was last couple of years. So share buybacks we've said publicly that they will be dialed back this year, but as we generate opportunistically other cash, you will see us in the market buying back stock, but like last year I think we generated $7 billion of cash from asset sales. A year before, we did a comparable number.

Always just working the portfolio, clean-up the portfolio there will be cash flows from asset dispositions and opportunistically we'll be in the market buying the stock at $32 of share. We like the stock a lot.
Interestingly, an analyst asked again about the share price of $32 in which the Mr. Stephenson again commented they are very comfortable about the share price at $32. The exact terminology used was "M&A speculation, there has an effect on the stock, but at the end of the day, the dividend and casual characteristics of the business, we think are very, very solid and with it, we feel like I said very, very good about buying the stock in $32."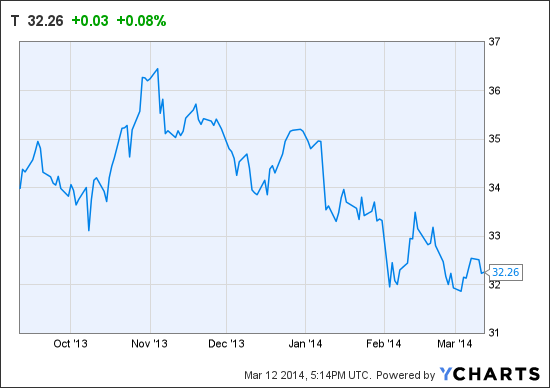 T data by YCharts
The importance of the $32 per share price isn't lost on me, as the shares are currently trading in a band stuck between $32 and $33 per share. As we can see from the chart above the shares will attempt to trade above $33, only to find significant resistance and trade back down to $32. I would like to draw one's attention to the $32 price, as the shares seemed to have bottomed there in February and March as well. This tidbit of info, combined with the CEO's above proclamation, I feel the $32 level will be proven to be a bottom in the shares. With the shares currently trading slightly above $32, in my opinion a low risk entry point has emerged in the shares of T.
Now that we have identified a low risk entry point, the question remains what are T's investment merits going forward? The primary one revolves around their consistent ability to pay an above average yield. The shares are currently yielding over 5% a year which is far superior to what is being offered by US Treasury bonds of any duration! Let's ponder this for a moment; an investor who purchases shares in T will receive an "interest" payment in the form of a dividend that is superior to what is offered by a 30 year bond. When coupled with the fact that T has managed to consistently grow the dividend at a pace that exceeds inflation, the combination in my view is quite compelling. If an investor purchases the shares in a tax sheltered vehicle such as an IRA, the dividend received will avoid taxation which makes the total return even more compelling.
Asset disposals will greatly aid in the increase of capital available for dividends in a quite unusual fashion. As mentioned in the CEO's remarks above, asset disposals will be conducted and the proceeds will be used to repurchase shares as we have done in the past. As of the Jan. 2014 8-K, T has approximately 163 million shares left on their repurchase plan which is worth over $5 billion dollars. T can simply aggressively repurchase shares and allot the same total dollar amount for share repurchases and generate a year over year increase. With the shares currently trading at a below market multiple, share repurchases in my view area wise use of capital and will greatly enhance total shareholder returns for the patient long term shareholder.
The second reason for an investment in T revolves around their competitive position in their respective industry. Mobile telephony combined with wireless internet access has become the new utility and a virtually must have for most people. It has displaced the older copper wire line systems and is the rapidly becoming the primary source of communication in this country. T has greatly increased their position in this field with the vast sums they have spent to upgrade their systems over the past couple of years. As we saw from the above quote from the CEO, spending to complete nationwide 4G networks should be completed by this year. With that being said, how is T's investment in upgrading their network paying off? The following quote from Randall Stephenson neatly sums up their endeavors.
I got to tell you, I'm more and more pleased and impressed by the LTE deployment and though the performance of this network has been really, really good, and we expected it to be terrific. It's exceeded my expectation somewhat. As you look at speed performance, it is I would say it hands down the top speed network in the United States. When you look at reliability, it depends on whose third-party test you look, it's us or Verizon, but I think right now it's a dead heat maybe a jump ball in overall quality and reliability. And so that's going very well and the byproduct of that, that people shouldn't miss, is we probably come through one of the most competitive years in our industry's history on wireless. And in the fourth quarter, we had the lowest churn rate that we've experienced on our mobility side.
The above comment was very telling for two reasons. Firstly, it demonstrates that T has greatly narrowed and in some cases exceeded the performance of its main rival, Verizon (NYSE:VZ). It has always been my belief that people will pay a premium for the best service available whether its food, restaurants, grocery stores etc. I view mobile telephony to be similar with a greater number of people willing to pay for the fastest most reliable network.
The term "churn" is used in the industry to indicate people switching to a different carrier. The lower the churn rate is indicative of people's satisfaction with the carrier. As we all intuitively know, the most important measure of a business's ultimate success is customer satisfaction. As we can see from the above quote, T's churn shrunk yet again. The churn rate will be increasingly important going forward as T-Mobile (NASDAQ:TMUS) has launched a price war in an attempt to gain customers. T, with the best balance sheet in the business has very wisely followed suit negating most if not all of TMUS appeal. The price war in my view will have the most impact on VZ, who as of the time of this writing hasn't aggressively lowered the price of their plans. VZ has lost most if not all of its edge versus T, making it extremely difficult to justify paying a premium for their services when you can get the same, if not superior levels at a lower price. The next quarterly earnings reports should be quite revealing, as I will be paying special attention to the churn rates of all of the major carriers.
In summary, T offers a very compelling opportunity at $32 per share. The combination of a high dividend with an aggressive share repurchase plan is particularly appealing. By simply reinvesting the dividend, an investor may very well approach an overall double digit return compounded out over the course of the rest of this decade. Thank you for reading and I look forward to your comments.
Disclosure: I am long T. I wrote this article myself, and it expresses my own opinions. I am not receiving compensation for it (other than from Seeking Alpha). I have no business relationship with any company whose stock is mentioned in this article. Investors are always reminded that before making any investment, you should do your own proper due diligence on any name directly or indirectly mentioned in this article. Investors should also consider seeking advice from a broker or financial adviser before making any investment decisions. Any material in this article should be considered general information, and not relied on as a formal investment recommendation.