I've recently written a few articles on Berkshire Hathaway (NYSE:BRK.A), and an interesting theme developed, where comments kept going back to book value. Personally, I found that odd, so I did a little more digging. I went to BRK.A's annual report, and sure enough, BRK.A reports performance as increases in book value per share as opposed to stock price appreciation.
On the facing page, we show our long-standing performance measurement: The yearly change in Berkshire's per-share book value versus the market performance of the S&P 500. What counts, of course, is per-share intrinsic value. But that's a subjective figure, and book value is useful as a rough tracking indicator. (An extended discussion of intrinsic value is included in our Owner-Related Business Principles on pages 103 - 108. Those principles have been included in our reports for 30 years, and we urge new and prospective shareholders to read them.)

As I've long told you, Berkshire's intrinsic value far exceeds its book value. Moreover, the difference has widened considerably in recent years. That's why our 2012 decision to authorize the repurchase of shares at 120% of book value made sense. Purchases at that level benefit continuing shareholders because per-share intrinsic value exceeds that percentage of book value by a meaningful amount. We did not purchase shares during 2013, however, because the stock price did not descend to the 120% level. If it does, we will be aggressive.

Charlie Munger, Berkshire's vice chairman and my partner, and I believe both Berkshire's book value and intrinsic value will outperform the S&P in years when the market is down or moderately up.
This is the actual data provided in the annual report. Book value per share is compared to the total return of the S&P 500. Personally, I've never seen this kind of comparison before in my life. It is totally an apples to oranges comparison. Why BRK.A doesn't compare P/B of BRK.A to the P/B of the SNP 500, or annual performance of BRK.A to the annual performance of the S&P 500 is way beyond me. When an investor buys and sells BRK.A, they get the stock price, not the book value. Book value is a metric most appropriately applied to firms getting ready to be liquidated, or purely financial stocks, which BRK.A isn't.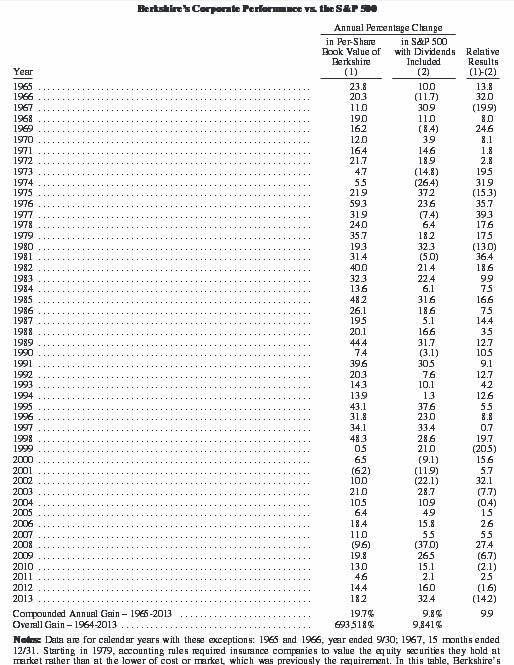 Just to check my sanity, I went to see how Goldman Sachs (NYSE:GS) does it, and sure enough, I found what I expected. GS compares its stock performance to the performance of the S&P 500 index and a financial index. GS reports performance like I was taught performance is supposed to be reported.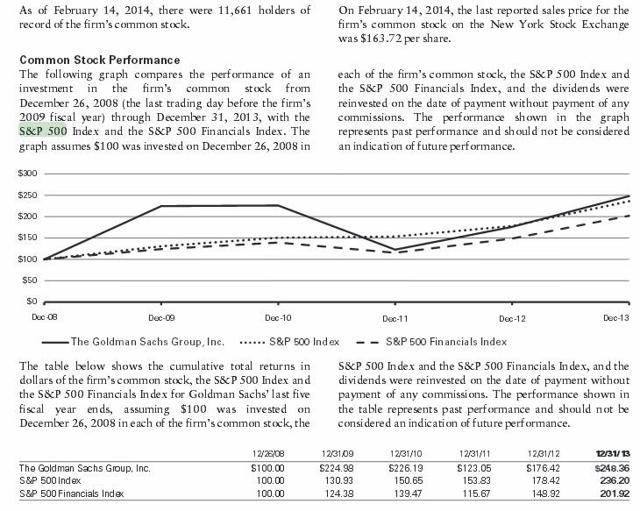 I checked Wells Fargo (NYSE:WFC), and it does the same.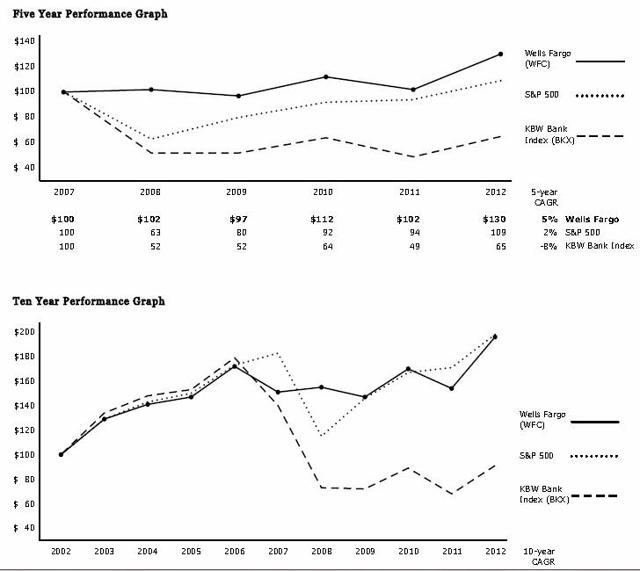 After finding the above two charts, I went back to the BRK.A annual report to double check, and sure enough, there is a similar chart... buried on page 108. The graphic above with the book value performance is on page 2.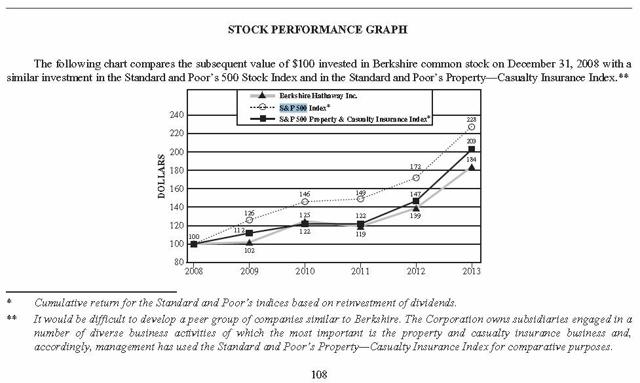 In the financial world that I am familiar with, creating value means beating the benchmark, not increasing book value. In portfolio management metrics like standard deviation, beta, R-squared and alpha define "value added." I've never heard of a portfolio manager being compensated for increasing "book value." When comparing Warren Buffett to the normal metrics for determining "value added," Warren doesn't add value, he destroys it. Here is the 10-year chart of BRK.A being matched against the Dow Jones Industrial's total return, or Dow TR, and the price chart of the Dow Jones Financial Sector ETF (NYSEARCA:IYF). BRK.A is clearly more volatile than the Dow Jones Industrial, yet after 10 years, it has outperformed by less than 2%, and all of that outperformance has occurred since the start of the year. A similar story can be told about the S&P 500. On a risk-adjusted basis, Warren has destroyed investor value. Compared to the financial index, BRK.A has added significant value to the price appreciation of the financial ETF over the past 10 years, but that doesn't include dividends, and BRK.A technically isn't a financial company.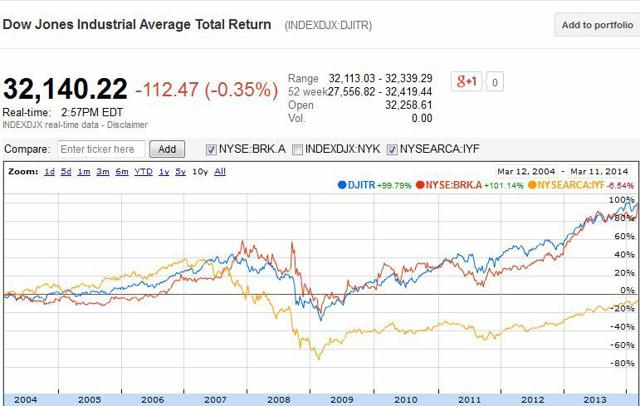 Back in late 2007, BRK.A did extremely well, while the financial index was collapsing, demonstrating that BRK.A either takes huge unsystematic risks for a financial firm, or at the time it wasn't heavily invested in financial firms. The giant spike in late 2008 is also a testament to the huge unsystematic risks BRK.A takes. BRK.A goes from being up 60% while the Dow TR is basically flat, to being down 20% when the Dow TR is down about 28% in a matter of months. Warren may not call that risk and underperformance, but portfolio managers do. Periods like late 2008 would cost most portfolio managers their jobs.
While it is debatable if BRK.A should have been categorized as a financial company going into the 2008 crash, a strong case can be made for it to be categorized as one post-2008 crash. Warren took full advantage of the financial collapse. His financial wreckage shopping spree filled the headlines.
NEW YORK (CNNMoney) -- Warren Buffett earned $357 million in paper profits on Thursday simply on warrants related to his $5 billion equity infusion into Bank of America. Not bad for a day's work.

During the financial crisis, Buffett famously refused to loan money to Lehman Brothers, yet gave Goldman Sachs (GS, Fortune 500) a similar stamp of approval with a $5 billion investment during the financial crisis.

His bets were right: Lehman folded, and the Goldman Sachs investment reportedly generated a $3.7 billion profit for Berkshire Hathaway (BRKA, Fortune 500).
The last sentence of the above quote is a bit misleading, there is a timeline that must be considered. The loan to GS came only after the Lehman bankruptcy and after GS was partially protected by the US government and the TARP vote was pending. "White Knights" don't come to the rescue after the battle has been fought, and require government backing to boost their courage. What happened in 2008 was basically the panic of 1907 flipped on its head, ensuring that Warren Buffett will never be remembered as a modern-day J.P. Morgan. J.P Morgan boldly acted to prevent the collapse, and didn't require the government's backing to do what was right.
NEW YORK (CNNMoney.com) -- In its first big move to raise capital, Goldman Sachs Group announced Tuesday that it will receive a $5 billion infusion from Warren Buffett's Berkshire Hathaway, an investment that could also raise confidence in the venerable Wall Street firm and the financial markets in general.

The news that Buffett is now willing to invest in Wall Street could prove a big shot in the arm to the financial markets, which have been hammered by the year-long credit crisis.

But the legendary investor said his faith in the financial markets' recovery is contingent on Congress passing the $700 billion bailout, which would buy troubled mortgage assets from banks.

"If I didn't think the government was going to act, I would not be doing anything this week," Buffett told CNBC Wednesday morning. "It would be a mistake to be buying anything now if the government was going to walk away from the Paulson proposal. Last week will look like Nirvana if they don't do something."

But investors have shied away from doling out dough to other firms, with devastating consequences. Lehman Brothers (LEH, Fortune 500) was forced into bankruptcy last week

Late Sunday, both Goldman and Morgan Stanley (MS, Fortune 500) were converted into bank holding companies by federal regulators, effectively closing the book on the stand-alone investment bank business model.
If BRK.A isn't categorized as a financial firm post-2008, then it might be properly categorized as a hedge fund. This quote from a 2007 article highlights Warren's use of "financial weapons of mass destruction." By the way, the use of derivatives may explain the 2008 price spike. I was unable to find any reporting on it, but the price behavior is certainly out of the ordinary for a normal equity portfolio.
WSJ: Warren Buffett Increasingly Turning to "Financial Weapons of Mass Destruction"
Warren continued to use "financial weapons of mass destruction" after 2008, as this article from 2013 demonstrates.
One detail from Berkshire's filings we're always interested in is the value of Buffett's long-term derivative bets on the global stock markets. In case you forgot, Berkshire had sold put options on the S&P 500, FTSE 100, Euro Stoxx 50, and the Nikkei 225.

This bet was controversial because in his 2002 letter to Berkshire Hathaway shareholders, Buffett dubbed derivative securities as "financial weapons of mass destruction."
Unfortunately, an investor really can't value BRK.A based upon its public information and truly understand the risks BRK.A is exposed to. BRK.A simply doesn't report in a manner that allows for a full understanding of the company and its embedded risks.
Yet the $280 billion company, which is poised to post a record full-year profit on March 1, has become less transparent during Buffett's five-decade-long acquisition spree. "It's a critical issue," says Meyer Shields, an analyst at Keefe, Bruyette & Woods (NYSE:KBW), who has a hold rating on the stock. "You don't really know what you're getting within Berkshire Hathaway."

The Securities and Exchange Commission last year asked Berkshire for more information about claims from natural disasters at insurance and reinsurance units, which account for about 30 percent of profit. Competitors routinely provide such claims data. "The fact that they wouldn't on their own reflects an attitude of very, very limited disclosure," says Shields.

Liabilities on the contracts ballooned during the 2008 financial crisis and have caused swings in profit. In 2011 the SEC requested that Berkshire identify the securities tied to a $1.02 billion markdown. Berkshire responded that the reduction was related to bonds from a unit of Energy Future Holdings, a Texas power company. Buffett later accepted responsibility for the loss, calling it a "major unforced error." Buffett did not respond to a request for comment.

Berkshire stands alone among the 50 largest companies in the Standard & Poor's 500-stock index in not holding quarterly calls to discuss results. Instead, Buffett and Vice Chairman Charles Munger host a five-hour question-and-answer session at annual meetings, which typically attract tens of thousands of attendees. The company prohibits the use of recording devices and doesn't publish a transcript.

KBW's Shields said he'd like to see earnings statements and a balance sheet for all Berkshire subsidiaries that contribute 5 percent or more of revenue. Richard Cook, co-founder of Cook & Bynum Capital Management, says he has enough data to value the company and thinks Buffett is telling investors what they need to know. "He deserves that trust," says Cook

Such goodwill could fade once Buffett is no longer leading the company. Many of the largest investors have personal ties to the billionaire, and the CEO himself owns about 20 percent of the stock. The disclosure is "sufficient for his shareholder base at the moment," says Jeff Matthews, a Berkshire investor and author of books about the company. "Once he's gone, people are going to say, 'What's here? What do I really own?' "
This graph of the period after the 2008 spike in the price of BRK.A demonstrates how BRK.A lagged the Dow TR and the Financial index ETF by almost 30% in little over a year. Clearly, there are risks involved with BRK.A that many people are not aware of.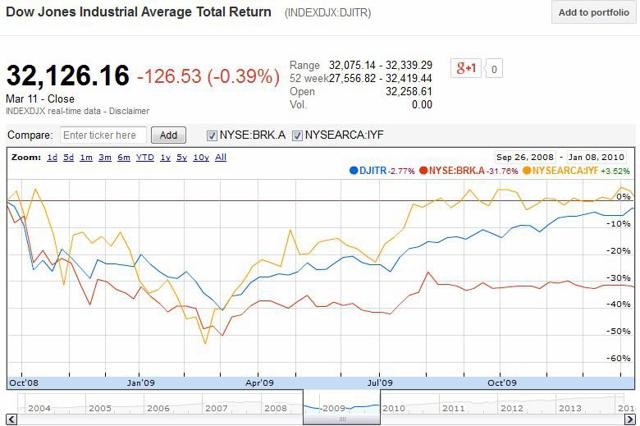 Forbes even calls BRK.A a hedge fund, and this was a very positive article. Note how even Forbes uses the book value metric.
Warren Buffett is a hero to many investors, myself included. His record speaks for itself: 18.3% annualized returns in Berkshire Hathaway's book value over the past 30 years compared to just 10.8% for the S&P 500. And his returns in the 1950s and 1960s, when he was running a much smaller hedge fund, were even better.
If, however, we stick with BRK.A being a financial company, then post-2008, Warren Buffett has destroyed value for its shareholders. From the post-crash low in early 2009, BRK.A has underperformed both the Dow TR and the price return of the finance ETF. Had investors invested in either index, they would have been better off than having stuck with BRK.A, that is, unless of course they could sell their BRK.A shares for its book or "intrinsic" value, which they can't.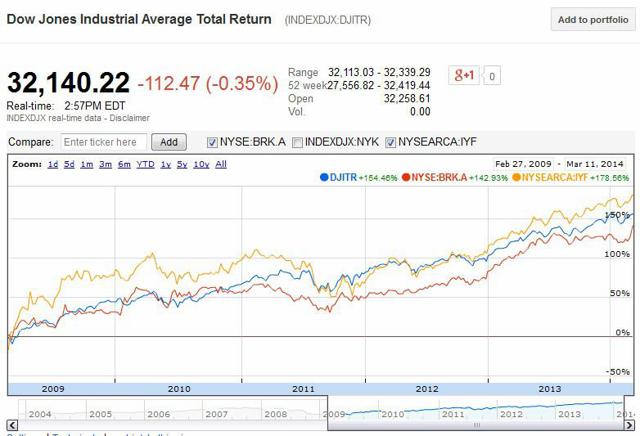 That analysis is how Warren Buffett would measure up against standard portfolio management statistics, and over the past 10 years and especially post-2008 crisis, Warren has basically underperformed, especially on a risk-adjusted basis. Had Warren been a portfolio manager for a normal mutual or pension fund company, it is unlikely that he would have kept his job after the late-2008 price spike followed by the price collapse. In the real world, that is considered taking on an unacceptable level of unsystematic risk. He would have been the hero at the Q3 2008 board meeting, and likely unemployed by the Q4 2008 board meeting. In reality, he most likely wouldn't have even been a hero at the Q3 meeting. Straying that far from a benchmark, even if you beat it, is a big no-no in the world I am familiar with.
Because of the difficulty defining what Warren Buffett and BRK.A really are, analysis can lead to confusion. In my last article, I was criticized for my application of book value. The criticism is valid if Warren Buffett is a bank loan officer, portfolio or hedge fund manager, and BRK.A is a bank or hedge fund. I did not, however, write that article from that perspective. I wrote the article from the perspective that Warren Buffett is a CEO of a company, and he is responsible for allocating the assets to maximize shareholder value. Tom Cook of Apple (NASDAQ:AAPL) doesn't take his book value and buy other companies, he creates new products.
To make my case I calculated out the weighted P/B ratio of the publicly traded securities companies held by BRK.A, to demonstrate what companies that interest BRK.A trade for. The weighted average of the P/B for BRK.A's public holdings is 1.58, and BRK.A has a P/B of 1.32, so I made the claim that BRK.A's private holdings must have a P/B of -0.26 to make the equation work. The point being that companies that BRK.A invests in mostly have P/B values well above BRK.A. I also made the comment that if Warren had taken the assets and created a tobacco company, which on average have a P/B of 13, BRK.A would be worth 10x what it is today. I even linked to a report showing how different industries have different average P/B ratios. Warren chooses to swim in the low-P/B sea.
The problem with that analysis that generated all the criticism is that BRK.A is more a portfolio than a company. Warren isn't like the CEO of IBM (NYSE:IBM), that takes a certain amount of book value or equity and creates great wealth and earnings so that the markets bid up the stock price to a P/B of over 8. The IBM balance sheet is full of assets that get depreciated and are used for productive purposes, generating income and products. IBM creates wealth and value by producing something. BRK.A doesn't do that. BRK.A doesn't buy assets and produce products, it buys companies that do that. BRK.A adds value through portfolio management, much like a bank adds value by building an efficient bond portfolio. That approach, however, is chosen by Warren Buffett. There is nothing stopping BRK.A from becoming the next Google (NASDAQ:GOOG), or developing a life-saving blockbuster drug, other than Warren. Warren has decided the best use of BRK.A's book value it to be used to back a hedge fund.
While IBM may have a P/B of 8, once it gets purchased by BRK.A, it is basically recorded at market value and effectively has a P/B of 1, as far as BRK.A is concerned. For instance, if 100% of BRK.A was simply an investment in IBM stock and there was no debt, BRK.A would have a P/B of effectively 1, but BRK.A would have no way to alter its P/B, and BRK.A would simply track the share price of IBM, less the operating expenses of BRK.A. Stocks held by BRK.A don't get depreciated like other productive assets, they simply get priced at market value on the balance sheet. From that perspective, all the stocks held by BRK.A shouldn't have a weighted P/B of 1.58 (4.40*.36), it should be 0.36 (1.00*.036). If I assign a 0.36 to the weighted P/B of the public holdings, then the private P/B of BRK.A is a positive 0.96. The two then sum together to get 0.36+0.96 = 1.32. If I unweight the private portion I get 1.50, and if I unweight the public portion I get 4.40.
If BRK.A is treated as a portfolio, bank or hedge fund instead of a company, then the 1.32 and 1.5 P/B values make sense, because Warren really doesn't have much opportunity to alter the P/B value of a portfolio and create value. A portfolio manager can generate value through diversification, by matching a company that zigs with a company that zags, therefore decreasing risk and increasing return, and through leverage. Banks are basically bond portfolios, and not by coincidence, also have very low P/B values. This graphic demonstrates how banks have P/B values similar to BRK.A. According to this graphic, GS has a P/B of 1.2 and Wells Fargo one of 2.00, both similar to BRK.A's 1.32.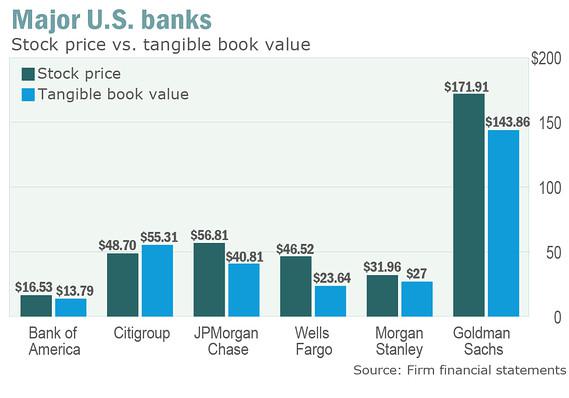 A bank basically has loans as assets, deposits as liabilities and equity. There really isn't much chance for a bank to generate AAPL-type metrics. Banks are basically limited by the spread between interest charged and interest paid on deposits, and leverage generated by using equity to finance some of the loans. That is why banks and financial companies have relatively low P/B values. From the industry list, general insurance and REITs have P/B values of effectively 1, so that may be why Warren uses P/B as his preferred metric. He is assuming no/little multiple expansion, and that BRK.A's stock price will track its book value.
When compared to other banks, however, Warren lags the top banks when it comes to P/B. From the above graphic, BRK.A's P/B of 1.32 lags WFC's P/B of 2 and JPMorgan Chase's (NYSE:JPM) of 1.39. The market appears to be more confident in those two banks generating future gains/book value than it does BRK.A. So from a top bank comparison, BRK.A doesn't generate value. Over the past 5 years, both WFC and JPM have substantially outperformed BRK.A, and BRK.A even underperformed the price of the financial index, once again demonstrating that BRK.A doesn't add value for shareholders, at least not recently.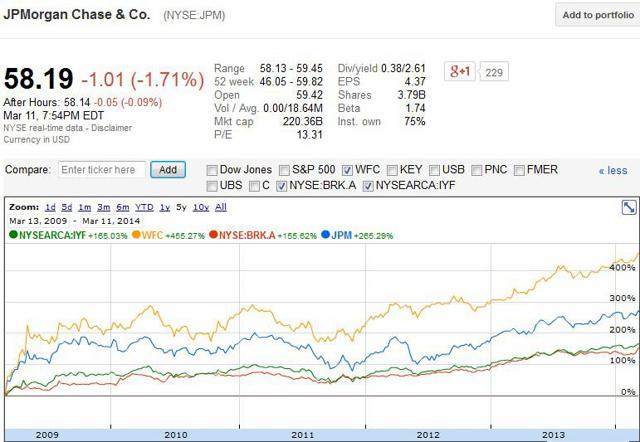 If, however, we view BRK.A simply as a company with a CEO instead of a banker, insurance agent or hedge fund manager, then the book value analysis drastically changes. If instead of simply buying the wealth and value created by others, Warren Buffett instead created the wealth and value himself like other entrepreneurial capitalists, things would look a lot different for BRK.A shareholders. If Warren had taken the book value of BRK.A and used it to create another IBM that justified a P/B of 8, the stock price of BRK.A would be 8/1.32 or 6x higher. If Warren had taken the book value of BRK.A and started a tobacco company that justified the industry average of 13, BRK.A would trade 10x higher. By choosing to be a bank, insurance company or hedge fund, it is unlikely that BRK.A will ever see a large expansion of its P/B ratio. By choosing to rely on other companies to develop the new ideas, new products and to create wealth and value, BRK.A is almost certain to never be the next Google, Apple or even Chipotle (NYSE:CMG). BRK.A and Warren can only ride on the coattails of others' creativity, innovation and entrepreneurship.
Disclaimer: This article is not an investment recommendation or solicitation. Any analysis presented in this article is illustrative in nature, is based on an incomplete set of information and has limitations to its accuracy, and is not meant to be relied upon for investment decisions. Please consult a qualified investment advisor. The information upon which this material is based was obtained from sources believed to be reliable, but has not been independently verified. Therefore, the author cannot guarantee its accuracy. Any opinions or estimates constitute the author's best judgment as of the date of publication, and are subject to change without notice. Past performance is no guarantee of future results. For my full disclaimer and disclosure, click here.
Disclosure: I have no positions in any stocks mentioned, and no plans to initiate any positions within the next 72 hours. I wrote this article myself, and it expresses my own opinions. I am not receiving compensation for it (other than from Seeking Alpha). I have no business relationship with any company whose stock is mentioned in this article.