Shares of General Motors (NYSE:GM) have come under significant selling pressure after the company recent announced a 1.6 million vehicle recall. GM shares have fallen even further after Congress announced its own investigation into the problem. Traders and investors should consider how Toyota Motor Corp (NYSE:TM) shares responded to a similar situation in 2010.
Toyota 2010 Recall Timeline
January 16, 2010: Toyota informs NHTSA that accelerator pedals made by supplier CTS corp may have dangerous sticking effect.
January 21, 2010: Toyota announces recall for 2.3 million Toyota vehicles.
January 25, 2010: NHTSA informs Toyota it is legally obliged vehicles.
January 26, 2010: Toyota halts sales of eight best selling models including Camry and Corolla.
January 27, 2010: Toyota recalls an additional 1.1 million vehicles.
February 2, 2010: Toyota reports 16% drop in monthly sales.
The charts below show how Toyota, and rival Ford, shares traded during the recall and following the recall. The initial response to the recall was quite negative with Toyota shares falling sharply and remaining sharply lower for most of 2010. Comparably, Ford shares received a clear boost from problems and falling sales at Toyota.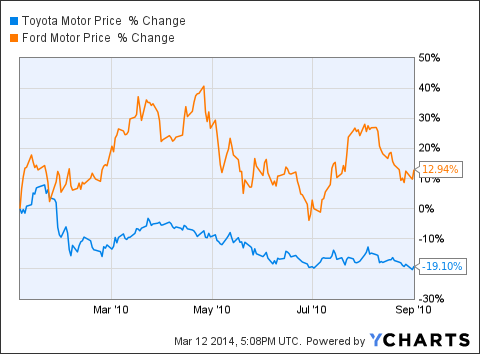 TM data by YCharts
While it did take Toyota a considerable amount of time to recover from its woes, the company did ultimately recover and its stock price has eclipsed pre recall levels.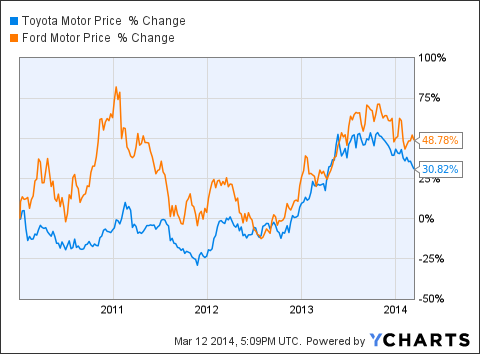 TM data by YCharts
Applying The Toyota Framework To GM
While the issues facing GM do not appear to be quite as difficult as the ones Toyota faced in 2010, the Toyota 2010 episode is a useful framework to use when evaluating GM shares right now.
Long-Term Investors Should Buy GM
Long-term investors should use current weakness as a buying opportunity. While it may take a significant amount of time to resolve current issues, the long-term outlook for GM remains bright. That said, it remains likely that negative headlines will continue to flow for the foreseeable future. Long-term investors should consider making measured buys in GM shares and averaging in to a long position over time. No matter how ugly the headlines get and how far sales fall, I believe GM will recover overtime.
Short Term Traders Should Buy Ford
Perhaps the best way to trade the GM story over the short-term is to buy competitors such as Ford (NYSE:F). Ford shares have yet to rally much on the GM news but that could change. If the headlines continue to flow and GM takes a reputational hit, I expect Ford to pick up at least some market share over the short-term. Ford shares should move higher on any sales gains.
What Not To Do
At this point, I believe the riskiest thing to do would be to sell GM shares short. While the saga does not appear to be nearing a close, the situation could change at any time. A significant amount of negative news has already been factored into GM shares and the stock could move sharply higher on any positive news.
Disclosure: I have no positions in any stocks mentioned, and no plans to initiate any positions within the next 72 hours. I wrote this article myself, and it expresses my own opinions. I am not receiving compensation for it (other than from Seeking Alpha). I have no business relationship with any company whose stock is mentioned in this article.