Established back in 1886 by three brothers, Johnson & Johnson (NYSE:JNJ) has since grown into one of the leading companies within its main field of medical devices and diagnostics.
The company has a long track record of stable growth in sales, earnings and dividends. As opposed to many other companies nowadays, it has also had stable management as its current CEO is only the seventh CEO in the company's history.
The Fundamentals
Johnson & Johnson operates within four segments and commands a strong position in each of them as it is:
The world's sixth largest consumer health company
The world's largest and most diverse medical devices and diagnostics company
The world's fifth largest biologics company
The world's eight largest pharmaceuticals company
Johnson & Johnson is also one of the most defensive and stable companies around. It is one of only four American companies with a AAA rating, giving it a higher rating than U.S. Treasuries. By the end of fiscal year 2013 the company had total stockholder's equity of $74.053 billion over total equity and liabilities of $132.683, an equity ratio of 55.8%.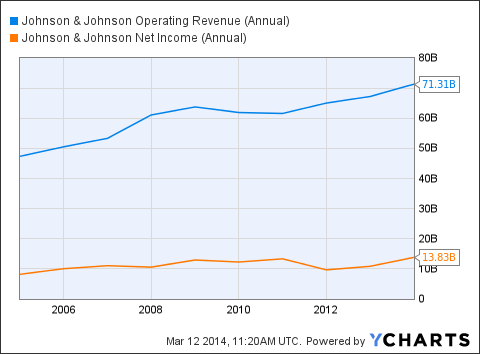 JNJ Operating Revenue (Annual) data by YCharts
The company does not only have a strong balance sheet, it also has a history of growth as can be seen on the chart above. It would certainly be a stretch to call it a growth company but according to Morningstar revenue increased by 15.2% between 2009 and 2013 from $61.897 billion to $71.312 billion. Its net income over the same period increased from $12.266 billion to $13.831 billion or 12.8%. The net margin for 2013 came in at a very respectable 19.4%.
The company has a strong balance sheet, steady growth in revenue and net income, high margins in addition to a ROE in the high teens. The company thus has all the characteristics a conservative long term investor should look for.
The concern then is whether or not this can continue into the future. In order to address future challenges and ensure future growth the company has a strategy consisting of four parts:
Commitment to innovation to create value. This comprises innovation in products and services as well as in operations.
Its global reach must be brought to life with a local focus. This is putting critical decision-making where the needs are and the company's global resources live.
Focus on excellence in execution. The company has strengthened quality and compliance by building greater accountability for quality into the requirements for all its leaders.
Continue to foster a purpose-driven organization and develop leadership at every level of the company.
Management seems to be taking the challenges ahead seriously and are not resting on their laurels. It should also be kept in mind that the company is operating in an industry that is situated right in the middle of some good long term trends. As the population in the developed world ages and the middle class of the developing world grows, demand for healthcare products will only increase in the decades ahead. A well-run established company with a dedicated management team in such an industry should be able to create shareholder value over the long term.
Risk Factors
Even for well-run companies there are always risk factors, of course. Being in a defensive sectors protects somewhat against macroeconomic risks as people will still need medicines and medical equipment even in an economic downturn. However, the company operates in a very competitive industry and has to live with lots of potentially disturbing innovation from rivals. Consequently, a lot hinges on the company's ability to constantly innovate and stay ahead of the curve. There is a risk that if the company fails to attract the right kind of people, it will lose out to competition over time.
Valuation
This company has an impressive history. All too often that leads to the market putting too high a price tag on the company, making it a sub-par investment for new prospective shareholders. Before making an investment it is therefore important to have a look at some key valuation metrics and compare these to some of the company's competitors. It is not easy to find a direct peer group for Johnson & Johnson but Bristol-Myers Squibb (NYSE:BMY) and Novartis (NYSE:NVS) should be a representative peer group.
| | | | |
| --- | --- | --- | --- |
|   | Johnson & Johnson | Bristol-Myers | Novartis |
| Price/Sales | 3.8x | 5.7x | 3.5x |
| Price/Earnings | 19.5x | 36.2x | 22.4x |
| Yield | 2.8% | 2.5% | 3.3% |
Source: Morningstar.
As we can see from the table above, Johnson & Johnson is priced slightly above Novartis on Price/Sales and are cheapest on Price/Earnings. Its yield is right in the middle of the competitors' yields. By comparison the broad S&P 500 index trades at a Price/Earnings ratio of 17.9x.
A premium to the S&P 500 is justified as this company is much more defensive and has more consistent earnings than the average company. Though the company is not expensive as compared to its peer group it can hardly qualify as cheap.
The Dividend
Johnson & Johnson is a dividend king as it has raised its dividend every year for 51 years. The last increase was in April 2013, which means investors can probably look forward to another dividend increase in about a month.
The last quarterly dividend of $0.66 was paid to investors just this week. On an annualized basis the dividend is $2.64. Back in 2003 the company paid an annual rate of $0.925 per share. That translates into an increase of 2.85x or a CAGR of 11%.
As we have seen earlier in the article, annual earnings growth has been lower than 11 % lately, making it unlikely that dividend growth will keep up at that rate this year. Even so, the increase should be in the high single-digits, thus bumping its yield above the 3% mark.
Over the long term there is a strong correlation between EPS growth and dividend growth. According to the analyst community, EPS growth for Johnson & Johnson is forecast to be 5.9% per year over the next five years. Assuming an annualized yield from April 2014 of 3.0%, this translates into a total shareholder return per year over the next five years of 8.9%. While fair for such a defensive and steady company, it is below the long term historical return of the stock market in general. Conservative investors may consider it at these levels but for most people the expected future return is too low at the current price.
Conclusion
Johnson & Johnson should be a very secure long term investment and might be appropriate for conservative long term investors who primarily are concerned about the safety of their investment and a quarterly dividend. For dividend focused investors who also like the prospect of market-beating returns, Johnson & Johnson is simply too expensive at this moment in time.
Disclosure: I have no positions in any stocks mentioned, and no plans to initiate any positions within the next 72 hours. I wrote this article myself, and it expresses my own opinions. I am not receiving compensation for it (other than from Seeking Alpha). I have no business relationship with any company whose stock is mentioned in this article.