Lannett Company, Inc. (NYSEMKT:LCI) is cashing in on generic drugs as it recently reported record sales and gross margins. This Zacks Rank #1 (Strong Buy) is expected to grow earnings by 329% in fiscal 2014.
Lannett is a $1.5 billion market cap company that makes thyroid, cardiovascular and pain management generic drugs.
Record Fiscal Second Quarter
On Feb 6, Lannett reported its fiscal second quarter result and beat the Zacks Consensus for the 8th quarter in a row. Earnings were $0.46 compared to the Zacks Consensus of $0.39.
Net sales rose 84% to a record $67.3 million from $36.6 million in the year ago quarter. It was the fifth straight quarter of record sales. Gross profit more than tripled to $41 million.
Sustainable price increases and strong sales of existing products boosted the quarter.
Raised 2014 Guidance
Lannett expects the strong second quarter to continue through the rest of fiscal 2014. It raised its full year revenue guidance by 12% to a range of $275 million to $285 million from the prior guidance of $245 million to $255 million.
The analysts also went ahead and raised estimates for fiscal 2014. The Zacks Consensus jumped to $1.85 from $1.52 just 60 days ago.
This is huge earnings growth compared to fiscal 2013 as the company only earned $0.43 in 2013.
Shares Near Multi-Year High
Investors had been ignoring Lannett up until 2013 when shares took off. They're now trading near their multi-year high.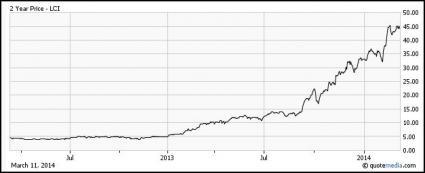 Lannett is no longer a cheap stock with a forward P/E of 24, but it has triple digit earnings growth expected this year and another 12% expected in fiscal 2015.
If you're looking for a small cap drug maker with rising earnings estimates, Lannett is one you should keep on your short list.