Salesforce.com Inc. (NYSE:CRM) is a global cloud computing company best known for its customer relation services. Recently, Salesforce released its earnings for the fourth-quarter and full fiscal-year 2014. The company performed very well, and reported better-than-expected results that beat expectations.
The fourth-quarter revenues of $1.15 billion grew by 37% year-over-year. This significant growth includes the benefits from the acquisition of ExactTarget. Salesforce earns its revenues primarily from subscriptions that are charged on a pro-rated basis over the contract period, and recognizes customers as the entity, company or organization that purchases subscriptions on a per-user basis for its employees. The subscription and support (that accounts for 94% of total revenues) added $1.08 billion revenues, reflecting an increase of 37%. The professional services (that account for 4% of total revenues) also proved to be a growth catalyst for the company, that generated $70 million, reflecting a growth of 43% year-over-year.
The following graphs show the subscription & support and total deferred revenues of Salesforce.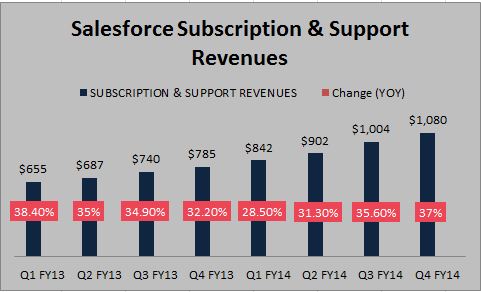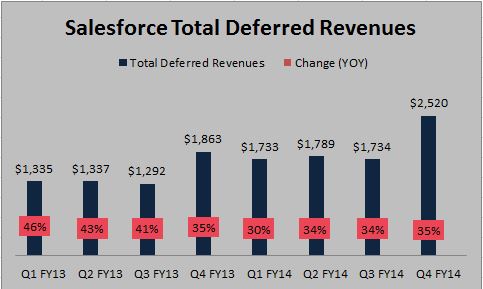 Source: Earnings Presentations
Deferred revenue, a metric for the company's future subscription revenues, continued with their seven-quarter streak to increase in the mid-30s on a year-over-year basis. This quarter, the metric increased 35% year-over-year to $2.52 billion. Unbilled deferred revenues, a metric that measures the amount contracted but not yet billed, increased 29% year-over-year to $4.5 billion, thus reflecting a substantial backlog.
The non-GAAP adjusted earnings per share of $0.07 exceeded the expected earnings per share of $0.06 on revenues of $1.13 billion.
Salesforce Expansion in Europe to Flourish Its Growth Prospects
Salesforce has seen tremendous revenue growth of 41% in the European region during fiscal year 2014. To take advantage of this lucrative opportunity, Salesforce recently decided to expand its operation. Now, the company plans to open new data centers in the U.K., Germany, and France, and intends to cover companies of all sizes in Europe, including BMW group (OTCPK:BAMXF), Pernod Ricard (OTCPK:PDRDF), and Zeiss (OTCPK:CZMWF). According to the company's expansion plan, the first data center will be opened in the U.K. in August 2014, with additional data centers to open in France and Germany in 2015.
These data centers in Europe will give ease of access to its cloud-based CRM software, and additional opportunities for Salesforce in more regulated businesses and government sectors. Salesforce has been a part of the U.K. government's G-Cloud framework system since 2012. Combined with its existing four data centers in the U.S. and one in Japan, Salesforce is creating massive capacity around the globe. It is clearly evident that the company is positioning itself to continue its existing fast-paced growth in the future. The company's push in Europe would help it to compete effectively with its rivals and enjoy growth, because the market for cloud computing in Europe is expected to reach $29.4 billion by the end of 2017.
The increasing need for effective storage will increase the demand for the cloud app market. According to estimates, the global customer cloud app market will grow at a CAGR of 15.25% over the period of 2013-2018. According to a report by Gartner, North America would be the largest region with 59% of all new spending on cloud services from 2013 through to 2016. Western Europe, despite the growth challenges in the region, remains the second-largest region, and will account for 24% of all new spending during the same time period.
The recently forecast first-quarter sales of Salesforce may top analysts' estimates, as demand for its customer service programs helps bring in large contracts. Europe accounted for 18% of Salesforce's revenue in fiscal year 2013, up from 17% a year earlier. More than two-thirds of sales were in the Americas. Salesforce raised its fiscal year 2015 revenue guidance by $100 million to reach $5.3 billion, with a full-year growth rate of 30% at the high end.
Industry Outlook and Salesforce's Recent Developments
Gartner forecasts that the worldwide dollar-valued IT spending forecast will grow 3.1% in 2014, reaching $3.8 trillion. To take advantage of this growth in data center systems and cloud computing, Salesforce has been expanding aggressively through a significant number of acquisitions since 2006. Its most recent development was acquiring business intelligence and analytics startup, EdgeSpring, and Clipboard, a startup whose service lets users save chunks of text and rich content from Web pages and share them with other users online.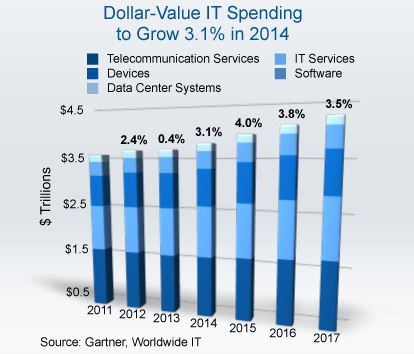 Source: Gartner
The most significant acquisition is ExactTarget, which is a digital cloud marketing solutions provider. The newly-acquired company has more than 6,000 customers, including major corporations like Coca-Cola (NYSE:KO), Gap (NYSE:GPS), and Nike (NYSE:NKE).
The acquisition has made Salesforce a technology leader in the market. The company is now able to provide customers a wholly-integrated marketing platform that combines Salesforce's sales, service, and marketing cloud with ExactTarget's digital marketing capabilities. These acquisitions will play a key role in the growth of Salesforce over a longer period when the synergy benefits will be realized.
It is anticipated that the customer relationship management market will reach $36.5 billion worldwide, reflecting an increase of 77% from the current market of $20.6 billion. CRM also leads all enterprise software categories in projected growth, showing a 15.1% CAGR from 2012 to 2017. Salesforce's specialty in CRM operations, along with industry growth prospects would definitely act as growth catalysts. The business intelligence also possesses the potential for growth, which was the likely reason behind the acquisition of EdgeSpring, and Salesforce is very well-positioned to grow strongly.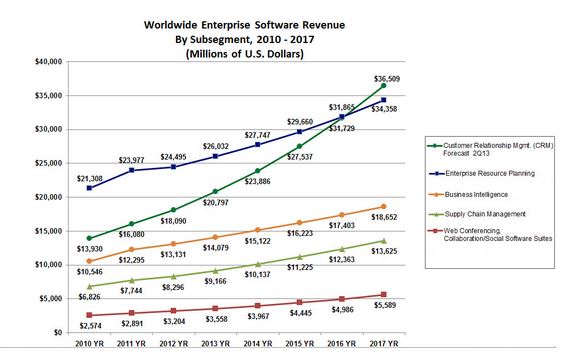 Source: Forbes
The total return to an investor from price appreciation and dividends, assuming that the dividends are reinvested, is 35.14%. Salesforce has outperformed the S&P 500, Oracle (NYSE:ORCL), and International Business Machines (NYSE:IBM).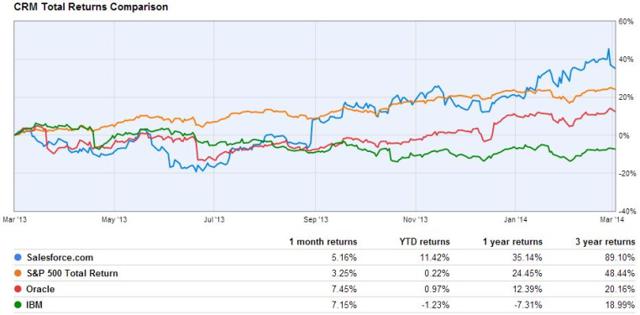 Source: YCharts
Although Salesforce is currently not profitable, the company has quite promising future returns due to the immense potential of growth, its strategic position, and market share in the cloud computing market. The company will expand its operations in Europe and other emerging markets, and increase its offerings, so this will ultimately lead to profitability and growing subscriptions, and largely contribute towards the returns to investors. Thus, this is a growth stock, and it is recommended that investors add Salesforce to their portfolios.
Disclosure: I have no positions in any stocks mentioned, and no plans to initiate any positions within the next 72 hours.
Business relationship disclosure: The article has been written by a Blackstone Equity Research research analyst. Blackstone Equity Research is not receiving compensation for it (other than from Seeking Alpha). Blackstone Equity Research has no business relationship with any company whose stock is mentioned in this article.