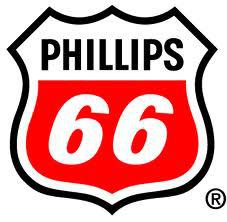 Phillips 66 (NYSE:PSX) is indeed a company that keeps on giving. If recent insider trading is any indication, this attribute is certainly not lost on the executives running the corporation. Significant insider buying during the first two months of 2014 is a bullish indicator moving forward. In addition, the prospects for weakening mid-continent oil prices could also bring a lift in the share price.
My broker occasionally sends me copies of Vickers' insider trading reports for stocks held in my account. Below is the most recent report on Phillips 66 for the first two months of 2014: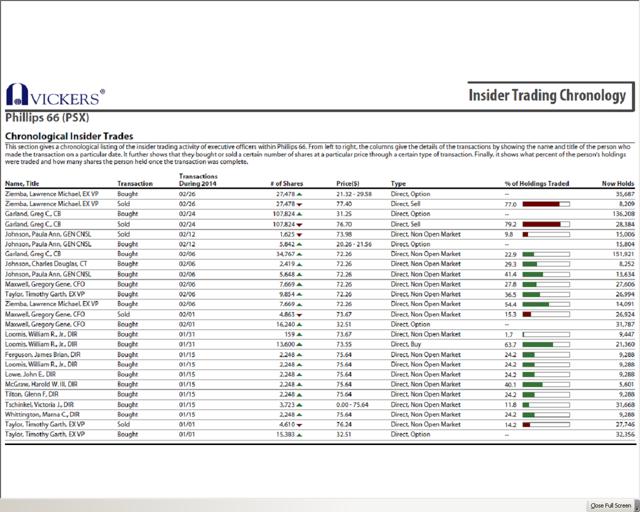 As can be seen, there were several large direct purchases made during the first two months of 2014. Of particular note are the following buy transactions:
01/31/2014: William Loomis (DIR) - 13,600 shares @ $73.55
02/06/2014: Greg Garland (CEO) - 44,767 shares @ $72.26
02/06/2014: Timothy Taylor (EVP) - 9,854 shares @ $72.26
02/06/2014: Gregory Maxwell (NASDAQ:CFO) - 7,669 shares @ $72.26
It is also notable how many of the transactions are buys versus sells and this is true going back to last year as well. The lack of selling despite option related acquisitions at very attractive prices is quite remarkable. I suppose it is not surprising considering the outstanding performance of the company over the past couple of years. That said, executives holding onto shares they could easily sell to reap big gains is a strong indicator that they are expecting continued strong performance going forward.
Phillips 66's stock has been strong ever since the announcement of the first asset drop-down transaction to Phillips 66 Partners (NYSE:PSXP). The drop-down will result in a $700 million cash infusion for PSX. Indeed, the company hit an all-time high earlier today of $80.29. PSX is also starting to rise, in my opinion, on what many analysts are predicting to be strong mid-continent production growth as drillers will soon say goodbye to a very severe winter season that hampered production. Of note is a recent API inventory report predicting U.S. crude-oil supplies will rise for the 8th straight week. As a result, WTI is currently down $2 and to below $98/bbl for the first time in quite a long while. And of course, PSX will be there to profit on the spread between Brent and WTI. Even better for PSX, RBN energy reports that Permian Basin crude has recently traded at close to an $8 discount to WTI: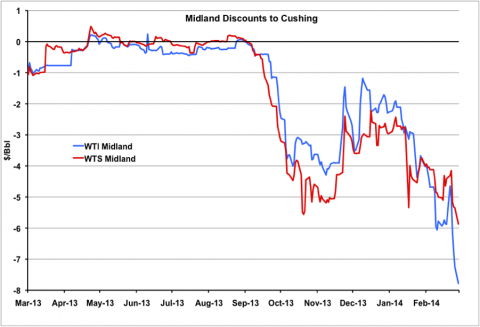 Of course, that is bullish for PSX's mid-con refineries and will likely be beneficial across the entire Gulf Coast refining complex.
Summary And Conclusion
As I wrote back in November of last year, Phillips 66 may well be the Best Play On Domestic Shale. It is well diversified in terms of midstream, chemicals and refining. The MLP drop-down strategy with PSXP is working beautifully and will for years to come. A widening of the Brent/WTI spread will be great for PSX's refined product export business. The company continues to reward shareholders with dividend increases and stock buybacks: $876 million in Q4 2013 alone. Recent insider trading activity is just another reason to own this outstanding company.
Phillips 66 is a BUY and LONG-TERM HOLD.
Mkt Cap: $47 billion
P/E (ttm) = 13.3
EPS (ttm) = $6.02
Div (Yield) = $1.56 (2.0%)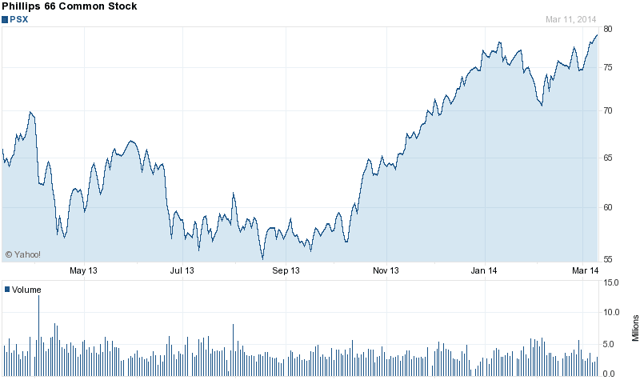 Disclosure: I am long PSX. I wrote this article myself, and it expresses my own opinions. I am not receiving compensation for it (other than from Seeking Alpha). I have no business relationship with any company whose stock is mentioned in this article.
Additional disclosure: I am an engineer, not a CFA. The information and data presented in this article was obtained from company documents and/or sources believed to be reliable, but has not been independently verified. Therefore, the author cannot guarantee its accuracy. Please do your own research and contact a qualified investment advisor. I am not responsible for investment decisions you make. Thanks for reading and good luck!