Every investment decision (long or short) for a minority stake (e.g. 1,000 shares of Amazon (NASDAQ:AMZN) or control position (buyout) begins with valuation.
For some time I have been working as an M&A advisor with the largest Strategic and Financial buyers as they perform due diligence on, and make bids for e-commerce companies.
In order to help my clients maximize the valuation of their companies, buyer discussions inevitably start with the empirical analysis of 18 guideline comparable companies contained in the "E-Commerce Valuation Index" contained in this article.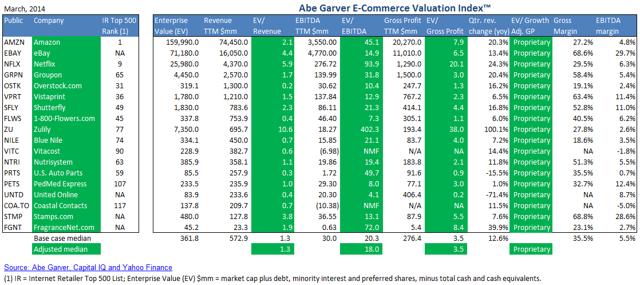 Given the commoditization of the technology platforms used to run e-commerce businesses (with several exceptions), fixed cost which must be subtracted to calculate EBITDA, basically becomes noise.
Therefore, to more precisely value an e-commerce company for the purpose of investment or sale, it's my opinion that the emphasis should be placed on 'Contribution Margin.'
In July of 2012, I wrote an article for Forbes titled Amazon's Q2 2012 Results: Is Gross Margin Our New Profit? which echoes this perspective.
It is important to note that customer acquisition expense (e.g. Google (NASDAQ:GOOG) AdWords) is not a fixed cost. That's why URLs that deliver 'clicks' organically are worth their weight in gold.
In general, the point is that the rate of gross margin expansion or contraction is at the heart of valuation as evidenced by changes to stock price after earnings announcements (e.g. Groupon Featured Deal: Shares 80% Off (52-Week High)).
Once EV/Gross Profit has been calculated, you must adjust for the rate of expansion or contraction in the gross margin stream.
Over the course of time we've developed a proprietary (EV/Growth Adjusted Gross Profit) formula, which in my opinion is superior to the traditional EV/Revenue and EV/EBITDA approach.
If you're an investor in e-commerce companies (e.g. retail, professional trader, CEO who has a mandate to sell a company to the highest bidder, or member of a management team that wants to focus on value creation (topic of discussion at The World's largest e-commerce conference)), please share your perspective in the comment section, or if it is confidential, you may email me.
One word of caution; investors in omni-channel retailers (combination brick and mortar / e-commerce company) should not use EV/Gross Profit, or EV/Growth Adjusted Gross Profit as a proxy for valuation, since fixed costs are material.
I believe the conclusions one can draw from the E-Commerce Valuation Index for March of 2014, are absolutely fascinating, and after performing your own analysis, potentially actionable.
The 18 companies selected for inclusion in the Index represent a diverse basket of product categories. This allows the user flexibility to decide which multiples, as opposed to the median, to use in a specific circumstance.
In order of their enterprise valuation, the stocks contained in the index are: Amazon, eBay (NASDAQ:EBAY), Netflix (NASDAQ:NFLX), Groupon (NASDAQ:GRPN), Overstock (NASDAQ:OSTK), Vistaprint (VPRT), Shutterfly (NASDAQ:SFLY), 1-800-Flowers (NASDAQ:FLWS), Zulily (NASDAQ:ZU), Blue Nile (NASDAQ:NILE), Vitacost (NASDAQ:VITC), Nutrisystem (NASDAQ:NTRI), U.S. Auto Parts (NASDAQ:PRTS), PedMed Express (NASDAQ:PETS), United Online (NASDAQ:UNTD), Coastal Contacts (NASDAQ:COA), Stamps.com (NASDAQ:STMP) and FragranceNet.com (OTC:FGNT).
Disclosure: I have no positions in any stocks mentioned, and no plans to initiate any positions within the next 72 hours. I wrote this article myself, and it expresses my own opinions. I am not receiving compensation for it. I have no business relationship with any company whose stock is mentioned in this article.
Additional disclosure: The views expressed in the article are my own, and not those of my employer, BG Strategic Advisors.
Editor's Note: This article covers one or more stocks trading at less than $1 per share and/or with less than a $100 million market cap. Please be aware of the risks associated with these stocks.