Monday afternoon (March 10th) was an ebullient time for Plug Power (NASDAQ:PLUG) investors as their shares powered higher, up 25% on the day.
The ascent continued in after-hours, and during the pre-market run-up the next day (March 11th) as 3.5ML PLUG shares trekked higher in the early morning, to $11.85. Fuel Cell (NASDAQ:FCEL) had reported a loss after the close the previous evening, but said it was on the verge of imminent contract signings, so both stocks jumped on the news.
PLUG Power was off to the races again - and as I have said in my previous two articles - I have never seen a mania quite like this one.
That's when reality intruded on PLUG's path to glory. Andrew Left of Citron published a scathing analysis panning PLUG, giving it a fair value of just 50 cents, the price at which its parabolic rise began last year (see chart below); and then he followed up his written comments with an interview on CNBC. He harshly criticized the company, along with Rob Stone of Cowen and Co., the only analyst covering PLUG, and the firm underwriting Plug's secondaries.
In 3 minutes the rout was on.
In his written note, Mr. Left described the shares as purely speculative, a casino stock, distinct even from a cult or dream stock.
"A casino stock, by contrast, is the lowest form of speculative moonshot. A casino stock can trade twice its outstanding shares in a single day, while turning over its entire float on people gambling that they can find a buyer at a higher price … Who really cares about anything else, right? The recent volume and share price surge in Plug Power demonstrates how Wall Street treats this stock: nothing more than a casino.

Who is behind PLUG, and what do they do? This is simple: Plug Power sells fuel cell-powered forklifts … with fuel cells they acquire from [Ballard Power Systems (NASDAQ:BLDP)]. Nothing fancy here, folks. Same business model since the 2000 crash … Well over a decade as a public company, during which they have lost close to $850 million, while developing no IP or meaningful revenue growth. Profitability? Forget about it!"

Transcript from the CNBC interviews:

" Plug power actually has nothing unique; there is no unique technology. These kinds of forklifts have been around for 50 years. When you operate in a segment where there's no competition, and you're working at negative gross margins and have lost $800ML on your business model, at what point do you say - and that's with the Federal tax incentives (included) - maybe we just don't have a business?".

Mr. Left continued:

"Whether it be finger traders, or whatever the powers may be, this stock has just taken a run over the last year from 17 cents to this morning at $11.50 on NO BASIS WHATSOEVER. Bookings are down. Every metric is completely wrong.

But what I thought was most compelling is thirteen months ago this company did a stock offering at 15 cents - with warrant coverage at 15 cents - and management DID NOT PARTICIPATE in this offering.

So we see today they're speaking at a conference, and I don't know how anyone can take any management seriously, who - forget about the fact that they have missed every single milestone they have put out to investors over the past 5 years, but who pretty much 13 months ago would not even put a dollar in their company betting against bankruptcy in the offering.

If you read my report; for the (years) 2009, 2010, 2011, 2012, 2013, they don't just miss guidance - missing guidance by 10 to 15 % is okay - when you are missing your expectations by 40 or 50%, that's not missing guidance...(you are actively deceiving the marketplace.) - Parenthetical comment deleted from edited video.

They didn't just "sign a deal with Walmart", they've had a deal with Walmart for the past 4 years. Walmart has been taking advantage of some of these tax incentives - to go ahead with alternative energy - which ends in 2016.

As for them saying they are going to be profitable this year, they also said they would be profitable last year, and every other order. This is a "show me" don't "tell me" situation with this company.

Commentator: Where did you get your 50 cent (valuation)?

Andrew Left; "If you look at the cost that they've raised money over the past 15-16 months, they raised money at 15 cents, some thirty-odd cents, most recently at $5.75 but a lot less with warrant coverage, if you take an average, it takes you around 50 cents.
His research note was released about two hours before Plug's CEO, Andrew Morse, was to speak at the Roth Clean Energy Conference on March 11th. (As investors may know, Roth Partners is one of the investors in Plug Power.)
Mr. Left's opinion of the company raises several questions. If the company has had so many years to prove itself, why hasn't it happened? They operate in a highly-subsidized niche alternative-energy market, and there is a large tax break for purchasers who buy their equipment.
If the market for fuel cell forklifts is profitable and doable, wouldn't better-supplied (and better funded) companies like Caterpillar simply push PLUG aside and take market share from them? I think the economics don't add up, and that's why other large equipment makers are not building these fuel cell forklifts. It is amazing to me that a tiny company with a small fabricating facility in Latham, NY would have $1BL/day in market capitalization jumping up and down like a gorilla in the marketplace. It doesn't make sense.
Plug has had several secondary offerings in the last year to raise cash, and the dilutions of shareholder value have all occurred at higher prices with each new secondary offering. PLUG is a fund-raising machine. Its use of secondaries and the possible huckstering by its (sole) analyst are reminiscent of the 1990s dotcom era.
Since my articles on market-manias were published on Friday, March 7th, and Sunday, March 9th, I've received over 450 comments to date (See: Pulling the Plug on the Fuel Cell Mania, March 7, 2014, and The trading characteristics of Market Manias, March 9, 2014).
Passionate longs in this stock assured me that PLUG Power is not a mania, that there's fundamentals underneath the rise, and the kind of 30% increases a day we were seeing was just chicken-feed for what's to come.
Christopher Wallace's recent article (The Fuel Cell Fab Four: A Bubble About To Burst?, March 10, 2014) does a good job of underlining the sketchy fundamentals of the company; but the outright gambling in PLUG's trading is clearly a mania, as this horse-race of the last two weeks so abundantly proves.
The stock is trading multiples of ALL its available shares daily; there are wild swings in prices from 20% to 40% a day (both up and down), and yet trading in PLUG is not a mania? There is no price discovery happening here. It is gambling.
Although I agree that there is much investor interest in the fuel cell sector - and venture capital is funding the development of fuel cell technology - that money will not be going to Plug Power.
When a stock is on the verge of delisting (as Plug was last summer) and faces severe financial difficulties just to keep the doors open, there is no money for R&D; and VC capital is not interested in chasing after a story that's decades-old and has never turned a profit.
VC money has been funding new start-ups like ClearEdge Power in Oregon and Bloom Energy in Silicon Valley. Bloom already has a firm footprint among Silicon Valley tech giants and supplies power to E-Bay's data center in Utah, Apple's new data center in North Carolina, and Google's campus in Mountain View, CA.
The problem with Bloom's fuel cell technology at the local level, however, is it basically reproduces what happens at a natural-gas power plant, only it does it on-site with a mini-power plant. Natural gas is passed through an electrochemical reaction and electricity is produced. For more on this, see: The Bloom is Off Bloom Energy, by Alex Fitzsimmons, Institute for Energy Research, June 18, 2013)
Because Fuel Cell technology has been around so long, many of the major car makers - Toyota, Honda, Hyundai, Mercedes, Daimler - have hydrogen-powered cars either in concept or in soon-to-be sold production models. There is a lot of patented intellectual property tied-up in start-ups and traditional energy companies around the world.
Small companies like Plug Power, Fuel Cell and Ballard Power Systems are minnows in this vast energy complex. To Fuel Cell and Ballard's credit, however, they are original equipment manufacturers.
But Plug Power is a packager, an assembler, not an innovative creator. It adapts Ballard's fuel cell units to its forklifts. And it is able to sell those forklifts to Wal-Mart - and the giant conglomerate is able to buy them - because of the generous state and Federal subsidies that support such a decision. Without the Federal subsidies, Plug would sell less vehicles and Wal-Mart would buy less.
I think a good analogy of the relationship between Plug Power and Ballard Systems is one of a container company to its paper supplier. In this analogy, Ballard supplies the cardboard to Plug Power, and Plug folds them into boxes and sells them. There is no financial moat here.
I have presented clear warnings and commentary about the obvious trading mania in PLUG, but the vast majority of respondees either ignored or even vehemently dismissed my analysis.
In my previous article, I mentioned a Nasdaq pink sheets stock from the dotcom era - PinkMonkey.com (OTCPK:PMKY). It was trading in the teens ($) in 1998. Today it is selling for 3/10 of a penny.
For those who suffered losses in Plug Power's drop, consider this: recent investors before March 1st are still whole. Don't lose it all. Busts like this rarely come back.
If investors want to invest in the Fuel Cell place, I think their money would be better spent in Fuel Cell or Ballard, companies with some real intellectual property and who make their own products.
Lastly, there is an element of wounded-pride and self-respect in Mr. Left's comments on Plug Power. Many analysts had similar thoughts about Plug's mania (that it cheapened investing, and brought the profession to its lowest common denominator), and wanted someone to say it, but didn't want to be the one to do it.
I wish they had. Maybe PLUG would have topped-out a few dollars lower and this mania wouldn't have run as far as it did.
The company better hope its $5.74 secondary price holds for that single-investor who bought $22.4ML in stock on Thursday. After such an epic pump and dump, there could be legal action if his shares go underwater and stay there.
Finally, as my short position goes, I continued to sell the March $11 call options into Monday's high ($11.40). I'm an investor, not a gambler, and a correction in PLUG was a high-probability event for me. I felt this mania would end soon, and I wanted to be there when it happened. I covered at the close on March 11th.
I renewed the short position on March 12th when PLUG rose again to $7.30, up 35% from the low of $5.34 on the day. The speculative juices are still running high.
Ninety-percent of all retail options expire worthless, and option sellers will routinely zero out as many options as possible by expiration day. If things continue as they are going, the PLUG $7, $8, $9, $10, $11, $12, $13, $14, and $15 March options will ALL expire worthless, and so will mine.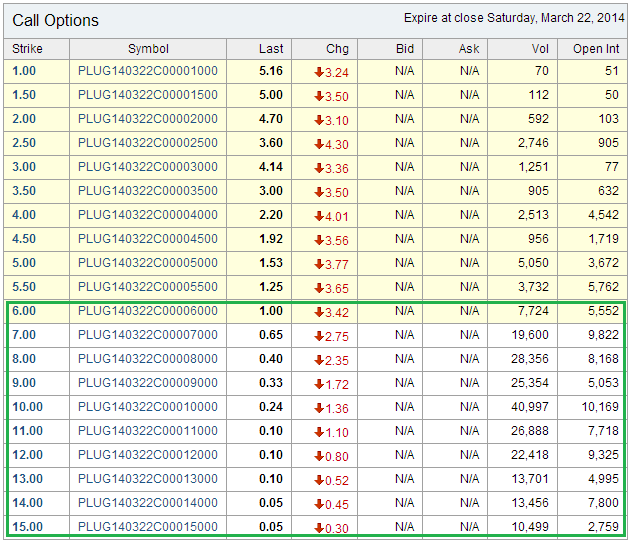 Disclosure: I am short PLUG. I wrote this article myself, and it expresses my own opinions. I am not receiving compensation for it (other than from Seeking Alpha). I have no business relationship with any company whose stock is mentioned in this article.