A couple of weeks from now, struggling Canadian device maker, BlackBerry (BBRY) will be reporting earnings. The report will be ugly, but investors are looking forward to the start of a turnaround under John Chen. The company needs to provide some positive information at this report, perhaps more than just a decent looking balance sheet. Today, I'll look at where estimates stand, and discuss the most recent BlackBerry news.
The upcoming earnings report:
BlackBerry's fiscal fourth quarter ended on March 1st. According to the investor events page on the company's IR site, earnings will be released on Friday, March 28th, about two weeks from now. That is the official earnings date, but we did see the company pre-announce a couple of quarters ago when results were really bad. If that is the case, I would expect a pre-announcement to be late next week. In the table below, I've compiled analyst estimates going back to early December for both the current and next fiscal year. The EPS numbers below are the adjusted ones that take out special items.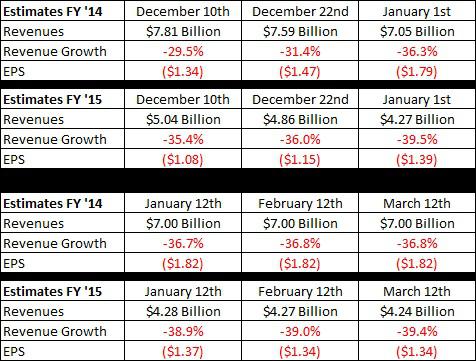 For the current quarter, the picture is even worse. Analysts are looking for revenues of $1.12 billion, which would be a 58.1% drop from last year's period, which saw $2.68 billion. Analysts are looking for an adjusted loss of $0.56, compared to an adjusted profit of $0.22 in the year-ago period. Current forecasts have an even larger revenue percentage drop in the next quarter.
Obviously, most investors are not investing in BlackBerry for its current results. Investors believe that shares are undervalued as the company's turnaround will occur over the next couple of years. As analyst estimates show, the revenue picture is expected to get even worse over the next 12 months. BlackBerry stopped providing numerical financial guidance several quarters ago, but I think it would be a good start if the company resumed giving guidance. BlackBerry usually gives some sort of statement, and most of them have been very vague or have failed to inspire confidence.
Balance sheet will be interesting:
I mentioned in my last BlackBerry article that Fairfax had made an additional investment in BlackBerry. BlackBerry had $3.2 billion in cash and investments as of the latest quarter. That will be a key number to watch. The company has been burning through cash in recent quarters, and recent debt sales have helped strengthen the cash position. BlackBerry did sell its US headquarters recently, which it will lease part of back. It doesn't appear that the sale was completed before the quarter ended, so it may not be reflected on the balance sheet we see in a couple of weeks.
The strong cash position has been one part of the bull case in recent years, as investors point to a low valuation when you back out cash. BlackBerry will need a strong cash position to get it through these tough times. The balance sheet has gotten worse through the first nine months of the fiscal year, so it will be interesting to see how things finished the fiscal year.
Recent analyst comments / WhatsApp deal:
I always touch on analyst comments to see what the professionals think. A couple of weeks ago, FBR upgraded BlackBerry from Underperform to Market Perform, and set a $10 price target, above current levels. Here was the main reasoning behind the upgrade:
Analyst Scott Thompson sees several themes and trends playing in favor of BlackBerry: (1) a refreshed management team that appears focused on forging a reasonably direct path to profitability; (2) a slow, yet decisive and strategic shift away from the competitive consumer smartphone business into four more promising divisions: mobile device management ("MDM"), BBM, QNX, and a devices business focused on more profitable business; and (3) rapid execution against cash-generating initiatives, including the potential sale of real estate assets and recently revalued inventory ($4.6B adjustment).

"While we find it probable that a true turnaround could take several additional quarters to take form, we see potential for more upside well before needing to focus on potential downside in shares," Thompson said.
I feel that this analyst note generally reflects how the market currently views BlackBerry. A turnaround will take time, but the potential is there for the company. Yes, it could be a bumpy road, and BlackBerry has been a very volatile name, but shares are well off their 52-week lows.
There also was a lot of talk about BlackBerry as a winner from the Facebook (NASDAQ:FB) deal to buy WhatsApp. The main reasoning here is that BBM could get a higher valuation based on the price Facebook paid. But the key point here that I mentioned in the above linked article was from a Wells Fargo analyst - that BlackBerry has to monetize the unit for it to have more value. We have seen one firm raise its target on a higher BBM valuation. But in the same argument, another firm maintained its valuation, believing that the premium Facebook paid was worth it for WhatsApp's scale.
When it comes to the overall opinion of BlackBerry among analysts, the numbers are not good. The mean and median price targets are $7.33 and $7.00, respectively, well below current levels. The average analyst rating is a 3.4, where 3.0 is a hold and 5.0 is a sell. Of the 42 analysts shown on Yahoo, only 2 have some sort of Buy rating. There are 26 analysts with Hold ratings, 10 with Underperform ratings, and 4 with sells.
A key technical event:
BlackBerry shares have been under some pressure recently, falling back from their recent highs. Recently, a key technical event happened, and this was the golden cross. This happened when the 200-day moving average broke below the 50-day moving average, as you can see in the chart below.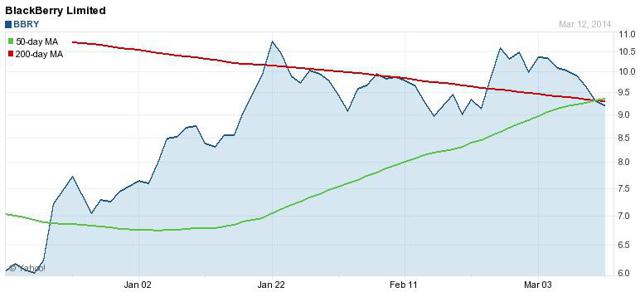 (Source: Yahoo! Finance)
This event happened due to the fall in shares during the second half of 2013. BlackBerry shares had been above the 50-day for a couple of months, but recently broke under that level. With the 200-day continuing to decline for the near term, it will be interesting to see if this level becomes one of resistance and further pressures shares.
An update on short interest:
Throughout the second half of 2013 and early into 2014, short interest in BlackBerry took a nosedive. Those that were short decided to cover, and in large quantities. The peak of short interest was more than 184.4 million shares at the end of June 2013. In the chart below, you can see how short interest has fared.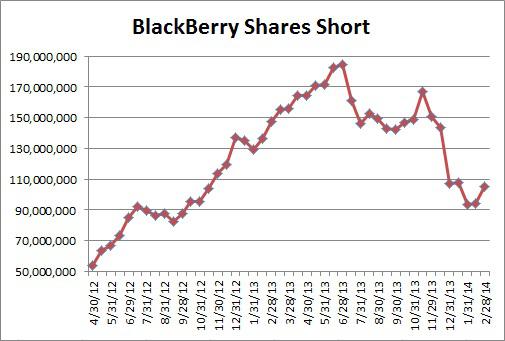 The latest update from NASDAQ was the end of February update, which saw a rise of more than 10 million shares short. Short interest was back over 104.9 million shares at the end of the month, up from 93.6 million at the end of January. There will be one more update on short interest, the mid-March one, that will be released just a few days before the scheduled earnings report.
Final thoughts:
An ugly earnings report from BlackBerry is coming soon, but investors will be looking to the future. A healthy balance sheet will help the company during its long-awaited turnaround. Recently, short interest has increased, and BlackBerry is off its recent highs. The pullback in shares might provide an opportunity for investors looking to bet on the turnaround. I still think BlackBerry will get better, but it will take time and the road will be bumpy. I think shares do get back into the low to mid-teens in the long run, especially if more short sellers cover. How is BlackBerry doing? We'll find out soon enough.
Disclosure: I have no positions in any stocks mentioned, and no plans to initiate any positions within the next 72 hours. I wrote this article myself, and it expresses my own opinions. I am not receiving compensation for it (other than from Seeking Alpha). I have no business relationship with any company whose stock is mentioned in this article.
Additional disclosure: Investors are always reminded that before making any investment, you should do your own proper due diligence on any name directly or indirectly mentioned in this article. Investors should also consider seeking advice from a broker or financial adviser before making any investment decisions. Any material in this article should be considered general information, and not relied on as a formal investment recommendation.