Over the last month the Euro lost almost 7% (and more than double that YTD) with the primary beneficiary being the US dollar and Japanese Yen. The exchange traded funds I use to track and trade these huge FX trends are Rydex CurrencyShares Euro (NYSEARCA:FXE), PowerShares DB US Dollar Index (NYSEARCA:UUP) and Rydex CurrencyShares Japanese Yen (NYSE:FXY). Let's get an update on the Euro versus Dollar debate because there's solid evidence the recent trends could continue for several months.

Short Term Dollar Strength Continues
In the daily Dollar (UUP) chart below you can see that the real change in trend took place in December 2009. As of late the Dollar has accelerated to new 13 month highs pushing overbought extremes, but in my view it's likely to continue over the next several months.
US Dollar ETF (UUP) - Daily with 50 Day EMA/ %R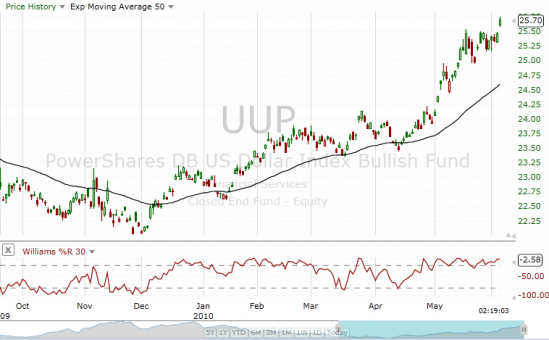 Euro at Four Year Lows and You Can Expect More
It's hard to grasp the Euro losing much more value after the recent onslaught; however, Euro-backers should consider themselves lucky. The good folks over at Clusterstock posted this chart last night showing currency losses during system banking crises. The Euro has held up rather well so far…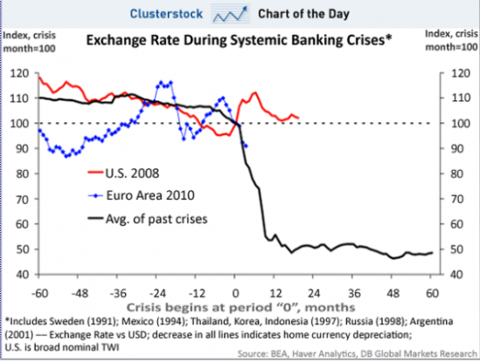 On the weekly chart of the Euro ETF (
FXE
) you can easily see how fast the currency fell. I am not suggesting that it's going to continue to fall at this pace, but the move is technically very damaging. That said, things could change fast in this market. I would look at William' %R (30) on weekly charts to help signal a real turnaround in the trend—take a look at the annotations in the chart below, which show FXI staying oversold.
Euro ETF (FXE) - Weekly Chart with %R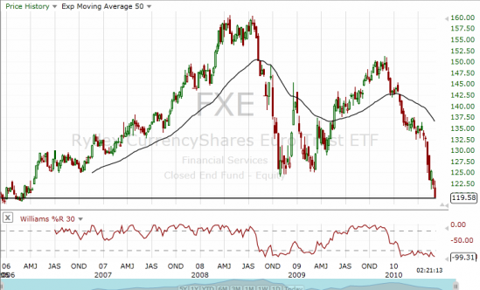 If we see %R cross above the 50% level (and subsequently close above that weeks FXE highs) it would indicate to me a real change in trend. I do not believe the odds are very high for this to happen and the next chart shows why.
Euro versus Dollar: The Cycle Continues
Finally we plotted a similar long-term FXE – UUP comparison chart to look at the patterns. As expected the currencies have a strong inverse relationship, however, they have seemed to move in cycles over the years. As it stands now the $$ has just recently crossed back above the Euro and if historical patterns repeat we could see the two continue in the same direction for an average of 6 months.
Euro versus Dollar Long-Term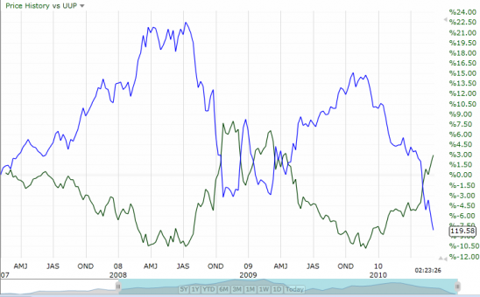 Overall, the currency markets have been just as volatile as equity markets and I'd expect this to continue until European debt issues are resolved. Of course, we could see a revaluation of the Yuan (NYSEARCA:
CYB
) in the short-term too, which could rattle FX markets even more.
Disclosure:
Long GDL, TLT, MYY