Late on Monday it was revealed that Jim Cramer had turned bearish Linn Energy (LINE). While noting that the company still offers decent income, Mr. Cramer says that he would swap out units of Linn Energy in favor of Kinder Morgan Energy Partners (NYSE:KMP). As a result, Linn Energy and its sister stock LinnCo (LNCO) have fallen off a cliff, down roughly 10% and 8% respectively.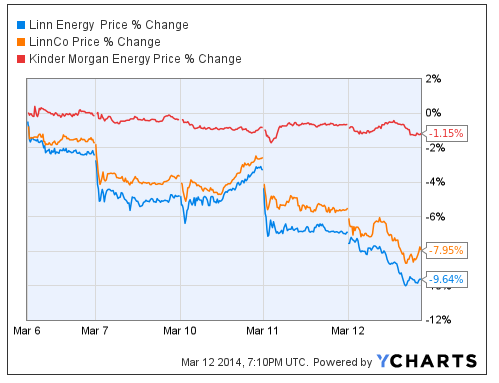 Why is Cramer recommending selling Linn Energy?
While this is merely speculation on my part, I believe Cramer may have grown tired of the constant volatility in that stock. Volatility and fears of lower dividends were some of the reasons why he recommended avoiding mREITs in 2013, a suggestion which turned out to be 100% accurate. In addition, Linn Energy's guidance for 2014 is less than reassuring, with the distribution coverage ratio projected to be barely above 1.00x.
Mr. Cramer, as well as his various portfolios, is widely followed by the market. I believe that his sell recommendation is the main reason why Linn Energy has fallen in price over the past few days.
Kinder Morgan is a much stronger stock compared to Linn Energy
However, let us not take Mr. Cramer completely out of context. After all, he is suggesting selling Linn Energy in order to buy Kinder Morgan Energy Partners.
While I do not consider these two stocks to be 100% comparable, with Linn Energy being an upstream MLP while KMP is a midstream MLP, we cannot ignore the fact that most investors lump together all MLPs into the same basket.
Looking at these two companies side by side, it is easy to see why Mr. Cramer is recommending Kinder Morgan over Linn Energy.
Kinder Morgan is absolutely massive, with the combined companies constituting the 3rd largest energy company in North America by EV. In addition, Kinder Morgan and its MLP have clear avenues for growth, with a projected $14B in organic growth capex over the next 5 years.
As I noted in a recent article, Kinder Morgan is the master of finding midstream growth for its unitholders, be it via helping to export slightly refined condensate, buying Jones Act tankers to help companies move crude around the US, or via building out its terminal and storage infrastructure.
On the other hand, Linn Energy will be hard pressed to do any acquisitions short to medium term as it is still digesting the Berry assets.
Kinder Morgan is also much more of a growth play, with the MLP projecting 5% distribution growth in 2014. In addition, Kinder Morgan Inc (NYSE:KMI), which is the GP of Kinder Morgan Energy Partners, itself offers a solid 5% yield as well as an estimated 8% forward growth rate.
Meanwhile, Linn Energy will likely not be able to raise its distribution much this year given its weak coverage ratio. However, an increase does become more likely if NGLs prices were to continue their trend higher.
Finally, let us not forget Richard Kinder, the CEO of Kinder Morgan. As noted by Mr. Cramer himself, Richard Kinder is a forward-thinking "Bankable CEO." In addition, with over $8.10B invested in Kinder Morgan via KMI shares, his interests are clearly aligned with Kinder Morgan's.
Conclusion
Linn Energy just lost one of its biggest supporters. It seems as if Mr. Cramer may be looking for safety by suggesting Kinder Morgan Energy Partners over Linn Energy. While both these stocks have struggled recently, Kinder Morgan Energy Partners is clearly of a much higher caliber and will likely stage a much faster recovery compared to Linn Energy.
Disclaimer: The opinions in this article are for informational purposes only and should not be construed as a recommendation to buy or sell the stocks mentioned. Please do your own due diligence before making any investment decision.
Disclosure: I am long KMI. I wrote this article myself, and it expresses my own opinions. I am not receiving compensation for it (other than from Seeking Alpha). I have no business relationship with any company whose stock is mentioned in this article.