Copper was limit down in Shanghai today. The move is as bad as with GFC and the US downgrade.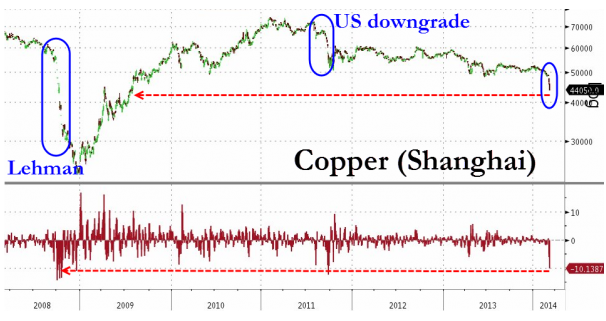 Some say Dr. Copper (who used to provide a good measure of global market and economies' temperature) is no longer valid…as in "this time is different". They think the US and global equity markets have little to do with copper these days. Perhaps it's just an Emerging Market thing…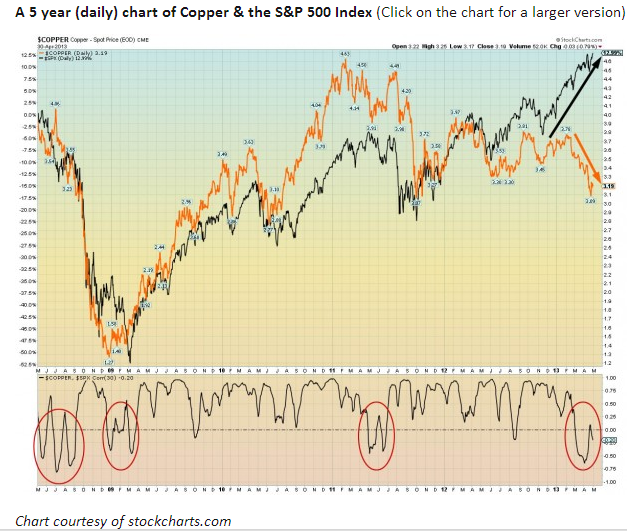 The fact that China isn't growing as fast surely has something to do with copper weakness. And that should have global ramifications that US markets seem to not care about.
But very importantly also, Chinese private debt dealings (i.e. copper-collateral financing schemes) and the concerns about Chinese financial product defaults (Trusts) chain reaction seem to be a key source of additional vulnerability (iron ore is also affected and the impact was evident on the recent -8% one day plunge). At last Mr. Scrooge is asking for his money back (incidentally Ms. Yellen too).
As History shows, every period of unchecked loan growth has led to high NPL levels eventually, when the party is over (6% in US savings and loans crisis in the 80s, 8% in Japan in 90s, c.20% in Asian financial crisis, 8% in US in 2008…13% in Spain, 8% in Italy, 19% in Ireland, 30% in Greece today).
The fact that official NPLs in China are still 1% only doesn't bode well for the future of the global economy. This is in my view the most dangerous "known unknown" that we face today. The dirty laundry will have to come out at some point. Banks and private wealth investors can feel it and the race for the exit can pick up pace easily. The unwind of copper/iron ore schemes and all kinds of trust products is accelerating and additional pressure on prices shouldn't be a surprise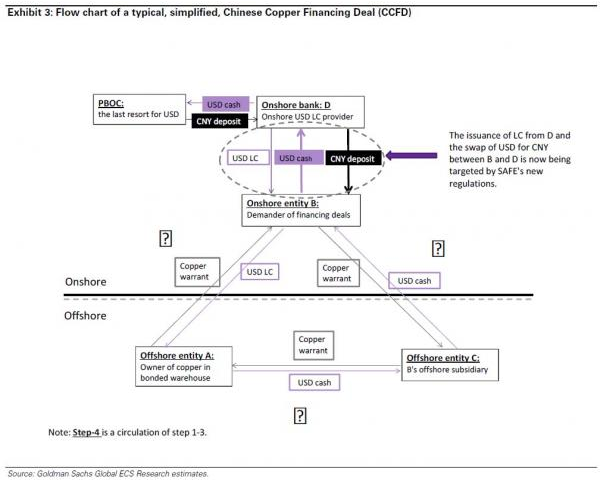 In the past cash cost has tended to be a good reference for bottom levels (c.-35% downside for copper). Interestingly both copper and iron ore are the two commodities further away from it. That could be why capacity continued to be added, with a lag, and several majors still forecast healthy supply growth.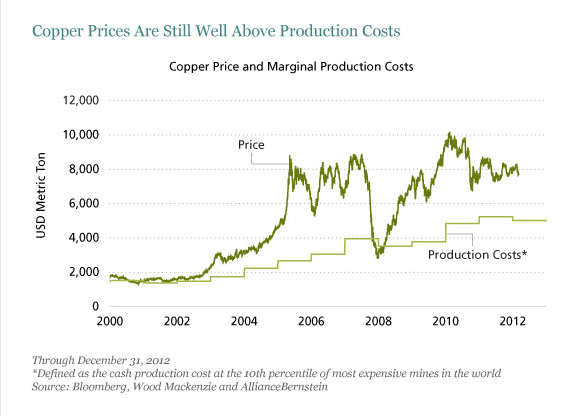 It is also interesting to look at the capacity additions over the next few years, mostly at the bottom end of the cost structure. Unless demand keeps up with that (i.e. China and EM) it is reasonable to expect steep falls in prices ( for instance current 1.6bn Mt of iron demand could be fulfilled at $40/Mt cheaper vs. today!)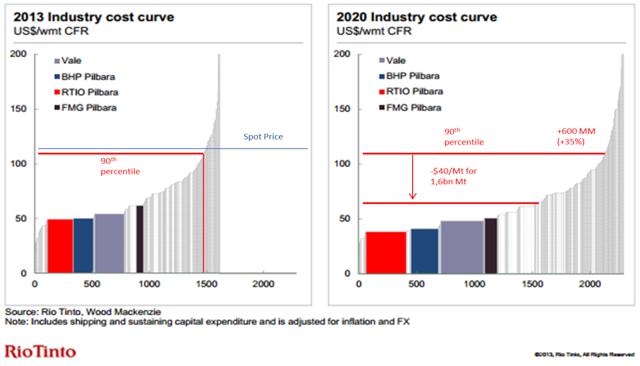 With all that in mind "the knife is still falling" for copper and iron ore and it's still too risky to try to catch it. At some point though the odds will be right to look for contrarian names at the bottom end of the global cost curves (Antofagasta, Southern Copper, Rio Tinto, First Quantum, Vale, BHP, Anglo American...).
Until then, the combination of slower GDP growth and investment in China and many of the incremental commodities consumers (Emerging Markets) plus tighter financing / unwind of collateral are powerful trends that should continue to weigh on copper and iron ore names. In a reflexive action by Mr. Scrooge and any other provider of funds falling prices should reinforce the tighter credit conditions until cash cost levels are reached. EM matters for the West whether you like it or not. So it all seems powerful enough for global equity markets, including the US, to take notice and follow on the steps of Dr. Copper if you ask me!
Disclosure: I have no positions in any stocks mentioned, and no plans to initiate any positions within the next 72 hours. I wrote this article myself, and it expresses my own opinions. I am not receiving compensation for it (other than from Seeking Alpha). I have no business relationship with any company whose stock is mentioned in this article.