Pingtan Marine Enterprise Ltd. (NASDAQ:PME) , ("Pingtan," or the "Company") a global fishing company based in the People's Republic of China (PRC), announced financial results for its fourth quarter and year ended December 31, 2013.
Current Results
Revenue from continuing operations (the "fishing business") increased 81.8% to $122.7 million from $67.5 million, largely as a result of an increase in sales volume and unit selling price.
Net income from the fishing business increased 113.6% to $45.5 million, or $0.58 per diluted share, from $21.3 million, or $0.27 per diluted share.
What Drove Growth
PME grew the fleet of fishing boats by 215% from 40 to 126. This was done by using cash and selling the existing dredging business, not by major dilution. This is similar to what Fonar Corp. (NASDAQ:FONR) (unrelated industry) did to drive growth when they made an accretive acquisition without dilution and their stock has gone from $5 to over $20 this past year.
Cash Flow
PME has $8 million of cash at the end of 2013. PME generated $47 million of cash from operating activities from $45 million of net income from continuing operations in 2013 and again the guided to $80 to $85 million of net income in 2014. Cash flow from operations should be very healthy if they convert net income to cash at a similar ratio in 2014 as 2013. Book value at the end of 2013 was $3.19.
Risks
As with any US listed company from China the question always persist about the accuracy of the financial statements and the potential for fraud. On page 46 in the last 10-K it states that PME hired several accounting professionals with experience in US GAAP and Sarbanes-Oxley compliance.
Outlook for 2014
Based on its current fleet capacity, strong demand for fishing products in China and continued efforts in building market share, PME reiterated the 2014 net income guidance of between $80 and $85 million. PME has 79 million shares outstanding. This guidance represents EPS of $1.01 to $1.08 for 2014.
Valuation Compared To Similar Companies
On slide 21 of the PME Investor presentation, PME provided comparable fishing companies and their P/E ratios as well as other ratios.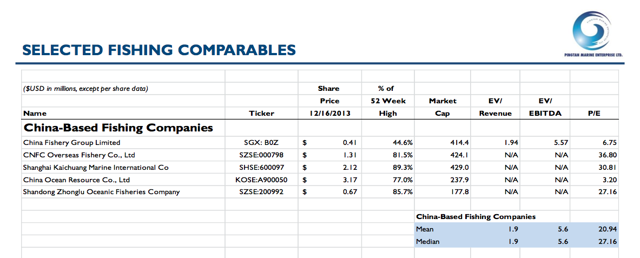 Per the presentation slide 21, the mean P/E for comparable china fishing companies is 27 and for global comparable fishing companies it is 17. At a closing price yesterday of $4.15, PME has a forward P/E of 4.15 on the $1 EPS guidance for 2014. If PME had a P/E of 17 (like the mean in the comparable chart above) on $1 EPS guidance for 2014 that would equate to a price of $17.
I am releasing this article at 8:15 am EST Thursday March 13, 2014 on my blog at super-trades.com and to my subscription newsletter service on profit.ly at 8:15 am EST on Thursday March 13, 2014.
Disclosure: I am long PME. I wrote this article myself, and it expresses my own opinions. I am not receiving compensation for it. I have no business relationship with any company whose stock is mentioned in this article.