At first glance, Benchmark Electronics (NYSE:BHE) looked like an ordinary commodity business. But after looking over the financial data, I think there's some untapped investment potential here. And if anything, the upside to investing into this company will most likely come as a combination of organic sales growth paired with manufacturing efficiencies.
Benchmark Electronics what does it do?
The company focused on third-party mechanical and electronic manufacturing solutions. It involves solutions from product design, prototype, and production.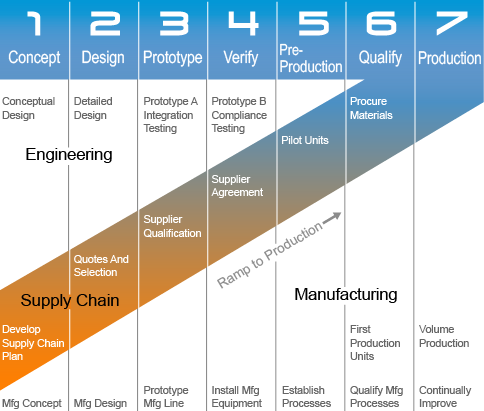 Source: Benchmark Electronics
Mechanical engineering is physical product assembly. Mechanical engineering is most commonly found in aerospace, vehicular assembly, manufacturing lines, special case engineering for buildings, etc. The electronic manufacturing side involves circuit boards, and integration of semiconductor components onto a circuit board. This part of the business has limited durable advantage as it doesn't require significant expertise to design the assembly of circuit boards. The company also doesn't have intellectual property pertaining to graphics, CPU, memory, or storage. It's likely to grow so as long as manufacturers of end PCs need a third-party to do component assembly onto a circuit board or component assembly that doesn't involve fabrication of silicon. Since every computer uses a circuit board whether it is in the form of mobile, wearable, desktop, laptop, car etc., the company should be able to grow unit volumes.
Benchmark Electronics is heavily dependent on a small number of customers for the bulk of its computer revenues, for example IBM was 17% of the company's sales in 2013. This poses a risk from purely an outward looking financial perspective. On the upside, it also means that if Benchmark Electronics is able to secure additional customers, the company would be able to boost its revenue figures significantly in a relatively short period of time. The company also has a clear path to organic growth if consumer electronic demand continues to trend higher, and if the company executes on growth opportunities that involve industrial or medical applications.
Furthermore, because the company also offers mechanical engineering solutions, it opens up high margin products that are either low volume or mid volume products.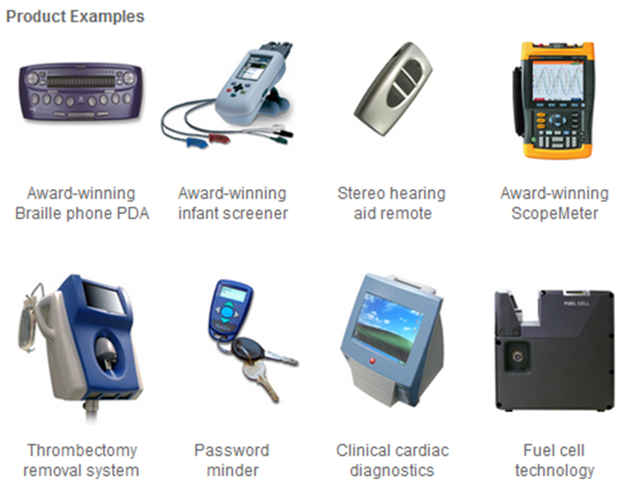 Source: Benchmark Electronics
The downside to offering a fully vertical service is that the company doesn't generate significant revenue in the product development stage, and only when the product is fully designed and sold is the company able to generate meaningful revenue. Furthermore, not every product that is designed by the company will be successful. And for the few products that go onto generate significant volume; the pay-off horizon is way too far out for management to provide any meaningful guidance on both sales and net earnings two, three years out. Because this business model is both service and manufacturing, it's a little more unpredictable than most and because of this fact investors have a difficult time valuing the long-term growth potential of the business.
Outlook on the company's business
The business is heavily sensitive to the business cycle. This has both its advantages and disadvantages. But assuming a stable economic environment, demand for electronic and mechanically engineered products tends to trend higher, and outperform non-durables, and non-cyclicals.
On the downside, if the business environment becomes more challenging, margin contraction, paired with lower volume is likely to occur. Looking further down the supply chain, demand for traditional PCs is declining, and server solutions are becoming centralized and further commoditized. The cloud has winners and losers, and better utilization of hardware may reduce demand for integrated circuit boards from the server side of the market. However, this loss of demand should be offset with other web capable devices being introduced into more traditional markets like automotives or into pre-existing apparel like watches or glasses. The benefit to being so far up-stream is that the company doesn't really need to identify the next major trend in computing, as long as the next computing trend can work with a circuit board.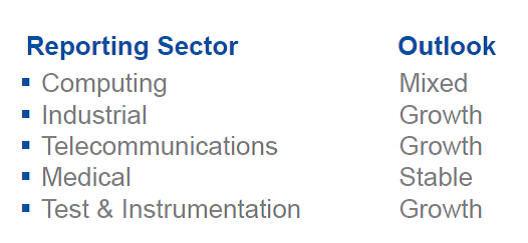 Source: Benchmark Electronics
The company reports that it expects acceleration in sales growth in a meaningful way in the first quarter of 2014. The mid-point for net sales is $640 million for the first quarter of 2014, and indicates 18.4% year-over-year revenue growth. The company is fairly optimistic going into 2014. This indicates that the historical pattern of revenue growth will change as the company has been able to secure additional customers, and further diversify its business away from IBM servers.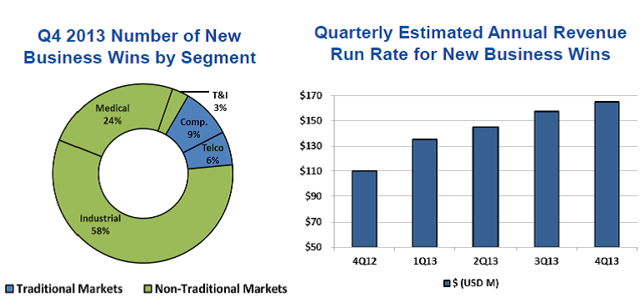 Source: Benchmark Electronics
As you can tell, 58% of business wins came from the industrial component of its business. Industrial goods seem to offer the most upside going forward, and following that medical devices.
Benchmark Electronics has depended heavily on organic growth from its business partners like IBM, and as you can tell, that has been a terrible strategy. With the company ramping up partnerships in industrial and medical services I can offer brighter outlook for the company as it offers me enough certainty to offer a longer-term projection on sales.
My data-points aren't going to exactly match the reported results in the future, because I'm dealing with a unique portfolio of businesses. Therefore predicting sales won't be an exact process. However, I need an outward looking figure to work with in order to complete my price guidance, so I'm going to make growth estimates assuming Benchmark Electronics can sustain its run rate for new business wins.
The CFO of Benchmark Electronics, Donald Adam states:
Let me note here that for the full year, we had 1 customer with revenues exceeding 10%. Revenue for the full year from our top computing customer was 17% in 2013, which is down from 21% in 2012. Industrial control revenues were up 10%, including revenue from our new customers from our recent acquisition. Test and instrumentation revenues were up 23% sequentially with program wins and increased demand levels in the semi-cap space. Medical sector revenues increased 8% sequentially, associated with the timing of new programs. And lastly, telecom revenues increased 51% sequentially related to new programs in our recent acquisition. Our fourth quarter revenues included a delayed program ramp that we discussed last quarter.
The CFO's guidance was the most interesting part, however:
Let's turn to guidance on Slide 7. Based on the current forecast from our customers, our Q1 guidance is as follows: We expect revenues to range between $630 million and $660 million. At the midpoint, this represents an approximate $100 million increase over the same period last year. The increase is comprised of approximately 60% acquisition-related revenue and 40% organic growth from new programs ramped in 2013. We are pleased to see the realized revenue from our bookings having more meaningful impact in our first quarter guidance.
Earnings forecast
The CFO of Benchmark Electronics mentions that 40% of revenue growth came from pre-existing business partnerships/developments and the remaining 60% of revenue growth came from its acquisition. Because Benchmark Electronics is involved with its customers in the early stages of physical product development, the outward looking run-rate is likely to trend higher as production begins to ramp-up. We're starting to see the impact on revenues, from product design and development, and because the mix of products is improving I feel fairly confident in modeling growth at a 7.36% rate, versus a run-rate of 4% based on historical results. This 3.36% difference carries a lot of weight, for outward growth. The company also plans to reduce on capital expenditure spending, and instead use cash flow to initiate share buybacks. Assuming better use of floor space (in other words reduction of floor space), and concentrated investment into machinery, productivity gains are likely. I calculate that the company's gross margin will return to its peer comparison average, which is above 10%. Assuming share buy-backs results in declining share float of 2% per year, which is a conservative estimate from the 4% historical decline rate, the company's EPS should grow at fairly significant rates based on this table below.

Source: Alex Cho
As you can tell, my outward looking assumptions include a 35% tax rate on earnings, whereas historically the company has been able to avoid paying taxes for a host of different reasons. Paying no taxes or in some cases earning tax refunds has inflated historical earnings, which was why the stock traded at depressed P/E multiple historically. Clearly, I don't think this trend will sustain, so I adjusted to factor in a 35% tax rate for the next five years. Operating expenses between 2013 and 2014 will increase as the benefits from the Taiwan flood, and tax rebates are short term.
My EPS forecast for 2014 is $1.23 and is below the consensus expectation at $1.48. Admittedly, I expect lower sales growth for 2014, and my 2015 EPS outlook of $1.62 closely matches the consensus at $1.63. I expect share buyback to decline from 4% per year to 2% per year, as share price increases will diminish the number of shares that can be bought back and retired. Since net income will trend higher, I expect the share buyback program to increase in scale. The company will most likely invest into machinery improvements and will reduce the size of its real estate portfolio even further. Therefore, capital expenditure spending isn't likely to trend much higher; therefore I expect limited increases in operating expenditure and cost of production as capacity will be better utilized.
Historically the company's $2.05 EPS in 2013 wasn't sustainable as it was driven by the benefits from a tax rebate and expected insurance pay-outs from a Thailand flood. These two factors do little to benefit the long-term investment thesis. My outward looking optimism is based on the change in product-mix, paired with higher margins, share buybacks, which will return the business to $2.10 in EPS by 2016, according to my conservative estimate. The higher quality of earnings is the primary driver for earnings multiple expansion, as analysts won't have to discount future earnings to present value with one-year benefits.
I project 26.6% EPS growth between 2014 and 2019. The earnings growth rate will outpace that of its peers by a significant margin.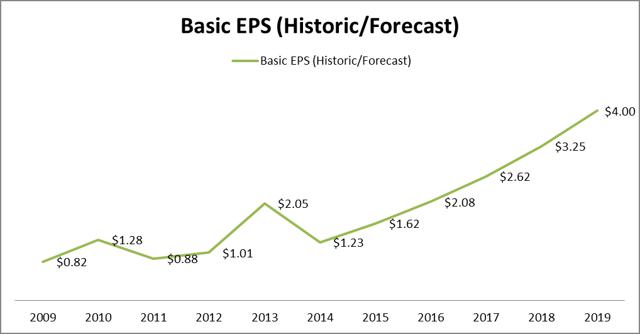 Source: Alex Cho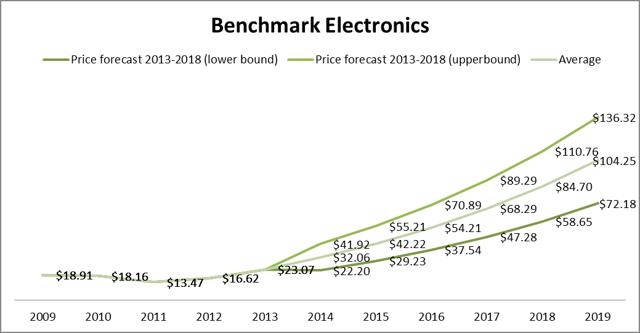 Source: Alex Cho
As you can tell, I expect the stock to trade at $32.06 by the end of 2014, which indicates a 30.75% return on investment from current levels ($24.52). The company may miss expectations, so I expect downside to be capped to $22.20, indicating that investors may lose 13.5% in 2014. Because the downside is capped at a 13.5% loss compared to a 30.75% return, the 3:1 risk-to-reward is fairly compelling. The stock is currently 52.49% off of its 52-week low, and has priced 2014 analyst expectations into the stock. However, assuming the company is able to generate organic revenue growth above its mean performance, and come up with incremental cost efficiencies, the stock should trend much higher, and that's where investors who buy-in right now will be able to ride a multi-year trend rather than invest on the hopes of earning money from a one-year rally.
By 2019, (five years into the future), assuming the company is trading at $104.25 per share, the stock's market capitalization will be $5 billion. That's assuming the company has 48.02 million shares outstanding, which is 5 million fewer shares than it has today. I think five-years out into the future, a 325% ROI is fairly compelling and worth waiting for. Mid-single digit revenue growth, paired with 3.6 percentage point improvement on gross margin is all it takes to fetch a $5 billion valuation, my expectations are extremely realistic, and may end up being too conservative.
Tailwinds working in our favor
Market saturation is unlikely as medical devices is forecasted to be a $434 billion market by 2017; telecom is a $2 trillion industry currently, electronic manufacturing is forecasted to be a $654 billion market by 2016, automotive manufacturing is expected to reach $2.2 trillion by 2017, service robotics is expected to be a $46.18 billion industry by 2017 (according to Markets and Markets). I mention these five different industries, as Benchmark Electronics manufactures electronic and physical products that fall into these five different categories (and perhaps many other categories).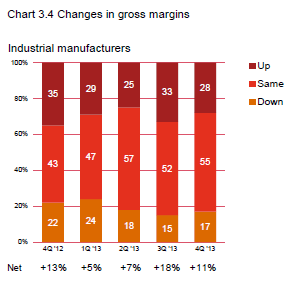 Source: PricewaterhouseCoopers
11% of industrial manufacturers have been able to generate improvements on gross margins in Q4 2013, and have been able to sustain higher gross margins due to labor productivity for the past four quarters.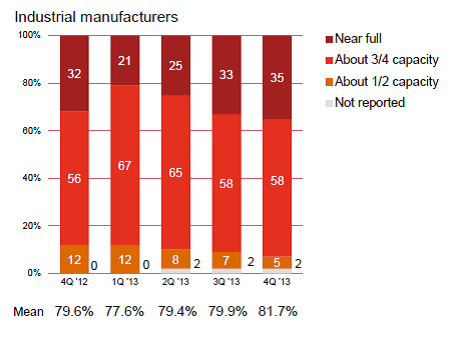 Source: PricewaterhouseCoopers
Average production capacity has improved, and with mean capacity at around 81.7%, Benchmark Electronics can use better utilization of capacity to improve its gross margin figure, which indicates that the company may be able to reach my targeted 10.6% gross margin assumption by 2019.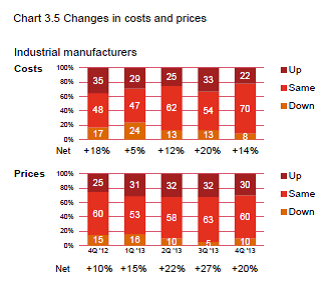 Source: PricewaterhouseCoopers
Industrial manufacturers on a consensus basis were able to offset rising costs with rising prices for the past four quarters. This indicates that manufacturers aren't too exposed to commodity risks or rising labor costs. This is highly favorable to Benchmark Electronics as it can always increase its prices in order to boost gross margin.
Conclusion
While $3.8 billion in annual sales by 2019 sounds like a lot, the addressable market potential is significantly larger than my projected annual revenue figure. Benchmark Electronics would have to grow annual sales at a higher rate than the industry growth rate to reach my revenue forecast. I think this is possible considering new business wins, and M&A activity. Even if sales were to grow at a moderately slower pace, it's likely that the business will generate productivity gains, which will result in high rates of net income growth anyway.
Historically, it's not that the stock was undervalued. It was the fact that earnings depended heavily upon tax-returns which inflated EPS in many of the past fiscal years. Sure it has to be recognized, and yes the company was able to generate better profitability as a result, but when we exclude tax benefits, and operate under the assumption taxes will return to a more normal rate (35%), the company's earnings from 2013 and many of its previous years were significantly smaller.
So my forecast is actually conservative as it calculates the worst case scenario: significantly higher taxes, modest margin improvement, and single digit revenue growth despite massive acceleration of sales. Overall, I have high conviction that Benchmark Electronics has significant upside potential, and has great risk to reward over the short and long term.
Disclosure: I have no positions in any stocks mentioned, and no plans to initiate any positions within the next 72 hours. I wrote this article myself, and it expresses my own opinions. I am not receiving compensation for it (other than from Seeking Alpha). I have no business relationship with any company whose stock is mentioned in this article.