Horizon Technology Finance Corporation (NASDAQ:HRZN) is a business development company or "BDC" that focuses on investing in a wide range of technologies. It provides senior and subordinated loans, bridge loans, senior revolving loans, equipment loans and more. It can also take equity stakes in certain forms such as warrants. An average-sized transaction for Horizon Technology Finance often runs between $2 million to $25 million.
Horizon Technology Finance has a well-diversified portfolio with investments in a number of tech-related industries including cloud computing, communications, data storage, internet, media, networking, software, drug discovery, medical devices, specialty pharmaceuticals, medical information technology, alternative energy, green building materials, water purification and many others. This diversification reduces risks for shareholders. Some of the companies in its investment portfolio include: Snagajob.com, Bitband, Hatteras Networks, Concentric Medical, and many others.
In recent days, the shares of many business development companies have seen a little selling pressure due to the possibility that some indexes may eliminate these types of companies. Since investors are still hungry for yield, it seems likely that any extra supply of stock due to the possibility of index-based selling will be easily soaked up by the market. I think any weakness is a buying opportunity, but an even more significant pullback in Horizon Technology Finance has caused me to focus on this stock right now.
These shares were trading for about $14 just days ago, however, a recent analyst downgrade (on March 12) and a minor earnings miss have pushed the stock down to very cheap levels. For the fourth quarter of 2013, the company reported net investment income of 35 cents per share. This was a penny below analyst estimates of 36 cents, so it was hardly a major miss, which is another reason why the pullback appears to be overdone.
An analyst at Keefe, Bruyette & Woods downgraded the shares on March 12, 2014 and set a $13 price target. That clearly put selling pressure on the stock, as the trading volume reached about 666,000 shares that day. This is very high volume, since this stock has an average trading volume of just around 60,000 shares. This type of high volume is what you usually see when investors are "capitulating" or in other words, selling their shares at really cheap prices. It's worth noting that even the bearish analyst has a $13 price target, which is above the current price. Furthermore, I don't care if this stock has a lot of upside of just $13, since this investment is about collecting a huge 11% yield. Finally, it is important to note that other analysts are far more bullish. Analysts at Zacks Investment Research gave this stock an outperform rating in late January, and it set a price target of $15.80. That implies plenty of upside while collecting a generous yield.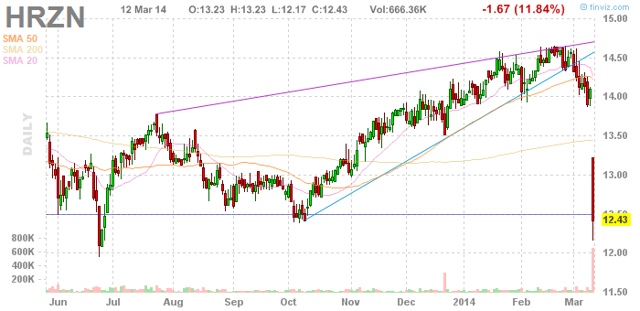 As the chart above shows, this stock has recently dropped by about 10% and now trades below $13 per share. The chart also shows that this stock dropped to about this same level at around $12.50 during market corrections in June and October of last year. It also shows that these pullbacks were major buying opportunities since the stock rallied shortly thereafter every time. As was the case in the past, the current selloff is way overdone and the stock is also now extremely oversold with a relative strength index or "RSI" of just 19. Stocks with an RSI of about 30 or less are considered oversold and therefore potentially due for a major rebound.
Investors in business development companies should consider potential downside risks which typically include secondary stock offerings and dividend cuts. However, these types of companies usually only initiate secondary offerings when the stock is trading close to book value or above it. Because of this, I don't think this company is likely to have a secondary offering as the shares are now trading way below book value which is about $14.95. The potential risk of a dividend cut also seems very limited because the company is earning enough to sustain the dividend payout. In fact, this company recently announced dividend payment dates for the next three months, April, May and June.
Multiple insiders have been buying this stock in recent months, which is another bullish factor to consider. On November 12, 2013, Robert Pomeroy, (an officer), purchased 4,000 shares at $14.07 each, in a transaction valued at $56,280. On November 11, 2013, Gerald Michaud (an officer) bought 7,200 shares at $13.89 each, in a transaction valued at $100,000. Other insiders also bought smaller amounts of stock late last year. When multiple insiders buy stock, it can be a great sign that management is aligned with shareholders. It can also be a sign that the shares are undervalued. If multiple insiders were buying this stock late last year for about $14, it would not be surprising if we see insiders doing some bargain hunting right now. If we do see insider buying reported in the next few days, this stock should react very positively.
Unlike many dividend stocks, a lot of business development companies pay monthly, rather than quarterly. This is great for income investors, because it is never a long wait for the next payout. This company pays 11.5 cents per month and that provides a very generous yield of about 11%. I never pay "retail" when investing in the BDC sector, so I always wait for pullbacks due to secondary offerings, downgrades and earnings misses. These types of events are often huge buying opportunities, and that is why I am buying the pullback in this stock as well. Investors who buy now, and are shareholders of record on March 19, 2014, will be eligible for the next dividend payment of 11.5 cents, which will be made on April 15. That is just one more reason to buy this below book value bargain that is yielding a whopping 11%.
Here are some key points for Horizon Technology Finance Corporation:
Current share price: $12.55
The 52 week range is $12.17 to $15.51
Earnings estimates for 2014: $1.46 per share
Earnings estimates for 2015: $1.55 per share
Annual dividend: $1.38 per share which yields about 11%
Data is sourced from Yahoo Finance. No guarantees or representations
are made. Hawkinvest is not a registered investment advisor and does not provide specific investment advice. The information is for
informational purposes only. You should always consult a financial
advisor.
Disclosure: I am long HRZN. I wrote this article myself, and it expresses my own opinions. I am not receiving compensation for it (other than from Seeking Alpha). I have no business relationship with any company whose stock is mentioned in this article.