Model Uses Economic Data
If you have worked on Wall Street for any length of time, you are probably familiar with Value Line, a firm that has been in the investment research business since 1931. Value Line produces financial forecasts and rankings based on current and historical market and financial data spanning thousands of U.S. companies, mutual funds and other securities, industry sectors, indices and economic variables. Three of the core Value Line inputs are shown below.

A 12% Gain In Stocks?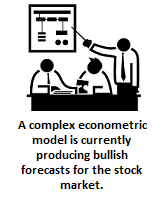 Sam Eisenstadt is the former research chairman at Value Line. Mr. Eisenstadt is retired, but he still updates his well-respected model that produces six-month forecasts for the stock market. The model is currently targeting 2,100 on the S&P 500. From MarketWatch:
Eisenstadt constructed his model to combine all inputs that his research found to have any stock market forecasting ability. So there's no one factor that is responsible for its current forecast of a much higher market over the next six months. But, in an interview, he said that one big factor is continued low interest rates: "Unless rates start picking up in the next few months, the outlook looks very bullish." Eisenstadt confessed to being "almost embarrassed" by how bullish his model is, since the market has already been so strong. But, given that he trusts his quantitative model over his gut instincts, and given that his model has been too cautious recently, he doesn't "want to argue with the model."
Bullish Economic Conviction
Regular readers know we are not big fans of forecasting, but we have to admit the concepts outlined in this week's stock market video align with Mr. Eisenstadt's bullish forecast for stocks. One example of alignment is the recent bullish breakout shown below on the weekly chart of the NYSE Composite Index. The Value Line forecast tells us the economic conditions are in place, from a historical perspective, for stocks to rise 12% in the next six months. The bullish breakout on the NYSE chart below also tells us something positive about economic conditions. In October 2007, investors did not have enough confidence in future economic outcomes to push the NYSE to new highs. In 2014, investors' perception of future earnings, the economy, and Feb policy are more favorable than they were in October 2007. The more favorable view of the economy in 2014 helped create enough buying demand to push the NYSE to new highs.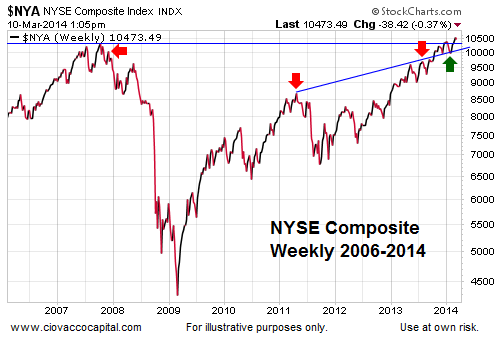 Soft Patch Or Recession?
What could derail the forecast of 2,100? Rising interest rates or a recession are logical answers. Tuesday, the government reported the sharpest monthly decline in wholesalers' sales since the recession month of March 2009. The report continued what is now a short-term trend of below-consensus reports on the state of the economy. How concerned should we be? From Bloomberg/Businessweek:
Don't get too pessimistic too soon. The predominant view among professional economists is that this expansion has room to run. The median forecast of those surveyed by Bloomberg is for the U.S. economy to grow 2.9 percent this year, the best since before the 2007-09 recession, and then keep going at a 3 percent growth rate in 2015 and 2016. There's reason for that relative optimism. Almost five years after the end of the last recession, there's still pent-up demand for housing and autos, which are two of the sectors that traditionally power a recovery, says Michael Englund, chief economist at Action Economics in Boulder, Colo. The U.S. is still getting dividends from the fracking boom, says Englund. He attributes much of the current weakness to severe winter weather and the retreat from an accidental overbuilding of inventories.
Investment Implications - Not Time To Overreact
Notice how Mr. Eisenstadt said his forecast would be valid, for the most part, "unless rates start picking up in the next few months," which means he is willing to adjust his forecast if and when the fundamental inputs change. We operate under the same flexible premise. As of March 12, the data and observable evidence we have in hand continues to align with the stock market bulls. Consequently, we will continue to maintain exposure to U.S. stocks (SPY) and technology stocks (QQQ) until the evidence shifts in a meaningful way.
Disclosure: I am long SPY, QQQ. I wrote this article myself, and it expresses my own opinions. I am not receiving compensation for it. I have no business relationship with any company whose stock is mentioned in this article.