by Nick Hodge
There will come a time when hybrids and electric vehicles make a significant dent in automobile market share, and thereby a significant dent in the amount of petroleum used for that cause. And as much as we wish and hope that will it be an overnight transition, the economic and political reality is that can't happen.
Consider this: The starting price for the Nissan (OTCPK:NSANY) Leaf — the first all-electric 4-door vehicle to go on sale in the U.S. — is $25,280. You can get a Versa for $10k, a Cube for $14k, a Sentra for $16K, or an Altima or Rogue (Nissan's smallest SUV) for $20K.
The price discrepancy between the Leaf and the Versa (the car the Leaf most resembles) is $15,280. At $3.00 per gallon — which we're currently well below — that would buy you 5,093 gallons of gas. And with the Versa rated at 34 mpg (I'll use 30 mpg to err on the conservative side), that much gas would allow you to drive 152,800 miles.
So you can buy a Leaf for $25,280 (minimum) and still have to pay for electricity to run it.
Or you could buy a Versa for $10,00 and not reach the break-even cost of a Leaf until you've driven for 153,000 miles.
Listen, I love the environment. I love sustainability. I know cleantech is the way of the future, and will make investors a great deal of money. But I'm not stupid. I'd buy the Versa every time.
And that's why, in spite of the benefits it promised to the industry, in spite of its MIT lineage, and in spite of the much-hyped and tediously-covered IPO, battery-component maker A123 Systems (NASDAQ: AONE) has performed like this since it debuted: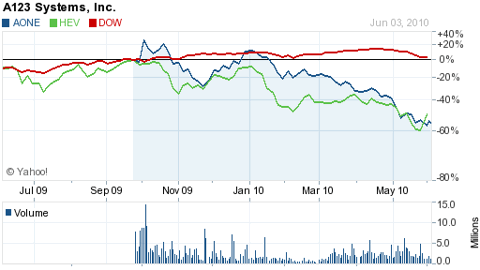 Ener1, Inc. (NASDAQ: HEV), another electric vehicle battery maker, is in a similar position.
One step at a time
Don't get me wrong... Electric vehicles will ultimately be a great investment. But that doesn't mean they're a great investment now — barring drastic cost reductions and a near-term meteoric rise in the price of oil.
Converting the world's car fleet to electric is an end-game, an ideal. As is the complete eradication of fossil fuel use and an abundance of clean water for all.
But those things can't happen overnight. To think otherwise is silly... And to invest otherwise will help you lose your shirt quickly.
It may not be time to invest in electric vehicles yet, but look at the performance of companies making today's cars more efficient: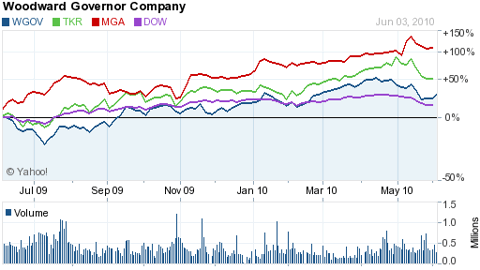 Increasing fuel efficiency isn't the penultimate solution that vehicle electrification is, but it's a real-world, real-time solution based on solid economics.
Instead of forcing the deployment of the Leaf, right now it's smarter to make the Versa go farther on a tank of gas.
And the same can be said about many energy-centric market sectors.
The future isn't now
Of course, to some extent, I'm playing devil's advocate here. The purpose for this is to get you think outside your comfort zone.
Would I go long[ [BP]]? Probably not — but it's worth a critical look, considering that it's already lost $67 billion of its market value and is showing signs of a bottom. But whether or not to invest in BP isn't the point here. The point here is we have to look at the green transition through an agnostic lens — not an indoctrinated or idealistic one — and invest with our brains instead of our hearts. We have to acknowledge and accept the stepping stones allowing us to cross the gap.
Following that mantra will help us make more money in the cleantech market by not missing any opportunities.
That means investing in making today's cars more efficient before investing in tomorrow's electric cars.
In means investing in the grid before commissioning the next wind farm.
And, as we've recently covered, it means investing in reducing energy demand before focusing on increasing supply.
Disclosure: No positions