By Raul De Frutos
It is unquestionable that silver and gold prices share a strong relationship.
Like gold, silver is dependent on psychology and the factors that drive psychology, such as inflation and the dollar. However, despite being considered a precious metal, silver also plays a role as an industrial metal.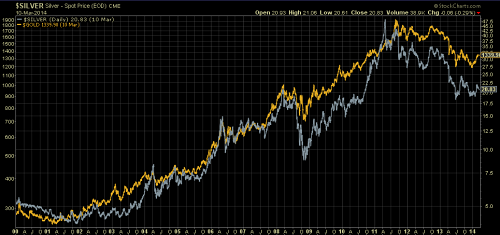 Silver (gray) vs. Gold (gold) since year 2000. Created using stockcharts.com
Like the rest of commodities, silver peaked in 2011, as the dollar pushed commodity prices down. Since then, silver prices have weakened. Despite the upward move that silver made last month, it seems that silver is struggling to overcome previous levels.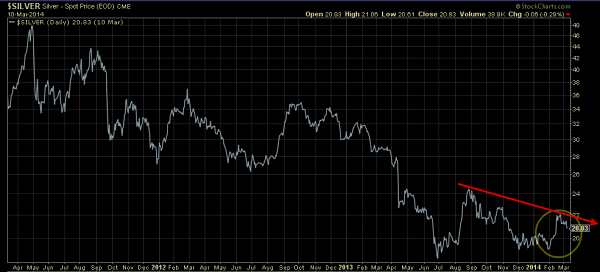 Silver spot price since 2011. Created using stockcharts.com
Unless we see real strength in prices, the current picture suggests that silver prices might not be able to come back. Although gold seems stronger than silver, the recent turn-down of silver might question gold's ability to turn up.
What This Means For Metal Buyers
Recent weakness in silver prices is suggesting that silver is likely to keep struggling through the balance of 2014. Taking long positions while prices are weakening might result in a costly strategy.