Last fall, I endorsed the AllianzGI Equity & Convertible Income fund (NYSE:NIE) - $19.45 market price, $22.58 NAV, -13.9% discount, 5.8% yield - as the most undervalued equity CEF to investors based on its strong Net Asset Value (NAV) performance in its category and a relatively low yield that I thought deserved to be much higher. Throw in a proposed merger with the AllianzGI Global Equity and Convertible fund (NYSE:NGZ), a very similar fund but one with a much higher valuation and a much higher 7.5% market yield, and I felt it was a slam dunk to see a large distribution increase for NIE as the surviving fund. You can read the article here, The Most Undervalued CEF.
I've called dozens of distribution increases and decreases over the last few years in articles I've written on Seeking Alpha and I was all set to release an article alerting investors to a possibly large distribution increase for the new and improved NIE ahead of Allianz's first quarter declarations on March 7th. I thought we would see at least a bump from $0.28/share to $0.35/share, which would still be conservative considering the newly merged NIE's NAV yield was at an extremely low 4.9% leading up to the declaration. For comparison, Allianz's other equity managed CEF, the AllianzGI NFJ Dividend, Interest & Premium Strategy fund (NYSE:NFJ), a similar option-income and convertible securities fund, has a 9.6% NAV yield, almost twice that of NIE.
And yet something in the back of my mind told me that Allianz was going to miss this opportunity and I held back on releasing my article. As it turned out, my hunch was correct and after the close on Friday, March 7th, Allianz declared distributions for NFJ and NIE and kept NIE's distribution at $0.28/share.
In the scheme of things, this is not that big a deal and hardly any investors would even notice that Allianz essentially threw their old NGZ shareholders under the bus. However, for someone like myself who follows these funds very closely and who owns tens of thousands of shares of NIE, small decisions can have a large impact. I even shorted NGZ last fall not long after the NIE/NGZ merger was announced when NGZ rose to a sharp premium valuation as investors wrongly assumed NGZ was going to be the beneficiary of the merger. Sorry NGZ shareholders...you shouldn't have placed that much confidence in Allianz to do what was in your best interest.
Why A Closed-End Structure Is Advantageous For Income
Investors generally look to CEFs for income first and if a CEF doesn't offer a superior yield than what they could get in similar securities, then the fund tends to trade at a wide discount, even if the fund has had superior NAV performance. I have found that 6% seems to be the cutoff point for most equity CEFs and funds that offer less than a 6% market yield will generally have a harder time appreciating the more the current yield diminishes.
So why do high yielding funds need a Closed-End structure? Because CEFs typically use enhanced income strategies such as leverage, option-writing or other techniques that need a reliable asset base to derive their income. If investors could redeem shares like in an open-end fund, then the portfolio managers might have to sell securities to raise cash to meet such redemption demands. This obviously wouldn't work very well in a leveraged or short-option scenario which depends on its investments to derive its income.
With a CEF structure, investors can sell all the shares they want and a CEF's market price can drop to a larger and larger discount but it won't have any impact on the fund's NAV or its income and the portfolio managers can continue to manage the portfolio without fear of redemptions.
There may be other reasons why a CEF structure is advantageous for fund sponsors but it seems that any CEF that doesn't take advantage of this most obvious feature is missing out on why it went public as a CEF in the first place.
Why Does NIE Continue As A CEF?
Getting back to NIE, here is a fund that for all intensive purposes is not even using any enhanced income strategies that I can see. Currently, NIE is structured no differently than a balanced mutual fund that just owns stocks and convertible securities.
Oh sure, NIE is suppose to be an option-income CEF that uses up to 51% option coverage on its equity portion of its portfolio in conjunction with about 26% of its overall portfolio invested in convertible securities. This is shown in NIE's Fact Sheet from Allianz dated 12/31/2013.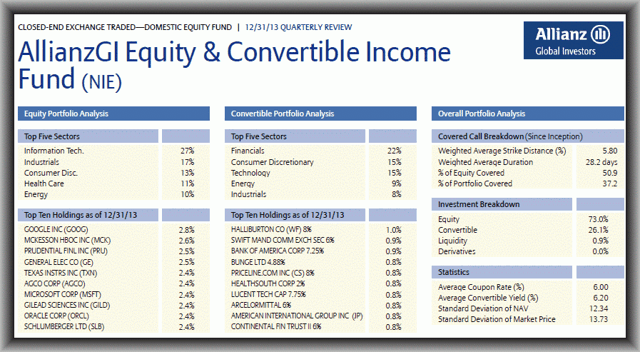 But according to NIE's latest holdings as of 2/28/2014, NIE had only (-$7,000) worth of short options outstanding. And going back over previous holding reports for the past year, the amount of short options has continued to be minimal and certainly not even close to what the fund has historically shown.
Compare NIE's (-$7,000) single short option position to NFJ's total short option exposure of about (-$24,000,000) as of 2/28/2014 and you can see what a dramatic difference this is for funds that have a similar investment strategy of using options and convertible securities for income. Now NFJ is a much larger fund and calls for up to 88% of its equity portfolio to utilize a covered call option strategy, making it a very defensive fund, but the fact that NIE hasn't been using near the amount of option exposure it could be is interesting.
In my article last fall (link above), I speculated that Allianz may ultimately be looking to take NIE open-end or merge it into one of its similar open-end funds. I have no evidence of this but the fact that Allianz terminated one of its other equity CEFs, the Allianz International & Premium Strategy fund (NYSE:NAI) last year at about the same time that Allianz announced the merger between NIE and NGZ leads me to believe that Allianz may be looking to get out of the CEF business altogether as this would only leave its NFJ fund as the only equity CEF managed by Allianz.
Conclusion
So will Allianz ultimately make it up to its NGZ shareholders by taking NIE open-end? Hard to say what Allianz is planning since they are not particularly responsive to my questions. But I still feel one of two things will eventually happen with NIE. Either Allianz takes it open-end, which would mean an immediate windfall price increase as NIE's market price would then reflect its $22.58 NAV as of March 12, 2014, or Allianz will eventually utilize its option writing capability more and in turn raise NIE's distribution to a more attractive level for investors. In either case, NIE is still the most undervalued equity CEF at a -13.9% discount.
Note: NIE and NFJ went ex-dividend today, March 13, 2014 and so each fund's market price and NAV will be reduced by their distribution amount.
Disclosure: I am long NIE. I wrote this article myself, and it expresses my own opinions. I am not receiving compensation for it (other than from Seeking Alpha). I have no business relationship with any company whose stock is mentioned in this article.