This May has been brutal to the stock markets, as Kopin Tan of Barron's put it:
By the end of May, they (investors) had yanked nearly $30 billion from stock mutual funds — a one-month flight from risk that surpassed the $25 billion withdrawn in February 2009, or the $26 billion pulled in March 2009. That was just before this bull run began and when the economic outlook was far grimmer.
It is true that the economic outlook has been improved dramatically. The last earning season has been the best since the trough of March, 2009. The European sovereign crisis has been contained, so far. Even Friday's job report doesn't necessarily emphasize an economic second-dip as the same thing happened before in July, 2004 during the previous economic recovery. More importantly, when markets closed on Friday, major indices stood at a major support line. If people carefully analyze the stock chart of S&P 500, the support line near 1060 hasn't been fully breached. We believe that more downward attempts will follow, given the fact that S&P 500 has been below its 200-day moving average on its daily chart with its RSI below 50 for the past 11 days, and the European sovereign default crisis further extended to Hungary. What could happen next week is for the S&P 500 to re-try 1060 during intra-day lows. Besides, VXX is consolidating above 20-day moving average, signaling incoming market volatility. On the upside, as the ratio of number of S&P 500 stocks above 50-day moving average drops below 10%, the markets become more and more oversold. Further, a strong support line requires multiple attempts before it gets penetrated, and major market drops typically happen after the forming of strong downward patterns, such as double-peak, header-and-shoudler, or triple-bottom. The triple-bottom pattern is more likely under the current situation. We believe that S&P 500 will go up and re-test its 200-day moving average after a couple of tanking days next week, which gives swing traders good opportunities to make some easy money. We believe that when markets go up, oil and natural gas ETFs (UNG, USO, DBO) will do well. Here are the reasons:
We are in the hurricane season.
There is a 6-month moratorium on exploratory drilling in the Gulf's deep waters.
Pension funds are shifting towards raw materials.
The triple-bottom pattern will finish when the Dow breaks 9000 the third time.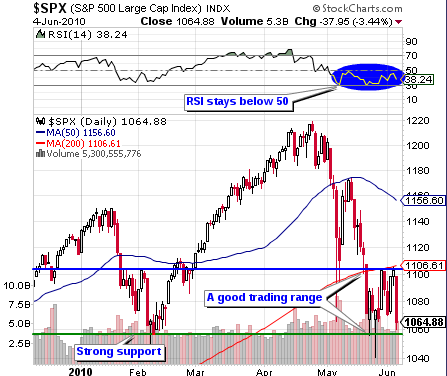 Disclosure: long vxx and energy, and short finance and real estate