Smartphone markets can be brutally competitive. Consumer sentiment shifts quickly when consumers are given choices between devices and ecosystems that resonate with their needs or aspirations. The smart vendors take advantage through creative marketing.
Italy is a good example. In the three months ended January 31, 2014, the shifts in market share were tectonic. Android OS devices added over ten percentage points of market share while iOS lost about the same amount. BlackBerry (BBRY) hung onto a negligible 2% of the market and the "other" category all but disappeared from view. Microsoft (NASDAQ:MSFT) Windows OS phones surged to a second place with a 17% share of market.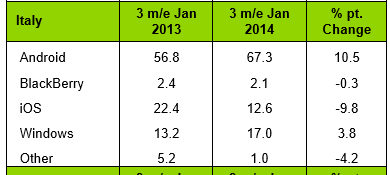 You have to wonder why. Android OS phones were available with a broad range of devices in all form factors and price points and the continued advance of the Android system was no surprise. But how was Microsoft Windows so successful? The period ended January 31, 2014 comprised three months that closely followed the worldwide release of the very successful iPhone 5S launched in Italy November 1, 2013 together with its lower priced sister, the iPhone 5C. While the iPhone 5S was a sellout success in most markets it was outpaced by the Lumia line up in the Italian market.
The Windows OS success in Italy has its roots in marketing. The devices were priced competitively in a market suffering a weak economy and then promoted with Sky Go, a service allowing users to watch a wide range of TV content on their Lumia handsets, described by Nokia's manager for Italy as a "world exclusive".
"Sky Go on the Windows Phone 8 platform is a world exclusive for Italy and a true Christmas present for our customers," said Paola Cavallero, General Manager, Nokia Italia. "We are particularly pleased with the partnership with Sky as it will further increase the satisfaction of our Italian users of Lumia devices. This app, in addition to the recent arrival in the Store of other successful brands such as Instagram and Vine, will be available on the entire Lumia family stretching from the Lumia 520 to the new Lumia 1520 with its high-quality 6-inch screen."
The Windows OS phones success in Italy shows how creative marketing and a sharp focus on a key application can be the cornerstone of a marketing strategy where the competitors have vastly superior ecosystems with widespread worldwide adoption.
The success of Xiaomi in China seems to have similar roots in its creative approach to the market. Eschewing profit on the device itself, Xiaomi has captured a massive following in China with its very functional and low priced devices by making user engagement the heart of its marketing from the inception of device. As described in an article entitled: "The SecretS of Xiaomi's Marketing Success in China" published in China Internet Watch on November 27, 2013:
"For marketing, Xiaomi used different social network in a separate way. Weibo is used for attracting new users, Forum is to make these users to become loyal fans, Wechat is used for customer service. Xiaomi Sina Weibo account had 2 million followers, and its Wechat public account had 2.56 million subscribers."
I expect we will see more creative marketing in the increasingly saturated smart phone markets around the world. Devices by themselves are quickly becoming commodities. Consumers seem less interested in Geekbench scores or how many gigs of DRAM the device has if it performs reasonably. They are more interested in what it will do. When competitors have a massive library with millions of applications it is ineffective for the underdogs like Windows OS or Xiaomi to compare the size of the application library and very likely counterproductive. It seems much more effective to find a content source that can be exclusive, offer it for free or for a nominal price, and differentiate the devices based on function rather than form.
Fast growing Micromax did some innovative marketing in India. For example, one early smartphone phone targeted female users by offering an attractive phone with a Qwerty keyboard; Swarovski embossed keys; and, a mirror on the back of the phone useful for applying lipstick. Micromax made the device unique by making its features particular to women users.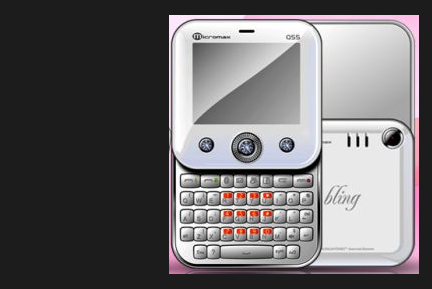 Source: ancitasatija.blogspot.ca
I expect to see a lot more marketing come to the smart connected device market along these lines. OEMs need to differentiate their products based on more than high level assertions of their broad features and specifications since, in fact, there is not much difference between a Samsung (OTC:SSNLF) Galaxy S4 and an iPhone 5S or an HTC (OTC:HTCCY) One. They are all solid and well-designed devices that get the basic job done.
Instead, I see vendors offering exclusive or free content as the lure. A smartphone that ships with a one year subscription to Netflix (NASDAQ:NFLX); provides free storage on SkyDrive or free music on Xbox music; or, a $100 credit on Google (NASDAQ:GOOG) Play or the iTunes Store might have more appeal than one that the OEM simply claims to be faster, lighter or have a better screen resolution than the competing devices - claims that seem to lack substance even if true at the time of the claim given how quickly competing device makers up their game.
For my money, I would rather have the device that provides a valuable connection to the content, software or service I use than one that the OEM says I should buy because it has a 64-bit processor, fingerprint reader or a sapphire screen.
Marketers have always found ways to promote products that are unique to the market segment they target; provide tangible value to the target customers; and, differentiate the products from the mass of alternatives in the marketplace. To date, the competition seems to have focused on the design or components of the devices. Tomorrow, it is more likely to focus on the purpose for which it was bought - in my opinion it is a welcome change and one that will disrupt these markets.
Winners in the emerging smartphone wars will very likely be those OEMs who eschew a "one size fits all" strategy and tailor both their product and unique content and features that make it particularly suit customers in a particular region, rather than trying to address differing cultures and needs with a single approach.
For those reasons, I believe Xiaomi, Micromax and Microsoft's Lumia line of phones will continue to enjoy success in many markets while stronger competitors will give ground.
Investors in the smartphone space will be well served to watch not only the device developments but also the approach each OEM takes to local marketing, particularly in the fast growing markets of China, India and Brazil. These will become battleground regions and success may be determined by a deep understanding of the target customer rather than a continued flogging of the technical merits of any particular device.
In China, the winners may be the local OEM's like Xiaomi, Coolpad and Gionee who really understand the local consumers' needs. In India I expect Micromax and Karbonn to emerge as the major players for the same reason.
For the major players, this is a trend they need to watch.
Disclosure: I have no positions in any stocks mentioned, and no plans to initiate any positions within the next 72 hours. I wrote this article myself, and it expresses my own opinions. I am not receiving compensation for it (other than from Seeking Alpha). I have no business relationship with any company whose stock is mentioned in this article.