If you live anywhere in the US but in the deep south, you're probably pretty knackered from cabin fever, thanks to just suffering through the third coldest winter in US history. A virtual string of non-stop snowstorms and punishing temperatures hit the US hard this winter, courtesy of the Polar Vortex, slowing down industries and companies of many types, except for this one - snow removal.
Why not profit, (instead of just suffering), from the vortex? Take a look at this small cap, Douglas Dynamics, (NYSE:PLOW), which is the market leader in snow and ice control equipment for light trucks.
Profile: Headquartered in Milwaukee, Wisconsin, Douglas Dynamics designs, manufactures and sells snow and ice control equipment for light trucks, which is comprised of snowplows and sand and salt spreaders, and related parts and accessories. The company is also a leading manufacturer of turf and other commercial/industrial grounds control products. The company sells its products under the WESTERN, FISHER, BLIZZARD, SNOWEX, TURFEX and SWEEPEX brands.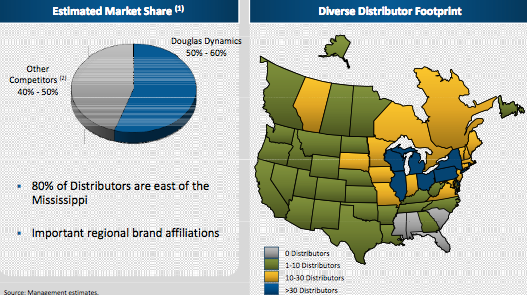 (Source: PLOW website)
In addition to serving North America, Douglas Dynamics also has a presence in Europe, China and Latin America.
PLOW's products address all of the major market segments in the snow removal industry.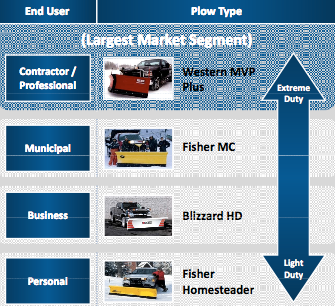 (Source: PLOW website)
Dividends: With its current 5%-plus yield, we've added PLOW to the Industrials section of our High Dividend Stocks By Sectors Tables. It goes ex-dividend this week, on 3/19/14:

Thanks to a record year in 2013, the company significantly improved its dividend coverage, and also increased its quarterly dividend twice, from $.207, to $2.08, to $.2125, and just increased it again in 2014, to $.2175.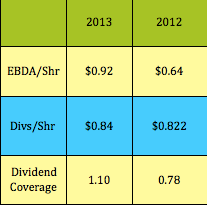 Management has also stated in the past that it will consider special dividends when appropriate, and now plans to review its dividend policy in conjunction with fourth quarter results, vs. doing so in conjunction with the 3rd quarter.
Options: Although there are options available for PLOW, we haven't yet added them to our Covered Calls Table, or our Cash Secured Puts Table, as they are very thinly traded, and the option yields aren't that compelling.
Earnings: As we mentioned earlier, 2013 was a very good year for PLOW, which had major EPS and revenue growth. 2013 earnings were certainly helped by the accretive 2013 acquisition of TrynEx, (a global manufacturer of truck mounted ice control spreader and sprayer equipment and turf control and other commercial/industrial grounds maintenance products):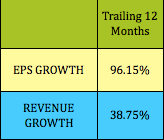 In its 2013 Q4/Full Year earnings release, PLOW's CEO stated a broad range outlook for 2014: "the company expects net sales for the full year 2014 to range from $200 million to $260 million and adjusted EBITDA to range from $40 million to $70 million. Earnings per share are expected to range from $0.65 per share to $1.20 per share.
The current average analysts' 2014 EPS estimate for PLOW is $0.89, which would represent 74.51% growth, giving PLOW an undervalued .46 PEG value for 2014. This doesn't seem unreasonable, when examined in the light of CEO Janik's comments on the recent earnings release- "As we progress further into 2014, we are encouraged by sustained strong snowfall levels across many of our core markets in the early part of our first quarter and positive non-snowfall indicators within our business such as significantly lower field inventory, strong retail re-order sales, improving dealer sentiment as well as continually improving light truck sales. We will continue to invest prudently in 2014 and beyond to drive future growth and profitability."

Performance: PLOW has trailed the overall market over the past 52 weeks, but has outperformed the S&P 500 and the DOW thus far in 2014:

Financials: However, all is not rosy with this stock - PLOW's financial metrics are below industry averages, with the exception of its Operating Margin. However, given the ongoing stormy winter of Q1 2014, and the strong earnings forecasts for 2014, it seems reasonable to expect this company's metrics to improve.

Disclosure: Author owned shares of PLOW at the time of this writing.
Disclaimer: This article was written for informational purposes only.
All tables are furnished by DoubleDividendStocks, except where otherwise noted.
Disclosure: I am long PLOW. I wrote this article myself, and it expresses my own opinions. I am not receiving compensation for it (other than from Seeking Alpha). I have no business relationship with any company whose stock is mentioned in this article.