The general sentiment around Apple (NASDAQ:AAPL) remains very positive. Almost 70% of sell-side analysts rate it a Buy and only 6% rate it as a Sell. The overwhelming majority of Seeking Alpha articles are positive on Apple's prospects. I'm going to take a contrarian view and articulate some reasons I think Apple's best days are behind it and that is has already hit peak stock valuation and earnings power.
From the beginning of 2004 through late September 2012, Apple was a juggernaut. The stock returned over an incredible 6,600%, making an untold number of investors very wealthy. However, since hitting $700/share, the stock has been disappointing. While AAPL has recovered off its mid-2013 lows, it is still almost 25% below its peak valuation. Over the last four months, AAPL has basically moved sideways. The question now is whether Apple remains a great long-term holding, or has it become a name that is best bought and sold as it peaks and valleys? I believe that answer is the latter.
I came to this conclusion by asking myself the following questions:
Where does future growth come from?
Can the company maintain its impressive free cash flow generation?
Can Apple continue to develop products that consumers will pay a premium for?
How will it return capital to shareholders?
Is this the right management team?
Cash Flow, Growth and Sustainability
We all know about Apple's past growth and cash flow generation. It generated over $120bn in free cash flow from 2011-2013. That is a staggering figure. There are fewer than 100 companies in the US that have market caps in excess of the FCF Apple generated in 2013 alone. Cash flow grew at a 37% compounded annual rate over the past five years. However, that growth has slowed and even rolled over recently. Since we're buying the future when we buy stocks, an impressive past is only nice in the sense that it supports the view of an optimistic future. Given increased competition, less excitement around new products and a lack of truly revolutionary products, I think growth is going to be difficult, much less growth at a rate approaching past or current Wall Street estimates.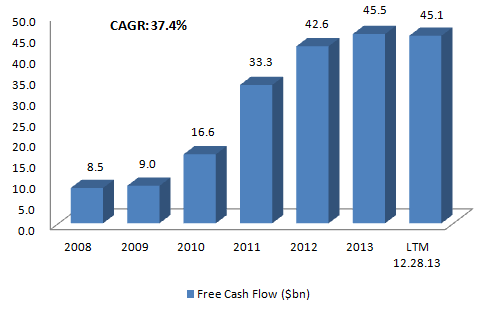 In 2013, iPad unit sales increased by 22%, but revenue increased only 3%. iPhone unit sales increased 20%, while revenue increased 16%. Part of this was planned lower-end products, but part of it is pricing pressure from competitor products. A few years ago, Apple had far superior products to go with a cool brand value, and consumers paid up for that. Today, many companies have products and technologies that rival or exceed Apple's. The company's ability to continue to innovate and create products consumers continue to pay a large premium for is critical to it maintaining its current profitability, much less growing it substantially. I don't believe Apple is heading down the path that BlackBerry (BBRY) went down as consumers and businesses turned their back on the product, but I do think an argument can be made that Apple has already reach its peak profitability, at least over the next few years. That doesn't strike me as a stock I want to hold for the long term.
Looking at Apple's EPS growth, it seems the Street has very optimistic expectations. Assuming the company continues buying back about $20bn a year, I estimate it will reduce share count by ~35mm shares a year and 27mm for the remainder of fiscal 2014. If you hold future net income constant over the next five years at the current estimate for FY14, EPS growth would be 4.6% annualized. This compares with current street estimates of over 21% annualized long-term EPS growth. To achieve that 21% EPS growth rate, net income will have to more than double by 2019, to more than $77bn. When you're already the 2nd-most profitable company in the world, doubling earnings seems very difficult.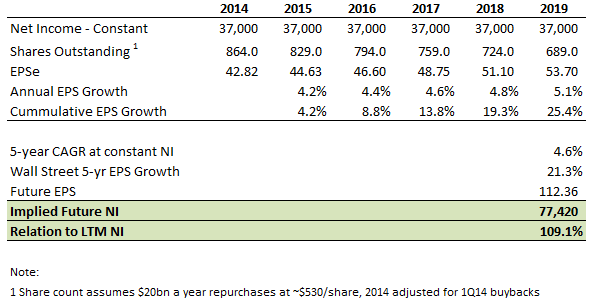 New Product Development
From the launch of the first iPod through the early iPads, Apple developed hit product after hit product. New products led to people camping out and upgrading to each new version. To use a sports analogy, it was like the first five years of Oscar Robertson's career. (While he gets a lot of credit for averaging a triple-double in his 2nd season, he actually averaged a triple-double over his first five seasons in aggregate.)
While iPhone sales remain strong, it doesn't feel like the excitement level is there anymore. It remains to be seen if the recent security glitch, and Apple's slow and rather cavalier response, will hurt the company's brand value as well. One of the company's long-standing advantages was the reality, and perception, that Apple products were immune from many of the viruses and security threats faced by Windows and other operating systems. That perception should be declining.
Underestimating Apple in the past has been a mistake. That said, is anyone excited about the iWatch? Is there even a timetable on the product that Samsung has been selling for months? What about Apple TV? I know a few loyal users, but I have one that is still in the box, months after receiving it as a gift. I just don't see where the next big thing comes from. There is some excitement around the upcoming iPhone 6, but I don't believe a bigger screen with higher resolution is going to be a game changer for Apple.
Return of Capital
This is one area where I see risk to my long-term thesis on Apple. Apple is sitting on ~$160bn in cash and investments, which equates to almost $180/share. Over $124bn of that is held overseas, so on an after-tax basis, I estimate around $140-150/share in cash and investments. There is significant capital to continue with large capital return plans.
In the last couple years, Apple has significantly increased its capital return program. The company now pays a reasonably attractive 2.3% dividend yield and a sizable dividend increase could be coming in the near future. It repurchased over $22bn of its own stock in 2013. The company is currently operating under a $60bn share buyback authorization, of which $32bn remains available. Assuming Apple maintains its current rate, it will repurchase another $15bn by its fiscal year-end, reducing shares outstanding to ~863mm. It is heading in the right direction on capital allocation and I don't think the new CFO is going to change that trend, but how many shareholders are buying Apple hoping to clip a dividend payment and see EPS growth from a reduced share count? I don't think very many - investors want to see growth and innovation.
Management
CEO Tim Cook recently said investors who are only concerned about profits should sell their Apple shares. That is a very unique and interesting comment from the CEO of an American company, where boards of directors have a fiduciary responsibility to increase shareholder value. What concerned me about that statement was how it was handled. Does Tim Cook really not care about profits? Or did he mean to say that he believes Apple's profitability in the long run stands to benefit from decisions in the short run that might have negative impacts on profits. He's a savvy individual, so it's hard to argue he misspoke.
I think there are many ways companies can invest in sustainability and use it as a marketing tool to keep certain customers loyal and willing to pay a premium for their products. That view, however, was not articulated by Cook. So, it makes me question the long-term leadership of this company when the CEO can't handle investor questions and inquiries in a successful manner, when he had ample time to formulate a response.
Steve Jobs never seemed to concern himself with short-term Wall Street expectations, but he was constantly innovating and adding value to shareholders in ways they often didn't understand until after the fact. Can the same be said about Tim Cook? There hasn't been any truly innovative product to come out since he became CEO. While Apple's stock performed well soon after his appointment, much of that success can be traced back to products put in place by Jobs.
Conclusion
I think Apple is a name that is best traded, rather than holding for the long term. At the current price in the $530s, I don't think Apple is a short-term buy. I would consider buying the company under $450 and selling at anything over $550. Banking on 20%+ EPS growth over the next five years seems misguided based on Apple's earnings base, increased competition and slowing innovation.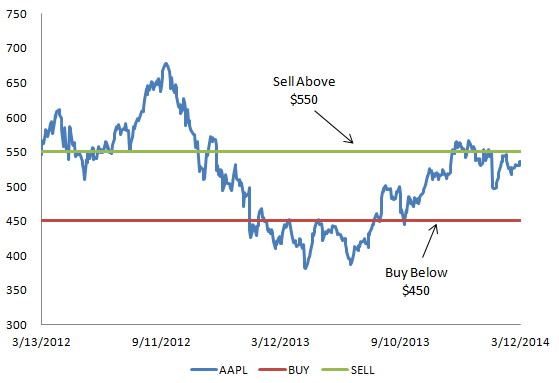 Disclosure: I have no positions in any stocks mentioned, and no plans to initiate any positions within the next 72 hours. I wrote this article myself, and it expresses my own opinions. I am not receiving compensation for it (other than from Seeking Alpha). I have no business relationship with any company whose stock is mentioned in this article.