In a recent article, I have analyzed Unilever's (NYSE:UL) financial data from an investor's standpoint. This article contains a similar analysis of Procter & Gamble (NYSE:PG) and a comparison of the two consumer brand giants, which suggests that it might be worthwhile to consider replacing at least a portion of your PG stake with Unilever. Unilever offers a higher yield, better returns on retained earnings, a more efficient policy of distributing cash to shareholders and better growth prospects. However, be careful: Unilever features significant exposure to emerging markets and their currencies.
Both of the companies manage multiple consumer brands; Unilever is more focused on food, while P&G is more concentrated in household and personal care. You can find an extensive comparison of the two companies in the following linked SA article; I will only focus on the financial aspects here.
My analysis is based on the data from the annual reports available on P&G's website. The data is summarized in the following table. For a more detailed discussion of metrics, like owner earnings and return on tangible assets, I refer the reader to my article on Unilever. Certain metrics in this table (not published by the company) are my estimates; I will discuss how they were derived now.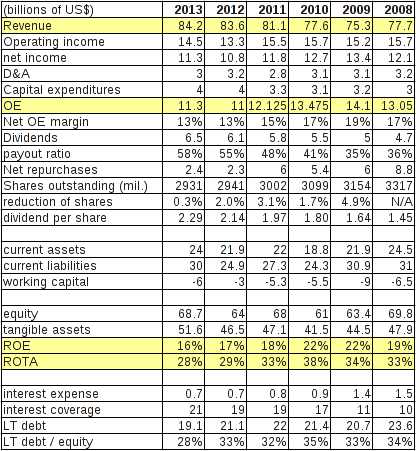 Similarly to Unilever, P&G consistently operates with slightly negative working capital. As can be seen from the data, it is prudent not to count on regular reductions of the working capital. Consequently, in order to calculate owner earnings (OE) for P&G, we take net income, add D&A and subtract maintenance capital expenditures.
According to page 37 of the 2013 annual report;
Capital expenditures, primarily to support capacity expansion, innovation and cost savings, were $4.0 billion in both 2013 and 2012.
I am of the opinion that innovation is an inherent part of brand management, hence most of the expenditures related to innovation (e.g. plant reconfigurations and enhancements) are necessary just to maintain the business volume. A lack of innovation leads to slowly decreasing sales. The same goes for cost savings: forget about costs for a couple of years, and you end up with squeezed margins and/or a loss of the market share. So only capacity expansions count as growth capex. I will do the company a favor and only count three quarters of capex as maintenance, but bear in mind that the remaining quarter did not lead to much growth in the past five years: revenues have grown at a less than 2% CAGR, and profits have declined.
Return on equity (ROE) is calculated as OE over equity. For tangible assets, I have taken the reported current assets minus current tax assets and added property, plant, equipment and "other non-current assets" (I could not find if this balance sheet entry corresponds to something tangible or not; the difference is not important anyway). The return on tangible assets is defined as OE over tangible assets.
The "shares outstanding" entry in my table represents "diluted weighted average common shares outstanding" reported in the annual reports. "Net repurchases" is the difference between treasury purchases and employee plan issuances, as reported in the consolidated statements of shareholders' equity. Note that the company boldly claims in a presentation that it bought back shares for $6 billion in 2013; however, $3.6 billion of that just offset the dilution from employee stock issuances.
Finally, we are ready to compare Procter & Gamble with Unilever.
Returns and margins
Both companies sport stable and very attractive returns on tangible assets (see the following table).

While the return on equity has been stable in the case of Unilever, it has declined in the last three years for P&G --- a warning sign. Unilever's ROE is about twice that of P&G. This is caused by Unilever using more leverage: its long-term debt is about 50%-60% of equity, while P&G's long-term debt is about 25%-35% of equity. Nevertheless, both companies have interest coverage ratios exceeding 10, and strong balance sheets.
The net profit margin hovered around 10% for Unilever and ranged between 13 and 19% for P&G. The profit margin declines that occurred in the last few years are another warning sign for P&G. Unilever's smaller net margin is probably caused by a different brand mix; perhaps food commands smaller margins than personal care products.
Policy of returning cash to shareholders
Unilever has not repurchased shares since 2008. Instead, it has invested in future growth and paid more in dividends. As a potential shareholder, I agree with the management on this decision.
Consider P&G's repurchases in 2013: the company spent more than 20% of the owner earnings (that is, your money) on net share repurchases. The market cap of the company is about 20 x OE, so the 20% OE spent on buybacks allowed it to buy only about 1% of the shares outstanding! This strategy of repurchases would work in favor of the shareholders only if the stock price was significantly reduced. I will not cheer announcements of repurchase programs if the stock is trading at the P/E ratio of 21.
Dividends
Both companies boast impressive, decades-long streaks of annual dividend increases. (Note that it only holds true in EUR for Unilever.) While P&G's record is longer and looks better in presentations, it really does not matter whether a little soap-making company paid a dividend more than a century ago. A capable CEO can build a wonderful business with shareholder-friendly corporate culture, but cannot do anything about what happened decades ago.
In light of the previous paragraph, we will focus on more recent developments. P&G has increased its dividend in the period from 2008 to 2013 at CAGR of 9.6%, but the payout ratio has grown from 36% to 58%, so the dividend growth is certain to slow down. Unilever's dividend grew at CAGR of 6.4% during the last five years, but the recent increase was 10% and the historical growth rate is 8%. Anyway, the potential future growth rate is most important here, and my estimate is that it is between 8% and 12% for Unilever, but at most 7%-8% for P&G.
There are three sustainable sources of growth of earnings per share (and dividends, consequently): product price increases, reinvestment of earnings into more productive capacity (includes acquisitions), and share repurchases. For price increases, I do not think that anything above 2%-3% is possible. P&G has a recent negative experience of pushing price increases ahead of competitors, which resulted in a loss of market share (check page 3 of the 2012 annual report). This clearly shows that its pricing power is limited; I find it reasonable to go with 2.5% at best. P&G reinvests only about a fifth of its earnings, and its ROE is about 20%, so we get at most a 4% growth from new capacity. Finally, share repurchases can enhance the growth rate by at most 1%-2%, and to get that 1.5%, the company would have to spend almost a third of its profits on buybacks. Altogether, we are looking at a growth rate of at most 8%, and there are many things that can go wrong.
Unilever is the clear winner here: its 3.6% dividend yield is larger than P&G's 3%, and the expected growth rate is higher too. By reinvesting just a quarter of its earnings at an achievable 30% ROE, Unilever will induce a 7.5% earnings growth (no reliance on price increases is necessary).
Valuation
We will discount P&G's future dividend stream into its present value using a discount rate of 10% (which is my required rate of return). Assume that the next year's dividends will be $2.50 per share, dividends will grow by 7% a year for the next 15 years and the payout ratio will remain constant at 60%. Assume further that the growth then slows down to 3% and the payout ratio will increase to 100%. Under these assumptions, we still get only $69 of present value. The current market price of $79 only corresponds to a 9% expected return. I do not think that this compensates an investor for the risk he is undertaking. Our growth assumptions are already stretched to the upper limit of a reasonable range, and the margin of safety is still negative.
On the other hand, Unilever offers a 10% return with a narrow margin of safety, and if we assumed a growth rate of 9% for the next 15 years, the margin would be 24%.
Conclusion
By investing in P&G at the current price, you are betting on the new CEO and a turnaround, and even if it was successful, you only get a return not exceeding 9%-10%. Personally, I am staying away because there are better opportunities. Although I rarely suggest to sell stocks, it might make sense to replace a portion of your PG stake by UL. By avoiding P&G, you will be following Warren Buffett, who has reduced his stake in P&G by more than a half during the last five years. And he did so despite the large incurred capital gains taxes.
Disclosure: I have no positions in any stocks mentioned, but may initiate a long position in UL over the next 72 hours. I wrote this article myself, and it expresses my own opinions. I am not receiving compensation for it (other than from Seeking Alpha). I have no business relationship with any company whose stock is mentioned in this article.
Additional disclosure: I have bought P&G at $60/share because I fooled myself by "getting a margin of safety" by lowering my expected rate of return to 8%-9% in the DCF calculation. I have sold it after the price reached about $80 and won't buy unless it goes much lower.