Increased market volatility, sparked by emerging market turmoil and disappointing U.S. economic news, dominated headlines in recent weeks. But a record-breaking event within the investment industry stayed just under the radar. The total number of global ETFs exceeded 5,000 for the first time this year, a significant milestone that signals greater value available to investors.
ETF Growth Accelerates
Since their introduction in the early 1990s, the pace of new ETF launches was gradual. It took more than 15 years for global ETF listings to hit the 2,000 product mark. But as more investors sought ETF solutions, growth quickly accelerated, more than doubling in the past 6 years to surpass 5,000 funds. Today, the United States accounts for the largest share of ETF assets, making up 71%, or $1.6 trillion, of the overall market across 1,556 funds.
As illustrated below, new ETFs continue to be introduced to the market at a strong rate across the globe and 158 new ETFs were introduced in the U.S. alone last year. New product development has been strongest in Europe over the past five years, and today Europe has the most products available, with 2,141.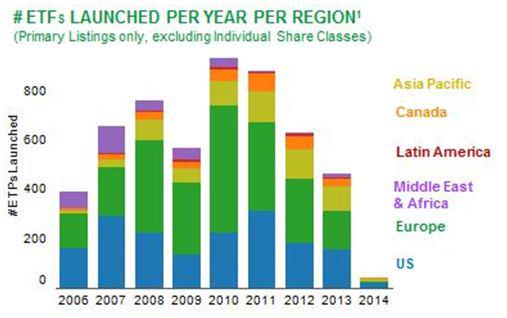 Finding Value in today's ETF Landscape
The continued momentum, as well as increased competition and innovation within the ETF industry, provides substantial value for investors. On the Blog, I've discussed how, in volatile market environments when sentiment begins to shift, ETF trading volumes tend to increase in absolute dollar terms while staying consistent with total U.S. equity market trading volumes. We saw this trend play out last summer, when market volatility returned in June after then-Chairman Ben Bernanke hinted at tapering the Fed's easy money program. During that time, investors sought ways to minimize volatility while maintaining a well-diversified portfolio, and looked to solutions that provided liquidity in stressed market conditions.
With a greater number of ETF solutions available in the marketplace, investors can create an even more tailored strategy to suit their needs, while maintaining an appropriate level of liquidity in uncertain market environments. Increased offerings also provide access to new markets and investment strategies, such as emerging markets (EM) and "strategic beta," which were previously available only to ultra-high net worth investors and institutions. The breakdown of ETFs launched per year, per asset class, is illustrated below.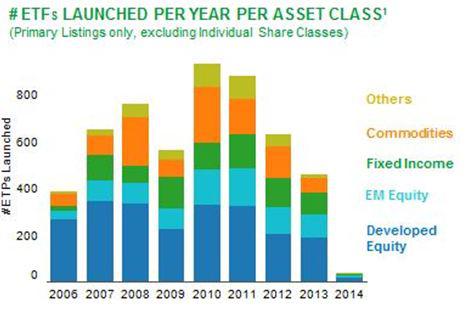 New fixed income ETF products continued to come to market last year as investors reevaluated their bond strategies in a rising interest rate environment. Since the start of 2013, newly launched fixed income ETPs have gathered $8.4bn, or 17% of all fixed income ETP flows (as of February 21st 2014). As expected, 48 newly launched short-maturity funds led this trend with $3.3 billion in inflows. While individual fixed income strategies may fall out of favor as interest rates fluctuate, ETFs may help to diversify the risk. New product offerings can make it easier for an investor to find an optimal solution in today's environment.
Dodd Kittsley, CFA, is the Global Head of ETF Research for BlackRock and a regular contributor to The Blog. Original article posted here.
Data is as of January 30, 2014 for Europe and January 31, 2014 for the US, Canada, Latin America, Israel, and some Asia ETPs. Some Asia ETP data is as of December 31, 2013. Global ETP flows and assets are sourced using shares outstanding and net asset values from Bloomberg for the U.S., Canada, Europe, Latin America and some ETPs in Asia. Middle East ETP assets are sourced from the Bank of Israel. ETP flows and assets in China are sourced from Wind. Inflows for years prior to 2010 are sourced from Strategic Insights Simfund. Asset classifications are assigned by BlackRock based on product definitions from provider websites and product prospectuses.
Other Sources: Bloomberg as of June 2013. Market volatility was sourced from Bloomberg as measured by elevated levels in the VIX and MOVE indexes. The MOVE index was up 125% in May-June 2013 (110.98 on June 24th 2013 versus 49.24 at the end of April 2013.