Not long ago, I profiled a BDC by the name of Main Street Capital (NYSE:MAIN), which I described as a public bet on private equity. The stock has been pretty much flat, nevertheless, it piqued my interest in the broader business development company sector. While Main Street makes bets on energy and consumer companies, Hercules Technology Growth Capital (NASDAQ:HTGC) invests primarily in pharmaceutical and health care related firms with a much different risk profile than Main Street.
HTGC's Strategy
HTGC looks primarily at companies without a significant operating history, but it believes these firms have tremendous potential. Under the current SBA regulations, one may think HTGC's lending is restricted. From HTGC's 10-K:
"Under present SBA regulations, eligible small businesses include businesses that have a tangible net worth not exceeding $18.0 million and have average annual fully taxed net income not exceeding $6.0 million for the two most recent fiscal years."
However, tangible net worth not exceeding $18 million is not that restricted, especially for HTGC's targeted pre-IPO, venture capital-backed companies. Much of the value in pre-IPO tech and pharmaceutical firms is in future IP and intangible assets. Thus, HTGC is hardly restricted when it comes to discovering investment opportunities.
25% of the capital received from the SBA must be in the form of BDIC debentures must be loaned to smaller enterprises. As defined by the SBA:
"In addition, SBICs must devote 25.0% of its investment activity to "smaller" enterprises as defined by the SBA. A smaller enterprise is one that has a tangible net worth not exceeding $6.0 million and has average annual fully taxed net income not exceeding $2.0 million for the two most recent fiscal years."
Again, I do not believe this is of much concern due to the nature of HTGC's investment targets. $6 million in tangible value is not very high, and few of the pre-IPO firms are making any money to begin with.
As I alluded to earlier, the firm focuses on companies that are backed by venture capital investors in the pre-IPO phase. Unlike most traditional venture capital investors, HTGC focuses on making debt investments with equity warrants or conversions rather than making equity investments. Why is this attractive? Company founders may be reluctant to cede more control to outside investors after already taking on venture capital funding, thus HTGC provides them with the opportunity to retain equity control.
Now, given the current investment landscape, one might think there is sufficient capital flowing through to new tech companies from venture capital. I believe this is the case - when it comes to equity investments. Venture capital is overflowing with funds to invest in the next WhatsApp, Twitter (NYSE:TWTR), or Facebook (NASDAQ:FB), but venture capital also wants to participate in the equity upside.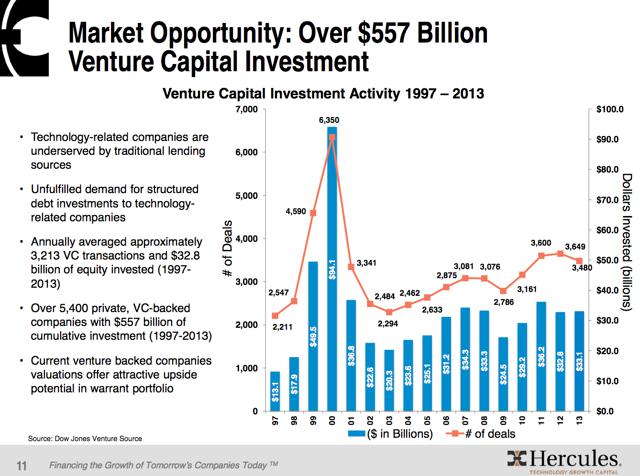 Source: HTGC 4Q13 Presentation
As we can see in the above image, HTGC believes the current environment underserves small, tech-related companies when it comes to structured debt instruments. Further, the number of deals has accelerated in recent years, but the amount of money spread invested has remained relatively flat. This suggests venture capitalists are casting a wider net, giving companies smaller equity commitments in order to diversify and improve their odds of hitting on a game changing investment. HTGC is there to step up to the plate with debt commitments that can help these young companies grow.
Specifically, HTGC looks to provide senior secured debt with both fixed and floating rate coupons with a 2-7 year time horizon. The company also likes to secure some warrants so it gains participation in upside equity valuation. This makes a lot of sense, as it allows HTGC to achieve a fixed return with an upside kicker that does not tie up significant amounts of capital.
Balance Sheet and Portfolio
At the end of the day, HTGC works as a financing company, so it is prudent to take a look at both its balance sheet and its portfolio of companies.
HTGC has maxed out its SBA debentures at $225 million, mostly at favorable rates (as shown below).

Source: HTGC 10-K 2013
In fact, most of the firm's SBA debentures cost less than 4%! That provides the firm with an extremely low cost of capital. However, the firm does have other significant sources of capital. Its April 2019 Notes of $75 million cost 7% annually. The firm also has $89.6 million in Asset-Backed Notes, $75 million in 6% Convertible Senior Notes, and various credit revolvers with the likes of Wells Fargo (NYSE:WFC), Union Bank, and Citi (NYSE:C). The Wells Fargo and Union Bank revolvers are pretty standard with floating LIBOR costs and maximum indebtedness in the $300-$400 million range.
The Citi revolver is more interesting, as it entitles Citi to participation in HTGC's warrants. Directly taken from the 10-K:
"During the first quarter of 2009, we paid off all principal and interest owed under the Citibank Credit Facility. Citigroup has an equity participation right through a warrant participation agreement on the pool of loans and warrants collateralized under the Citibank Credit Facility. Pursuant to the warrant participation agreement, we granted to Citigroup a 10% participation in all warrants held as collateral. However, no additional warrants were included in collateral subsequent to the facility amendment on May 2, 2007. As a result, Citigroup is entitled to 10% of the realized gains on the warrants until the realized gains paid to Citigroup pursuant to the agreement equal $3,750,000 (the "Maximum Participation Limit"). The obligations under the warrant participation agreement continue even after the Citibank Credit Facility is terminated until the Maximum Participation Limit has been reached. …Since inception of the agreement, we have paid Citigroup approximately $1.6 million under the warrant participation agreement thereby reducing realized gains by this amount. We will continue to pay Citigroup under the warrant participation agreement until the Maximum Participation Limit is reached or the warrants expire. Warrants subject to the Citigroup participation agreement are set to expire between March 2014 and March 2018."
Ultimately, this is not too troublesome, since it only modestly reduces net income going forward. Additionally, it was made in a significantly different financial environment, and I suspect HTGC will avoid such a commitment in the future.
As for its portfolio, HTGC is not the model for diversification.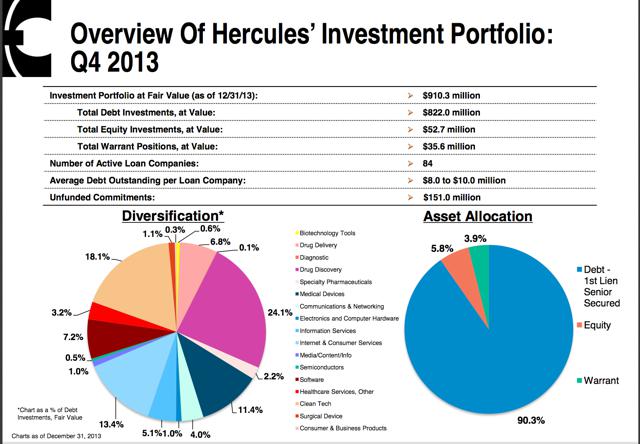 Source: HTGC 10-K 2013
24% of the portfolio is concentrated on "drug discovery" investments. Anyone who has been investing for a while knows all about the success rate of biotech investments. However, HTGC only needs the company to make debt payments-not necessarily win FDA approval. Further, after the pharmaceutical industry experienced consolidation and cuts in R&D spending, big companies like Pfizer (NYSE:PFE), Eli Lilly (NYSE:LLY), Teva (NYSE:TEVA), and Bristol Myers Squibb (NYSE:BMY) have shown interest in acquiring R&D from smaller companies. Thus, M&A in the industry has been robust.
Clean technology and medical devices round out the other two major investments, coming in at 18.1% and 11.4%, respectively. Considering the firm's name has technology in it, one would think that the firm would make a considerable amount of investments in Web 2.0 companies. It did invest in Facebook pre-IPO. However, CEO Manuel Henriquez explained the reason for avoiding tech investments lately, saying on the 4Q13 conference call:
"Our biggest competition is actually the venture capitalist wanting to put equities in these companies to take advantage of that last round before a liquidity event. We're losing more term sheets to equity valuations that are so inflated that I got to be honest; these companies are doing the right thing. They should take the equity to a higher valuation because they're able to establish a new valuation before they go public… So, technology is something where we purposely are under investing today. It is the easiest transaction to originate to. It doesn't require a lot of sophistication when you're first doing early stage deals to the expertise needed in energy technology or life sciences investing, for example."
In other words, Henriquez is acting in the best interest of shareholders and not getting caught up in the insane bidding for tech companies. HTGC will miss out on some upside; yet, it will not be forced to make "bubble valuation" investments as venture capitalists have as of late.
Whether or not the exuberance is irrational or not, it does take a toll on HTGC's business. Management has noted that it has been unable to find as many attractive investment opportunities lately, so it is sitting on a pretty large amount of cash. The firm should be well capitalized for when valuations come down, but it can lead to underperformance in the near-term.
Value
Hercules carries a net asset value of $10.51 per share, thus Hercules trades at roughly 1.5x book. 1.5x book is a little pricey for a BDC, particularly one with such little diversification. The firm did post distributable net income per share of $1.34, so it was easily able to cover its dividend of $1.17 per share. HTGC has an effective yield in its debt portfolio of 15.1%, so if rates rise slightly, it should be able to maintain a profitable spread.
Analysts' expect the company to earn $1.39 in net investment income per share, so distributable net income per share should be slightly higher. Investors could earn a dividend yield of 8-8.5% at the current price. While this dividend looks extremely tempting, I see little upside in the share price, particularly since HTGC seems unable to deploy capital at attractive rates of return. The company also has some limited interest rate risk, as its hefty revolver load debt load will see servicing costs increase if/when interest rates rise.
Under book value, I would jump on shares of HTGC. However, I think the current valuation is simply too rich to warrant a position. At 1.5x book, I'd rather purchase the supremely managed Main Street.
Disclosure: I am long FB. I wrote this article myself, and it expresses my own opinions. I am not receiving compensation for it (other than from Seeking Alpha). I have no business relationship with any company whose stock is mentioned in this article.