"The trend is your friend," an expression long associated with the Martin Zweig strategy, has a lot of appeal. Many argue that it's best to find stocks that others don't follow or like, and there's something to be said for that. But even under the best of conditions, the market can be fraught with uncertainty, so there's also much to be said from validation of your own decisions based on the fact that other investors also feel positive about the stocks you are considering.
Buy Low, Sell High, Easy To Say, Hard To Do
Chasing stocks is reckless. Don't run with the mob. The key to success is doing the opposite of what 'Mr. Market" does. Etc. etc. etc.
How do you feel about such sentiments? Let's try a little test. Below are the most recent sections sliced from two Yahoo! Finance price charts. Don't think carefully about the question I'm about to ask. Answer quickly from your gut.
Which one would you rather buy . . . using real money . . . right now?
Choice A



Choice B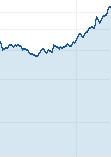 Forget about which stocks these images depict. I'm just looking for a sense of emotional attraction or repulsion based only on the recent price action.
On that basis, aren't you drawn toward Choice B? Wouldn't you at least like to find out what stock it is and look further into it? As to Choice A, aren't you tempted to check your portfolio to make sure it isn't something you own? Perhaps you might be interested in it if you took some time to dig, but at this moment, doesn't it have something of a guilty-until-proven-innocent flavor?
I don't mean to cast aspersions on Choice A. I know full well how rewarding such situations can be if you do your homework and pick and choose among them. I've often done that sort of thing and undoubtedly will continue to look for such opportunities in the future.
By the same token, let's also respect Choice B. Price charts like that don't usually materialize unless something is going right for the company, probably many things. Will they continue to go right in the future? Maybe. Maybe not. But realistically, turning a business 180 degrees from good to bad or from bad to good can be more like turning an ocean liner than a rowboat; it can be done, but not usually instantaneously. So there's a reasonable chance that whatever good things are happening may persist. So there's much to be said for a well diversified portfolio filled with stocks whose charts look like Choice B.
Yes, it's true: the trend can be a very good friend.
Making It Work
Obviously, if you want a trend but can't find one that works for you, you can stay in cash or fixed income. Indeed, it is possible to come away from some guru books, including Martin Zweig's Winning On Wall Street, with the idea that this is what you should do. Realistically, though, most equity investors are reluctant to completely avoid the market for a significant amount of time. Even the Zweig Fund (NYSE:ZF) tends to be invested mainly in equities at all times.
But even during bad times, you can still find individual stocks with favorable trends — the chart depicted in Choice B reflects a time when the market as a whole performed very badly — and others whose trends are less negative than most. There's no law requiring the trend to be obvious.
There's another aspect to befriending the trend that doesn't always get as much attention as it deserves: making sure there are sound reasons for a favorable trend to look the way it does. This is the difference between thoughtful trend investing and mindless crowd following.
The Zweig strategy pays a lot of attention to what's behind the trend, the make sure there is objective merit to the situation. Details of the Portfolio123 strategy inspired by his writings are spelled out in the Appendix below but in sum, Zweig looks for substantial performance in terms of EPS growth and sales growth. Moreover, he pays close attention to stock valuation (he's not by any means a bottom fisher, but he does want to see reasonable valuations) and also considers insider activity.
There are times when the market will emphasize rotation, making trend-following less effective. That's why it can be so important to make sure strong trends are backed by strong fundamentals. That will give your portfolio a better chance of hanging in there during times when trending strategies go cold and make it feasible for investors to accept, rather than fight, whatever natural affinity for trend following they might have.
The Stocks
Here are the stocks that presently satisfy the Portfolio123.com version of the Zweig strategy. (Click to enlarge)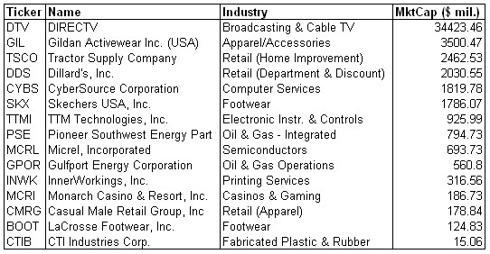 Here are some noteworthy selections:
DIRECTV (NYSE:DTV):
When it comes to a company like DTV, there's always a lot to be nervous about. Cable TV companies, the old standbys in this business, are still there and competing vigorously. Major phone companies are in the business now in a big way. And who knows what's going to happen with internet as a vehicle for delivery of TV programs. That said, DTV is a rarity, a company that continued to post revenue growth all through the recent recession. EPS, too, would have continued to climb but for an unusual charge. Apparently, DTV's extensive content (such as the NFL Sunday Ticket package) and other services, such as multi-room viewing and an especially large number of high-definition channels, are continuing to attract new customers and encouraging existing customers to stay aboard. A diminution in price competition is helping, too. I'd hesitate to guess how long term the favorable trend is likely to be. As noted, there are a lot of choice in this business, and things are changing. But we rebalance our screens every four weeks and a flagging in price momentum should clue us in to when it's time to bail on DTV. It appears, however, that the time for that is not now at hand.
Dillard's (NYSE:DDS):
Investing in department store firm Dillard's based on a trend may be like buying property in a run-down or so-so neighborhood that's starting to gentrify. You'd have to acknowledge that things at present are not as spiffy as you might wish, but be willing to assume you're in the early stage of what may be a sustainable uptrend. In most fundamental respects, DDS has not stood out in recent years. In fact, sales have struggled to move forward. The latest earnings release, however, showed EPS well ahead of analyst expectations, ($0.70 versus an estimated $0.51), paced by a 2% increase in comparable store sales and a 12% decline in comparable store inventory, setting the stage for a significant margin boost as markdowns became less necessary. The company also continued to buy back some Class A shares as part of an ongoing share repurchase program. It's risky to read a lot into one quarter, but the magnitude of this turnaround was noteworthy. If this does signal a lasting operational improvement, we could see a bona fide uptrend for a while.
Sketchers (NYSE:SKX):
Had this company gotten hammered in the recent cyclical downturn, it would have been understandable. Fashionable footwear is one of the easier things to drop from tightly-constrained consumer spending plans. So all things considered, SKX fared quite well, with sales up 3.3% in 2008 and down a mere 0.3% in 2009. One key is the fact that SKX's pricing is pretty moderate as fashion goes. Moreover, there is considerable flexibility here as SKX's brand is not nearly as confined to one type of shoe as might be the case with Timberland (NYSE:TBL) or Crocs (NASDAQ:CROX), for example. In other instances of brand flexibility, SKX just inked a deal to design, produce and distribute Sketchers branded backpacks, messenger bags and tote bags, and another deal to produce a line of leather goods (belts, buckles and wallets). There's no assurance such ventures will work, but with the P/E barely at 12 times estimated EPS, it's not exactly as if anyone is betting the farm on it.
Micrel (NASDAQ:MCRL):
I'm not sure when non-tekkies came to consider digital hip and analog passe. Perhaps it started back when digital cell phones debuted and were said to be superior to older analog models. Perhaps it was when cable TV companies talked about being able to deliver more services for subscribers who had digital set-top boxes. The final straw might have been the recent phase-out of analog over-the-air TV in favor of digital. Whatever the case, when it comes to picking chip stocks, push all that stuff aside. Analog remains vital, and in fact, action in this subset of the chip market is actually heating up. I'm not trying to bash digital; it's just that different technologies excel at different things and analog is great in situations where it's necessary to read status that varies on a continuing scale, such as voltages (digital can't do it because it only deals in "1" and "0" or "on" and "off"). Power management remains a classic analog application and MCRL, which produces high-performance analog power management chips, specializing in the highest density-smallest form factor segment, is seeing demand gain ground from the growth of portable communications and computing devices. This has helped MCRL hold its own in the recent past despite a brutal down-cycle in chips. Now, with all the talk of an endless stream of new Apple (NASDAQ:AAPL) gadgets as well as an even bigger stream of wannabe Apple killers, it looks like MCRL may be on the verge of a prolonged upturn in demand. That's especially so since all the requirements placed on devices nowadays will eat up batteries more quickly absent increasingly effective power management from the kinds of chips made by MCRL.
InnerWorkings (NASDAQ:INWK):
This company is in a business I didn't even know existed until I looked at the firm. I suppose the best way to describe it is as a commercial-printing middleman. Although we are now well into the electronic era, businesses continue to have countless reasons to print things, but it's no longer practical for many to do it in-house. This is just one more aspect of the trend toward outsourcing of non-core activates. That's easy to say, but deciding who to work with on the printing job can be difficult in practice. This is a highly fragmented industry with lots of variation in capabilities, cost and competence. INWK stands in the middle of all this and matches corporate clients who have one-off or recurring printing needs with providers, and does so using its own proprietary technologies (e.g., an extensive database of who does what for how much) and negotiating efforts. Although the business cycle has introduced a modest bump into the growth trend, the company has managed to grow and acquire its way from annual revenue of $16 million in 2003 to over $400 million at present. External growth is risky, but so far, INWK has kept earnings in the black and debt levels reasonable, enough so to support the positive trend we see in the stock.
APPENDIX
The Model
We start with the Martin Zweig screen:
Liquidity filter: For purposes of backtesting and review, we use a rule that bars OTC stocks. When trading, you may substitute Universe(foliofn), which means the stock must be tradable in the Folio Investing.com window system (to learn more about this click here).

Eliminate companies classified in the Miscellaneous Financial Services Industry, most of which are investment companies and funds and not the kind of stocks this all-star tended to seek.

P/E based on estimated current-year EPS is greater than one-half the overall median and less than two times the median.

Year-to-year EPS growth in the most recent quarter must have exceeded the rate of year-to-year EPS growth in the preceding quarter.

The 3-year rate of annual sales growth is at least 75% of the rate of three-year EPS growth.

The company's EPS in the most recent quarter must have exceed the consensus analyst estimate.

The stock is in the top half in terms of the 20-day exponentially weighted moving average divided by the 200-day average.

The stock must have outperformed the market over the past six months.
Companies that pass are then sorted based on the Martin Zweig ranking system:
Growth - 75% of total

Standard Growth - 35% of this category

3-year EPS Growth rate (20% of this sub-category)

Trailing 12 month EPS growth rate (30% of this sub-category)

Latest quarter year-over-year EPS growth rate (50% of this sub-category)

Acceleration - 65% of this category

Acceleration in year-over-year EPS growth rate, latest quarter versus preceding quarter (30% of this sub-category)

Acceleration in year-over-year Sales growth rate, latest quarter versus preceding quarter (20% of this sub-category)

EPS Growth Acceleration, latest quarter (year-over-year) rate versus 3-year rate (15% of this sub-category)

EPS Growth Acceleration, latest quarter (year-over-year) rate versus trailing-12-month rate (35% of this sub-category)

Market Performance - 20% of total

4-week relative (to S&P 500) share price % change (60% of this category)

13-week relative (to S&P 500) share price % change (25% of this category)

26-week relative (to S&P 500) share price % change (15% of this category)

Insiders - 5% of total

Number of Insider Buy Transactions (higher is better) (80% of this category)

Number of Insider Sell Transactions (lower is better) (20% of this category)
Implementation The models was developed under the assumption that 15 stocks (those that pass the screen and rank highest under our Martin Zweig ranking system) would be selected and that the selections would be updated every four weeks.
Backtested Performance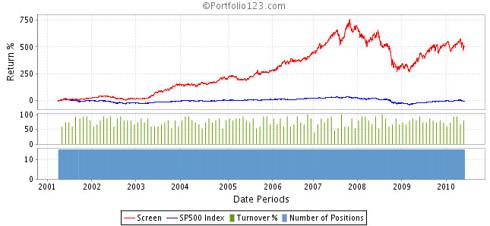 Disclosure: No positions in stocks mentioned