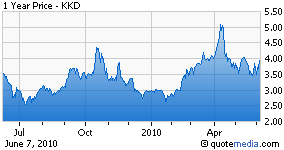 Krispy Kreme Doughnut (
KKD
) certainly redeemed itself when it reported exceptional first quarter earnings of 6 cents on revenues of $92.1 million.
Despite a 1% drop in sales, the company was still able to double its earnings thanks to better cost controls and lower impairment charges. KKD was also successful in reducing its SG&A costs by 50 basis points from 6.7% to 6.2% and cutting its interest expense 50%, from $3.8 million to $1.9 million. Sales on a sequential basis actually rose 6.2% and company same store sales increased 3.4%, the sixth consecutive quarter KKD has achieved that milestone.
Guidance raised: The company's prior fiscal 2011 operating earnings forecast was $10 to $13 million and was subsequently raised 10% on the low side and 15% on the high side, calculating to a new $11 million to $15 million range.
The market loved what it saw: Despite a 350-point meltdown in the DOW on Friday, Mr. Market was still able to tack on an 8% gain for the doughnut purveyor. KKD would of certainly have gained twice that amount if not for the carnage in the overall averages, but us "longs" will gladly take what was bestowed upon us!
Bottom line: Just before fourth quarter earnings were released, the stock had rallied significantly to the low $5 area and it was apparent there was good news already built in to the share price and then some. This time around, it was just the opposite scenario: expectations were quite low and the stock had already experienced a nasty selloff (dropping 40%), so it was not surprising that the share price did so well on the news. Look for a follow-through to occur (aided by shorts covering and new longs jumping on the momentum train) as the shares probably run up another 10% next week, before profit taking starts to take hold.
Disclosure: Long KKD