Ordinarily, I'd look at a market like sugar and start thinking of odds — you know, probabilities. I see the basing at the 14-cent level after sugar's plunge from 30 cents and wonder, "How likely is it that prices will head lower and how do those odds stack up against the chances of a rally?"
I ask these questions because I want to weigh the benefits of using options against futures, or proxies such as exchange-traded funds or notes. Making money in the nuanced environment of options depends heavily on correctly assessing odds and volatilities, both past and future.
Next to the absolute price of the underlying asset, volatility is the most critical factor in evaluating an option's worth. But there's an important thing to note about volatility: Measured as a standard deviation in returns, volatility rises as the price of the option's underlying asset falls. Not surprisingly, volatility declines as asset prices climb.
Now look at sugar's price chart. Its steep decline has inflated sugar option premiums. Option costs — volatility-wise — are the fattest they've been in two years, which makes me chary of buying the things.
ICE/NYBOT Sugar (Weekly)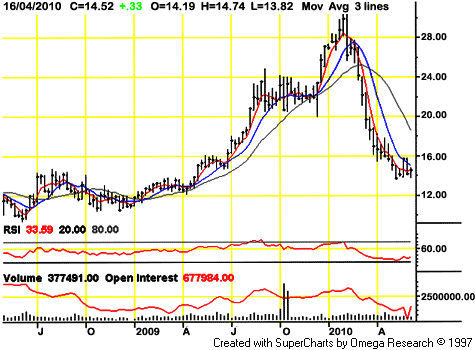 If I were looking for a bounce in sugar prices — and sugar does look ripe for a little upside here — the rich call premiums would be a headwind for a purchase. Selling premiums here could make some sense, but the returns are limited and the risks are relatively high.
No, if I were going to take a chance here on sugar, more staying power is needed, as well as less volatility expense. This makes a case for the iPath Dow Jones-UBS Sugar Total Return Subindex ETN (NYSEARCA:SGG).
Spot sugar was deeply oversold at its May bottom of 13 cents, and is now trading through the 14-cent level. Bulls would be greatly encouraged if sugar could close above its 10-day moving average — now at 14.77 cents. An intermediate objective for bulls would be a retracement level of the February-May decline at 17.10 cents. Support for spot sugar is at last Wednesday's low of 13.82 cents.
For the iPath note, the bull-comforting close needs to be above $41.55, which could set a course for the $45.50-$45.55 level. Near-term support is at $38.90.
Disclosure: No positions