ChannelAdvisor has just reported "same-store sales" for February 2014. This is how things looked for Amazon.com (NASDAQ:AMZN):
Amazon - Amazon's February came in at 23.0% compared to January's 14.0%, a substantial m/m increase we believe due to the improvement in weather conditions
Together with the reading from January, this leaves the average growth at this point of Q1 2014 at 18.5%. This compares with Q4 2013 at 21.3%, so represents a deceleration of 280 bps (2.8%).
Modelling Q1 2014 revenues
As I've explained often, ChannelAdvisor gives us our best guess as to how Amazon.com is doing in terms of revenues. The correlation (R2) between year-on-year growth reported by ChannelAdvisor and what Amazon.com ultimately reports runs near 0.90 (R2 is 0.895 right now, red dots are quarters where the ebook accounting change had an effect).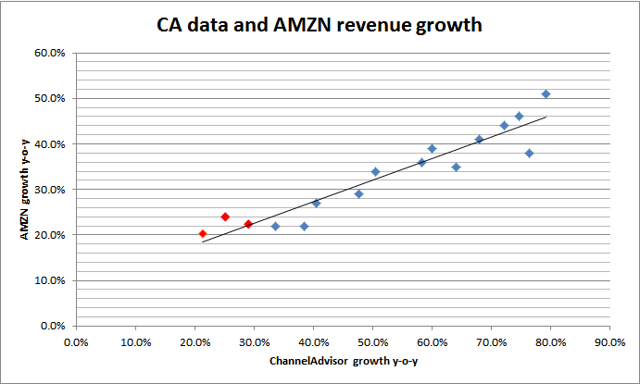 In the last few quarters, this relationship has been disturbed by Amazon.com's change of its ebook accounting. A portion of Amazon.com's ebook revenues stopped being accounted for using the agency model.
Previously Amazon.com just booked the commission it got from the sale (around 30% of the sales price). Amazon.com changed this and started being accounted using the wholesale model, where Amazon.com books 100% of the sales price as revenues. This inflated Amazon.com's overall revenue growth rate and somewhat broke the relationship with ChannelAdvisor data.
The effect can be seen in the following chart showing the relationship between reported Amazon.com revenue growth, and ChannelAdvisor "same-store sales" growth for Amazon.com: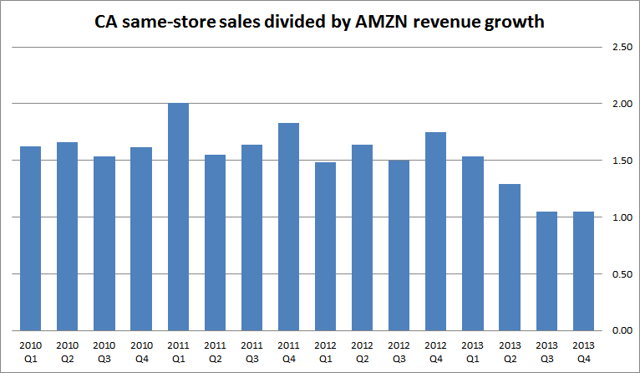 This chart also shows that in Q4 2013 the effect seems to finally have subsided, which would mean all of the distortion is already in the numbers. The relationship between the growth rates seems to have stabilized at 1.05.
Now, with the just reported ChannelAdvisor numbers for February, what are the implications? We can go about this in two ways:
Using the linear correlation from past data, the ChannelAdvisor data implies a Q1 2014 growth rate for Amazon.com as a whole of 17.1%. This however is still somewhat distorted by the ebook accounting change;
Using just the Q4 2013 ratio between ChannelAdvisor growth and Amazon.com growth, which might already include all of the ebook accounting change effect, this would imply Amazon.com revenue growth of 17.6%.
Both of these predictions compare to consensus revenue growth rate for Q1 2014 of 20.8%. As we see, they both point towards Amazon.com again missing revenue estimates. The Q1 2014 revenue consensus stands at $19.42 billion, whereas 17.61% growth would imply revenues of $18.9 billion, so it implies a revenue miss of around $0.5 billion at this point.
Also importantly, Q1 2014 will probably be the last quarter where the base quarter for year-on-year comparisons (Q1 2013) doesn't yet include effects from the ebook accounting change. This all changes from Q2 2014 onwards, which means that from Q2 2014 -- without the artificial push from the accounting change -- it will become harder and harder for Amazon.com to show significant revenue growth.
When Amazon.com reports Q1 2014, it will also issue guidance for Q2 2014. This guidance will be the first moment where the base will also have some of the effect of the accounting change, thus rendering it likely that the revenue guidance will disappoint.
Conclusion
There are two main conclusions from this article:
First, that according to ChannelAdvisor data Amazon.com seems likely to miss revenue growth expectations for Q1 2014;
And second, that due to Q2 2013 already having some effect of the ebook accounting change, Amazon.com seems likely to guide Q2 2014 revenue growth below expectations as well.
Yet for today's session, the market might actually like February's number in the sense that January was so much worse. It might get a sense of relief from the number in spite of it representing Amazon.com still tracking below expectations for Q1 2014.
Disclosure: I have no positions in any stocks mentioned, and no plans to initiate any positions within the next 72 hours. I wrote this article myself, and it expresses my own opinions. I am not receiving compensation for it (other than from Seeking Alpha). I have no business relationship with any company whose stock is mentioned in this article.
Additional disclosure: I have options positions which stand to gain from AMZN stock dropping.